Shield (Grere'o)
Not on view
Shell inlaid shields are among the most remarkable and enigmatic art forms from Solomon Islands. The surviving corpus of these works contains about 25 examples, which are remarkably consistent in their design and manufacture. All feature an inlaid central design of an elongated human figure surrounded by labyrinthine designs. Some, as in this example, also feature smaller faces positioned throughout the design. It appears that all of the known Solomon Islands shell inlaid shields were created in the first half of the nineteenth century, mostly likely on the islands of Guadalcanal and New Georgia and then traded to neighboring groups.
The shield has a woven base of wickerwork rattan, the shape and structure of which is common to many shields made throughout central and western Solomon Islands. The base woven shield has been overmodeled with a sticky, black paste extracted from parinarium nut before the design was inlaid from pieces of nautilus shell that create a luminous, shimmering effect.
The meaning behind the central figure of the shield is not fully understood. Woven fighting shields that don't feature shell inlay would most often bear geometric designs, or renditions of frigatebirds, which are widely recognized as a symbol of the warrior in Solomon Islands. While such shields would have been used by warriors in active combat, the function of this shield was almost certainly ceremonial. Owning such a shield would have communicated a powerful statement on the wealth, status and identity of its bearer.
#1704. Shield (Grere'o), Part 1
Playlist

1704. Shield (Grere'o), Part 1

9507. Shield (Grere'o), Part 2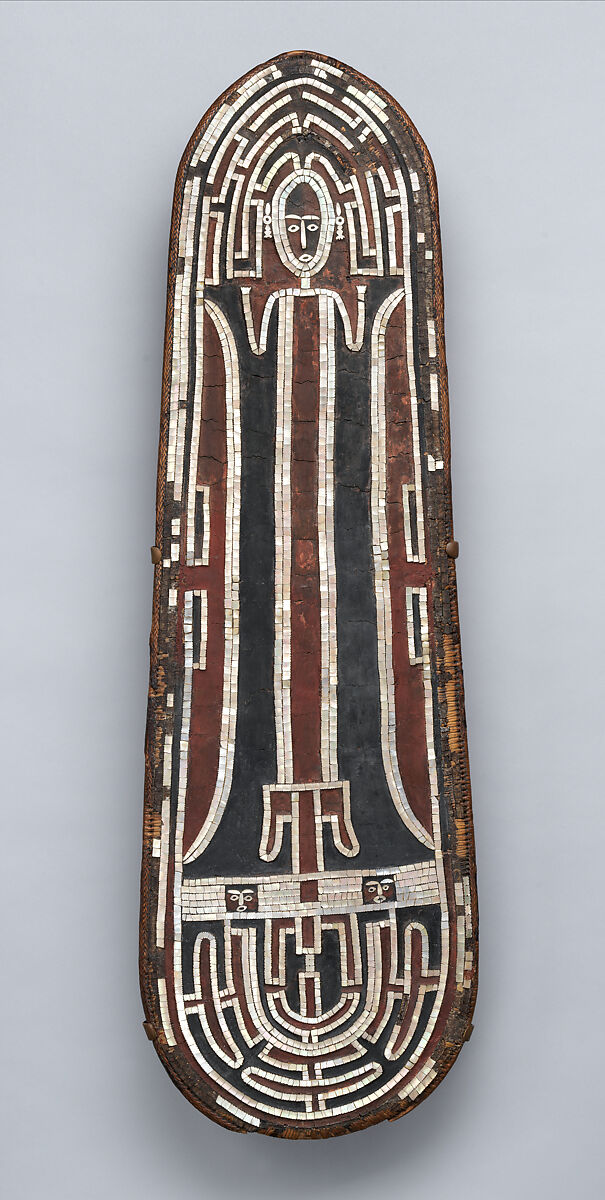 This artwork is meant to be viewed from right to left. Scroll left to view more.