Coast View with Perseus and the Origin of Coral
Claude Lorrain (Claude Gellée) French

Not on view
This highly pictorial drawing, along with a sketchier one depicting the same scene (Lehman Collection, 1975.1.661), are part of a group associated with one of Claude's most celebrated paintings from the last phase of his long artistic career (Holkham Hall, Norfolk, England). The painting, which bears the same title and date as the drawing, was executed in 1674 for Camillo Massimi (1620-1676), who became a major patron of the arts after being elevated to the position of Cardinal by pope Clement X in 1670.
The subject, going back to the Latin poet Ovid, was not common among artists, but cardinal Massimi's collection of drawings featured a sheet of the same subject by Claude's fellow countryman Nicolas Poussin (Royal Collection, Windsor Castle, England) which included all the characters found in Claude's work. Taking into account the annotation on the Lehman sheet specifying that the "idea" came from the prelate, it seems likely that Massimi commissioned from Claude a recreation of Poussin's theme. Perseus, the mythological hero, had decapitated Medusa, whose gaze petrified anybody looking at her, and used her severed head as a magic weapon to rescue princess Andromeda from a sea-monster. Immediately after this deed Perseus stopped on an island with his winged horse Pegasus to wash the monster's blood off his hands. He laid Medusa's head on seaweed: the blood still dripping from it transformed the twigs into coral, to the wonder of a group of sea-nymphs.
The setting is one of Claude's highly evocative landscapes. The artist made full use of the tonal and chromatic possibilities of brown, gray and blue washes combined with white gouache to imbue his scene with an early morning atmosphere. He anchored his composition by means of a group of trees on the left and a rock formation in the shape of an arch on the right, with the foliage of the bigger tree echoing the bend of the rocks. He set them against the light, whose source is visible in the disk of the sun hovering in the sky and its reflection on the sea, rendered through an extensive use of white heightening. As a result, the celestial expanse and the water surface shimmer with light amidst subtle modulations of color: from greyish blue to yellow and a streak of white above the horizon in the sky; from yellowish blue to pale and dark blue in the sea. The effect is enhanced by white gouache highlights on the figures, which acquire a sculptural quality despite their small size.
While the Lehman drawing is undoubtedly a compositional study, this work may have been a presentation piece, made to obtain the approval of the patron.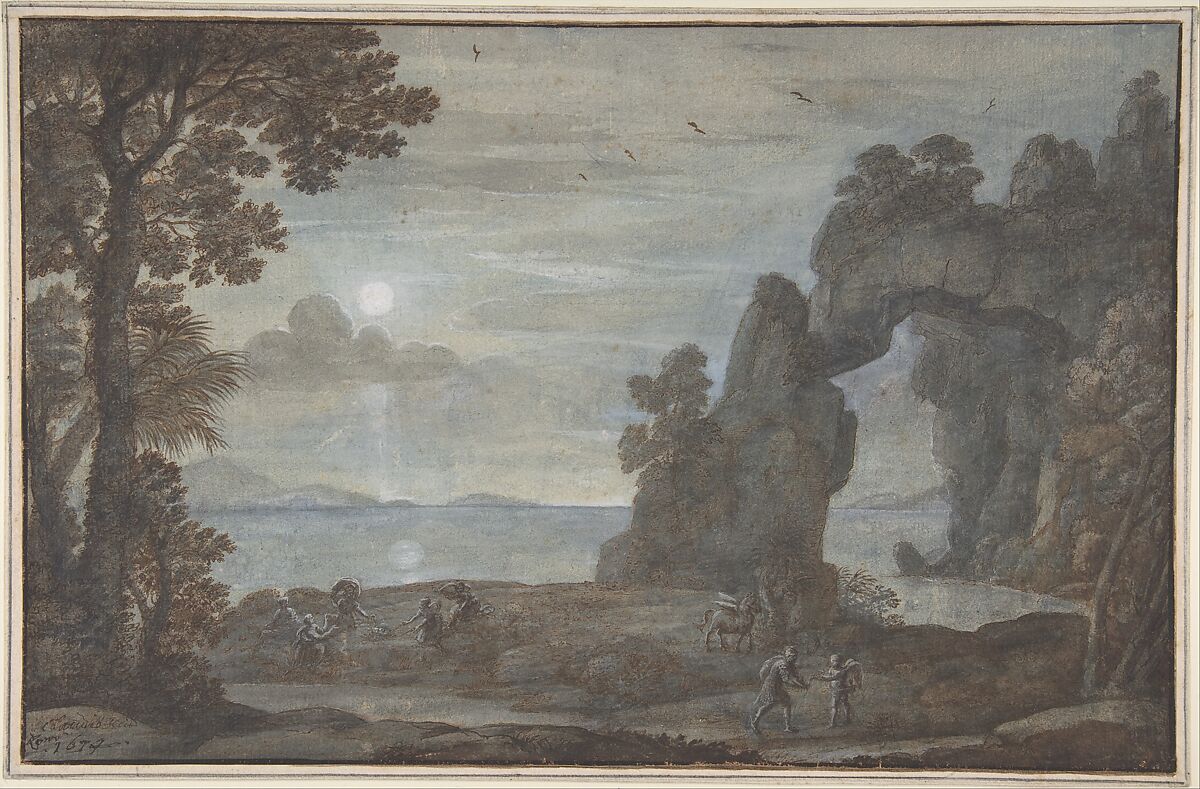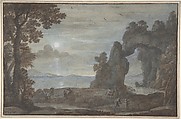 This artwork is meant to be viewed from right to left. Scroll left to view more.