Bodhisattva (Maitreya) with crossed ankles
On view at The Met Fifth Avenue in Gallery 206
This statue is most likely the Bodhisattva Maitreya. The closest examples are the Maitreya statues in Caves 5 and 25 (?) at Yungang, Shanxi Province. An early example is the Maitreya in Cave 275 at Dunhuang, which dates to early fifth century. All these statues share the same attributes, a seated posture with crossed legs, a crown with a Buddha image, and the right hand held upright with the palm facing forward in a gesture of allaying fears (abhaya mudra).
The representation of the Bodhisattva Avalokiteshvara (Guanyin) in Chinese Buddhist art first appeared in the late fourth century. By the late sixth century, it had assumed its standard image, characterized by the water flask and lotus stem, or willow branch, in his hand, and sometimes an image of the Buddha on his crown, which, at Yungang, was on the crown of Maitreya instead.

At an early stage of its development, Avalokiteshvara was often depicted as an attendant of Maitreya, as is seen in the Maitreya mural at Bingling Temple in Tianshui, Gansu, which dates to the early fifth century. It was not represented by itself until the late sixth century, when the worship of Avalokiteshvara gradually gained popularity.

More investigation is needed to confirm Cave 25 to be the original locus, as proposed on the catalogue card. In their seminal work on Yungang, Sekino and Tokiwa list 20 caves that range from late fourth to late fifth or early sixth century. They didn't mention Cave 25, which is little recorded in Chinese sources.
#7320. Bodhisattva, probably Avalokiteshvara (Guanyin) with Crossed Ankles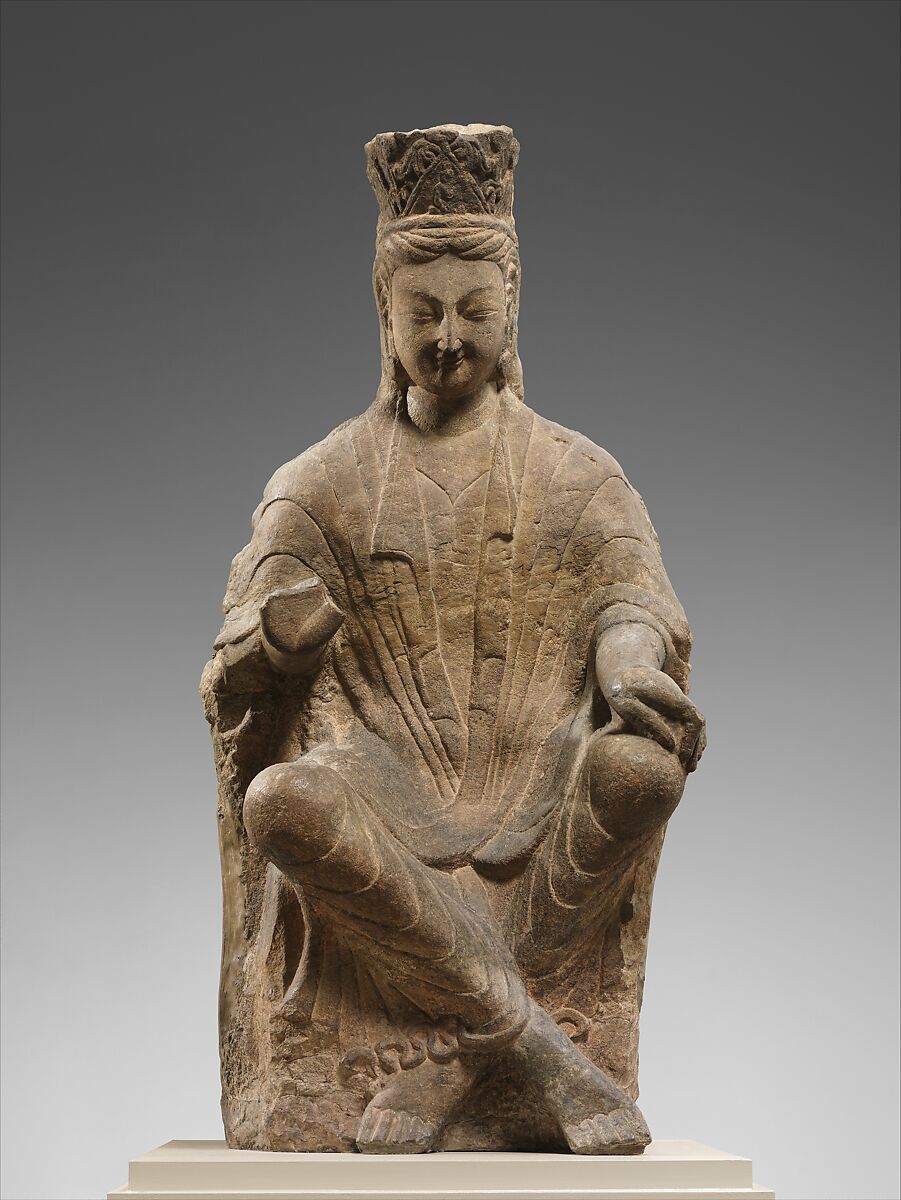 This artwork is meant to be viewed from right to left. Scroll left to view more.