Crowned Bodhisattva
North India (Uttar Pradesh, Mathura)
On view at The Met Fifth Avenue in Gallery 235
This youthful Buddhist savior, with curled lockets of hairs cascading to his shoulders, is amongst the most appealing images of this figure type from early India. He is broad shouldered with a slender waist, the archetypal Kushan physiognomy of the universal monarch (chakravartin) Buddha-type. This concept is carried through to the exceptional treatment of the head decoration, with its distinguished crown and the presiding parent Buddha. In keeping with works of the Kushan school at Mathura, the facial details are sharply carved, conveying a plasticity and a conventionalized naturalism to the face. The forehead mark (urna), textually described as a tuft of hair but typically represented as a raised dot, is an auspicious sign of nobility and accepted as one of the Buddha's lakshanas, denoting Buddhahood.

The bodhisattva's chest is adorned with an elaborate array of jewelry. Close to the neck is a string of large pearls with a rectangular centerpiece likely intended to be a gemstone. Below this is a flat torque, with incised décor. Overlaying these is a massive necklace consisting of five strands of pearls with traces of mythical makaras with crocodile-like jaws serving as the terminals. Line drawings of related designs confirm this identification. Next is a woven cord from which hangs a discus ornament with six bell-shaped pendants. Attached to this is another cord which carries three cylindrical amulet cases slung across the lower chest, as routinely seen on Gandharan-region bodhisattvas. Finally, he wears a sacred cord which extends from his left shoulder to his waist. A nearly identical configuration of jewelry is seen on a male torso fragment from Mathura (Vogel 1930, pl. XXXIVa), and with slight variation on the life sized meditating bodhisattva in Lucknow. The Mathura torso also displays tapering strands of long hair on the shoulders, treated in our sculpture as cascading curls. Both works are rare in displaying long uncut hair, and likely were produced in response to rival imagery of the Jina Rishabhanatha, the first of the Jain saviors.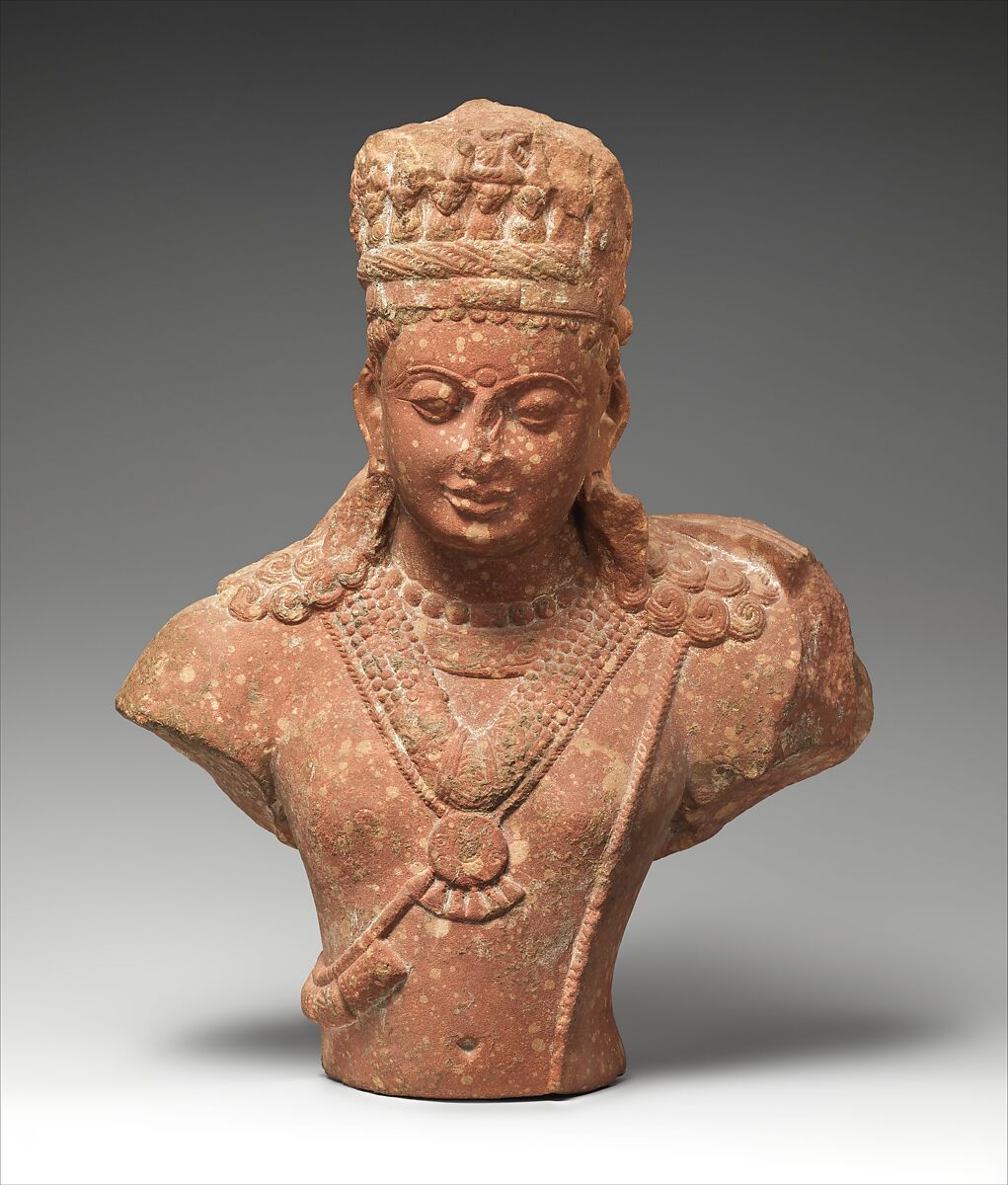 This artwork is meant to be viewed from right to left. Scroll left to view more.