Madonna and Child with Saints Francis and Jerome
Francesco Francia Italian

Not on view
Acquired by Robert Lehman in 1944, this painting of the Madonna and Child by the Bolognese artist Francesco Francia is an example of the devotional paintings for which he was well-known. The Virgin, clothed in expansive swathes of colored drapery, supports the Christ Child on her lap. The Child holds a pair of cherries, a reference to the sacrificial blood of Christ. To the Virgin's right is Saint Francis wearing the traditional tonsure and heavy monastic robes. The bearded figure on the other side is likely Saint Jerome. In the background are trees and hills, which place the holy figures in an earthly setting and make them more accessible and approachable to the viewer.


Francia trained and worked successfully as a goldsmith before turning to painting, identifying himself as such in his signature on the parapet (FRANCIA AURIFABER P.). His style is marked by a general sweetness and a smooth quality, which reveals the influence of the famous Umbrian painter Perugino. In his 1568 edition of the Artist's Lives, the sixteenth-century biographer and painter Giorgio Vasari described Francia's "sweet harmony of coloring" that prompted people to run "like madmen to this new and more lifelike beauty." Vasari saw Francia as an artist at the verge of a new and exciting age of painting, which would be realized fully by Leonardo da Vinci, Raphael, and Michelangelo.


Francia painted many images of analogous composition. A painting in the Pinacoteca Vaticana is so similar to the Lehman panel that the two were likely made from the same cartoon, a full-scale drawing that was used to transfer the design to the panel. The existence of several iterations of this Madonna and Child composition points to the popularity of these images, which were likely used for personal devotion and contemplation in private homes and chapels.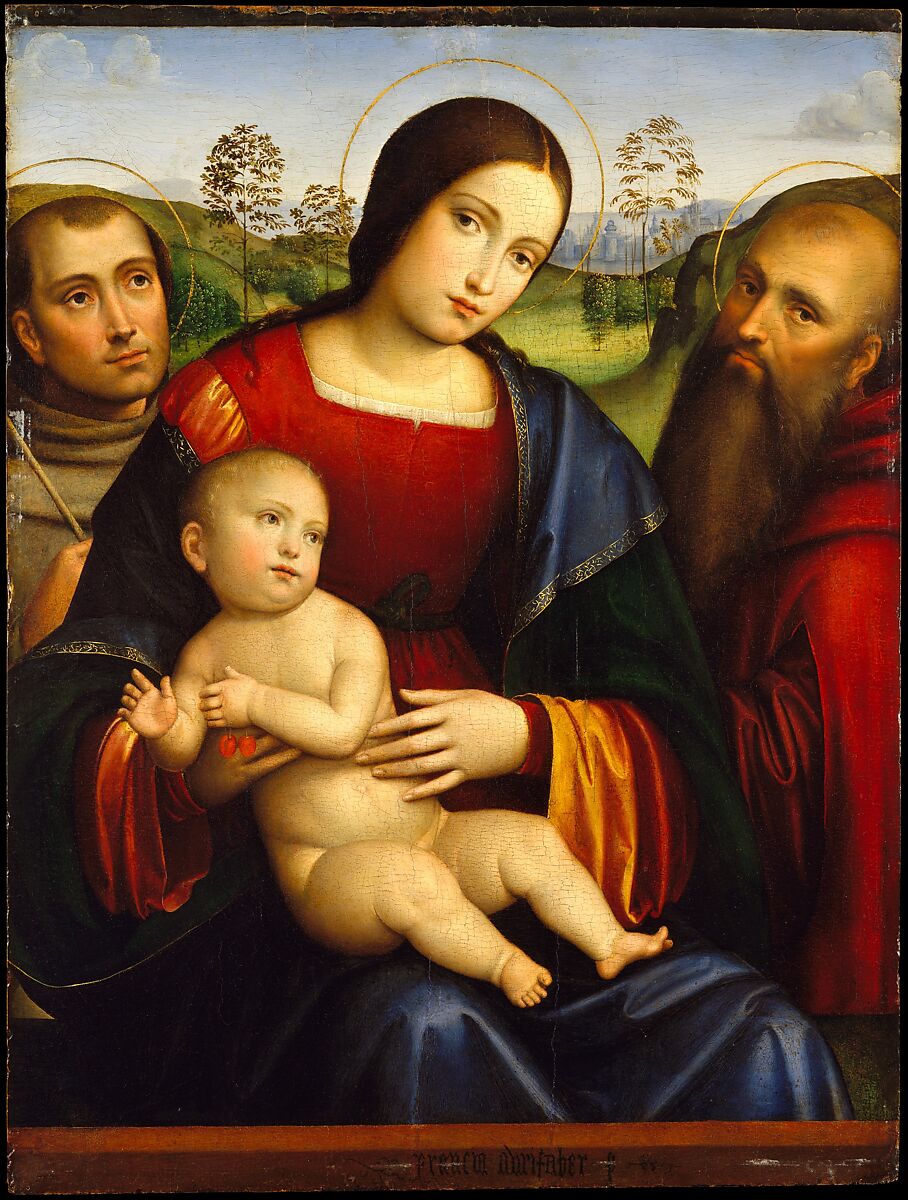 This artwork is meant to be viewed from right to left. Scroll left to view more.