Memory Board (Lukasa)
Not on view
Lukasa, or memory boards, are hand-held wooden objects that present a conceptual map of fundamental aspects of Luba culture. They are at once illustrations of the Luba political system, historical chronicles of the Luba state, and territorial diagrams of local chiefdoms. Each board's design is unique and represents the divine revelations of a spirit medium expressed in sculptural form. While many lukasa utilize a system of denotation based on masses of shells and beads affixed to their wooden surfaces, this example communicates its content through incised designs and images carved in relief.

Lukasa belong to regional chapters of the Luba mbudye association. Mbudye is a council of men and women charged with sustaining and interpreting the political and historical principles of the Luba state. As authorities on the tenets of Luba society, mbudye provide a counterbalance to the power of kings and chiefs, checking or reinforcing it as necessary. Members of mbudye proceed through a series of stages within the society as they master successive levels of arcane knowledge. Only those at the apex of the association can decipher and interpret the lukasa's intricate designs and motifs.

Mbudye members call the twin projections sprouting along the board's outer edge the "head" and "tail" of the lukasa, zoomorphic elements that are meant to evoke the crocodile. An animal equally at home on land and in water, the crocodile's dual nature is suggestive of Luba political organization, whose existence relies on the interdependence of the kikungulu (the head of the mbudye) and the kaloba (the "owner of the land," or chief).

More detailed information is conveyed on the front and back of the board. On the lukasa's "inside" surface (the front), human faces represent chiefs, historical figures, and mbudye members. The rectangular, circular, and ovoid elements denote organizing features within the chief's compound and the association's meeting house and grounds. Its "outside" surface displays incised chevrons and diamonds representing the markings on a turtle's carapace. These are a reference to Lolo Ina Nombe, the founding ancestress who exists in the form of a turtle, and constitute a symbol of the vaunted lineage of the Luba peoples. The motifs are said to evoke kitenta, spirit capitals that house the tombs of divine kings, so that the same surface also provides a map of the physical and religious geography of the region.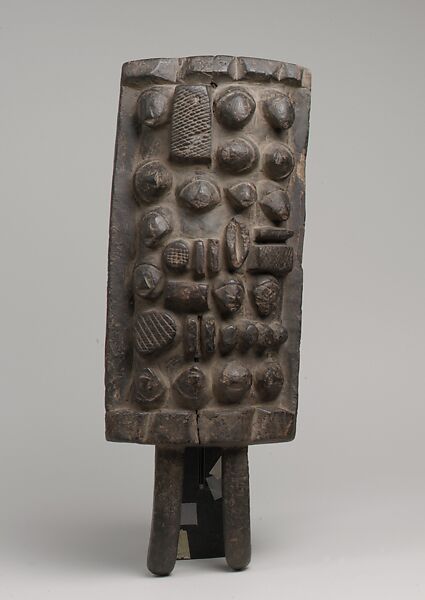 This artwork is meant to be viewed from right to left. Scroll left to view more.