Male Power Figure (Nkisi)
On view at The Met Fifth Avenue in Gallery 136
This work was the product of an intense collaboration between a sculptor and the initiated priest "nganga," who controlled its use in his professional practice. After an artist completed carving the artifact, the "nganga" transformed it into an object capable of healing illness, settling disputes, safeguarding the peace, and punishing wrongdoers. Each work of this kind or "nkisi" is associated with a spirit, that is subjected to a degree of human control. The term "nkisi" may relate to a wide spectrum of physical receptacles, including cloth packets, filled vessels, as well as the carved wood sculptures studied by art historians. This piece is especially admired for its reflective inward expression.

Among the many amulets and bound bundles attached to this "nkisi," are a finely carved anthropomorphic cross and a small gong. The cross alludes to the division between the land of the living and the land of the dead and represents the meeting place of these two worlds, or the "crossroads." The gong and other musical instruments of this type are believed to sound in the land of the dead and are therefore used to call the spirit of the "nkisi." The "nkisi's" power is further enhanced by the addition of two miniature "minkisi," one with a cowry embedded in its stomach and the other encrusted with a thick layer of medicines.

Cloth and tied bundles, like those seen in abundance on this "nkisi," have multiple interpretations. Knots and the act of tying are associated with the binding and capturing of a spirit. Additionally, cloth as a cherished commodity represents a generous financial offering made to the "nkisi" in gratitude for its assistance. Finally, cloth taken from intimate garments seals the connection between a supplicant and the "nkisi."
This nkisi has been a highlight of the Rockefeller collection since its acquisition in 1952.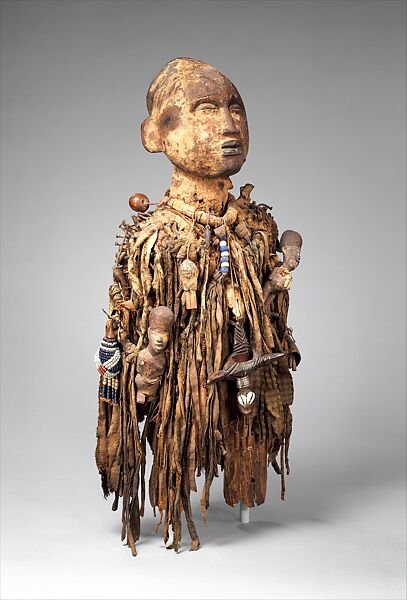 This artwork is meant to be viewed from right to left. Scroll left to view more.