Meeting between Emperor Wen and Fisherman Lü Shang
Attributed to Kano Takanobu Japanese

Not on view
The man in white at the head of the group on the right screen is Emperor Wen of ancient China's Zhou dynasty (ca. 1050–256 B.C.). He is accompanied by a retinue of ten attendants. His carriage stands at the extreme right while the group progresses toward the lone fisherman Lü Shang, represented on the left screen. Before setting out on a hunting trip, the emperor had a revelation that he would meet a "wise man," who turned out to be the impoverished Lü Shang, known in Japan as Taikō bō. The fisherman agreed to be the emperor's counselor and helped to establish the exalted Zhou dynasty.

Sumptuous gold leaf covers the ground and sky, pierced by an undulating band of brilliant azure that signifies the Wei River, where the two men met. Rising and descending mists are scallop-edged, and decorative clouds embossed with abstract designs further enrich the screens' surface.

The tall, regal figures with expressive faces, especially their fish-shaped eyes, are reminiscent of those in signed and/or sealed works by Kano Takanobu, the second son of the virtuoso Momoyama master Eitoku. Only two or three works with his signature or seal are known today.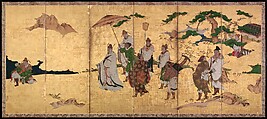 This artwork is meant to be viewed from right to left. Scroll left to view more.