Birds and Flowers of the Four Seasons
Not on view
This composition of flowers in a seasonal progression from spring to winter celebrates longevity with its auspicious motif of cranes. The brilliant colors, strong ink outlines, gold-leaf background, and profusion of pictorial elements are typical of the decorative formula established by Kano Motonobu (1476–1559), founder of the Kano school, while the boldness is reminiscent of Motonobu's grandson, the prolific Kano Eitoku (1543–1590). The exaggerated dimensions of the pine and cedar trees, the attempt to create space for projecting branches in the crowded composition, and the depiction of brushwood hedges in high relief suggest that the work dates to the late sixteenth century. In their elegant grandeur these screens reflect the lavish taste that prevailed in the mansions and temples of the capital during the era named after the Momoyama (Peach Hill) site of Fushimi Castle, in a Kyoto suburb.
#7711. Cranes and Flowers of the Four Seasons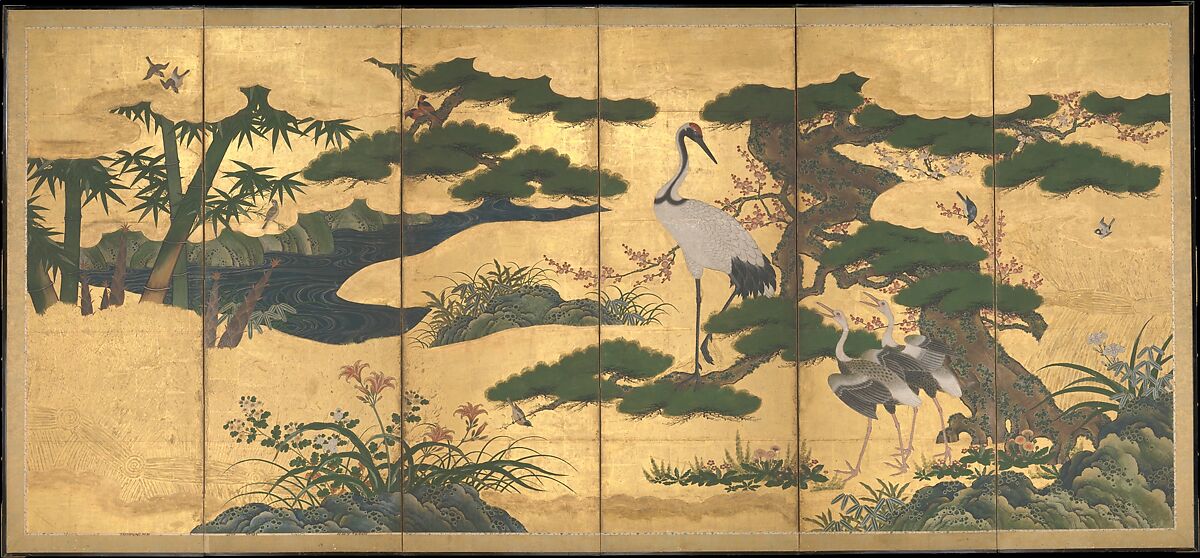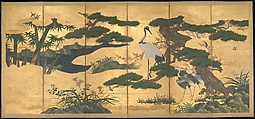 This artwork is meant to be viewed from right to left. Scroll left to view more.