Flowers and Grasses of the Four Seasons
Circle of Kano Mitsunobu 狩野光信 Japanese

Not on view
In this lyrical variation of the common theme of Flowers and Birds of the Four Seasons, delicately rendered insects such as dragonflies, butterflies, and praying mantises hover among kerria roses, peonies, chrysanthemums, bush clover, and snow-dusted lantern flowers. Scallop-edged golden clouds and the graceful arcs of eulalia grasses form repeating, rhythmic patterns.
The treatment of pictorial elements is consistent with the gentle, elegant painting style of Kano Mitsunobu, whose works graced a number of Kyoto palaces and temples. Parallels can also be drawn to lacquer decoration at the mausoleum of warlord Toyotomi Hideyoshi in Kyoto's Kōdaiji Temple. The lacquered and maki-e–decorated panels, associated with the Kōami school of Kyoto lacquer artisans, display repeating autumn grasses resembling motifs in Mitsunobu's paintings and this pair of screens.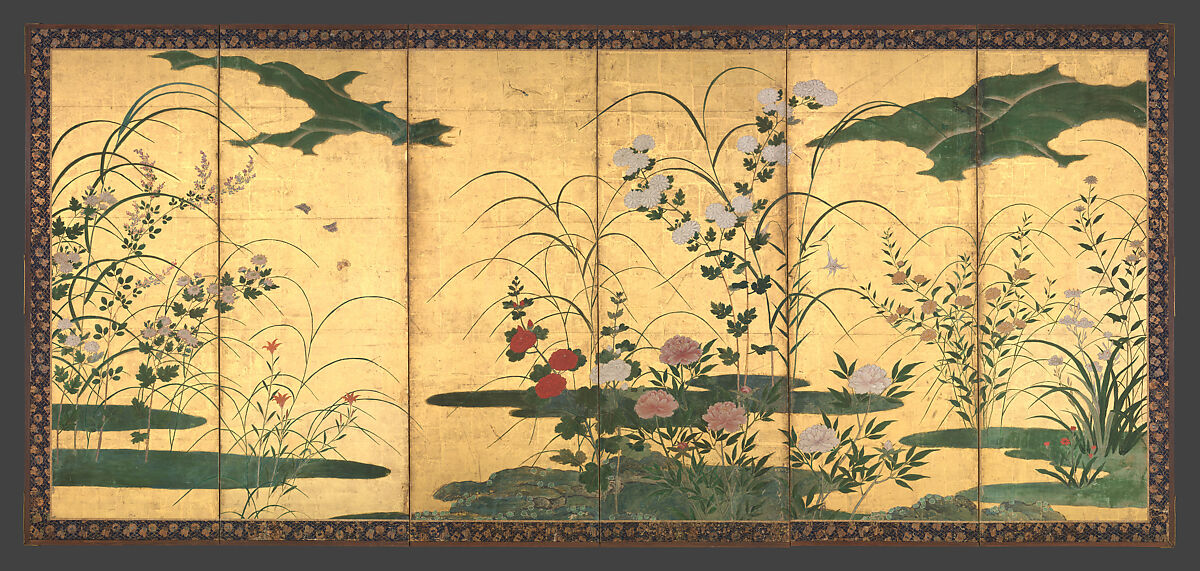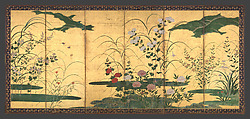 This artwork is meant to be viewed from right to left. Scroll left to view more.