Allegory of Autumn (Bacchus)
Filippo Parodi Italian

On view at The Met Fifth Avenue in Gallery 551
Filippo Parodi (1630-1702) was Genoa's most important sculptor of the late Baroque period. Trained in that city in his family's workshop—his father Giovanni Battista was a woodcarver—Parodi also spent two periods of six years each working in Rome, where he absorbed Gianlorenzo Bernini's approach to decorative ensemble. Parodi's most prominent commissions include marble groups for churches and palaces in Genoa (for example, the St. John the Baptist for S. Maria Assunta di Carignano), Venice (the Tomb of Francesco Morosini, completed 1683, church of S. Nicolò dei Tolentini), and Padua (several important projects, most notably the decoration of the Cappella del Tesoro in the Santo).


The first phase of Parodi's career was dedicated to carving wood sculptures, of which this work is a prime example. Parodi oversaw a large workshop, designing and producing many elaborate objects in wood intended for the palaces of Genoa: sumptuous carved mirrors, fittings for rooms, and ornate torchieres, among others. Parodi's work in this arena is still being assessed, but his style set the taste for the next generation of Genoese interiors.


The cavorting figure of Bacchus (god of wine and thus of the autumnal grape harvest), is one of four statues the artist made to represent the seasons. A type of sculpture well-documented in Genoese palace decoration of this era, each would have stood on a carved wooden base in the corner of a grand room. Nevertheless, Parodi conceived and executed the figure to be seen with equal interest from all sides. Bacchus wears a gilt grapevine wreath on his tousled hair; his mouth is open in a toothy smile, and his blank eyes are wide open. His raised left arm projects forward, proffering a group of gilt grapes, while his bent right leg, foot extended, juts out in counterbalance.


Until recently, the Bacchus was only known through an old photograph and can be associated with three other allegorical representations of the seasons attributed to Parodi or his workshop. The others in the group that have been identified include the Winter in the Cleveland Museum of Art, thought to date to the generation after Parodi, and the figure of Spring in the Badisches Landesmuseum, Karlsruhe. The location of Summer is currently unknown.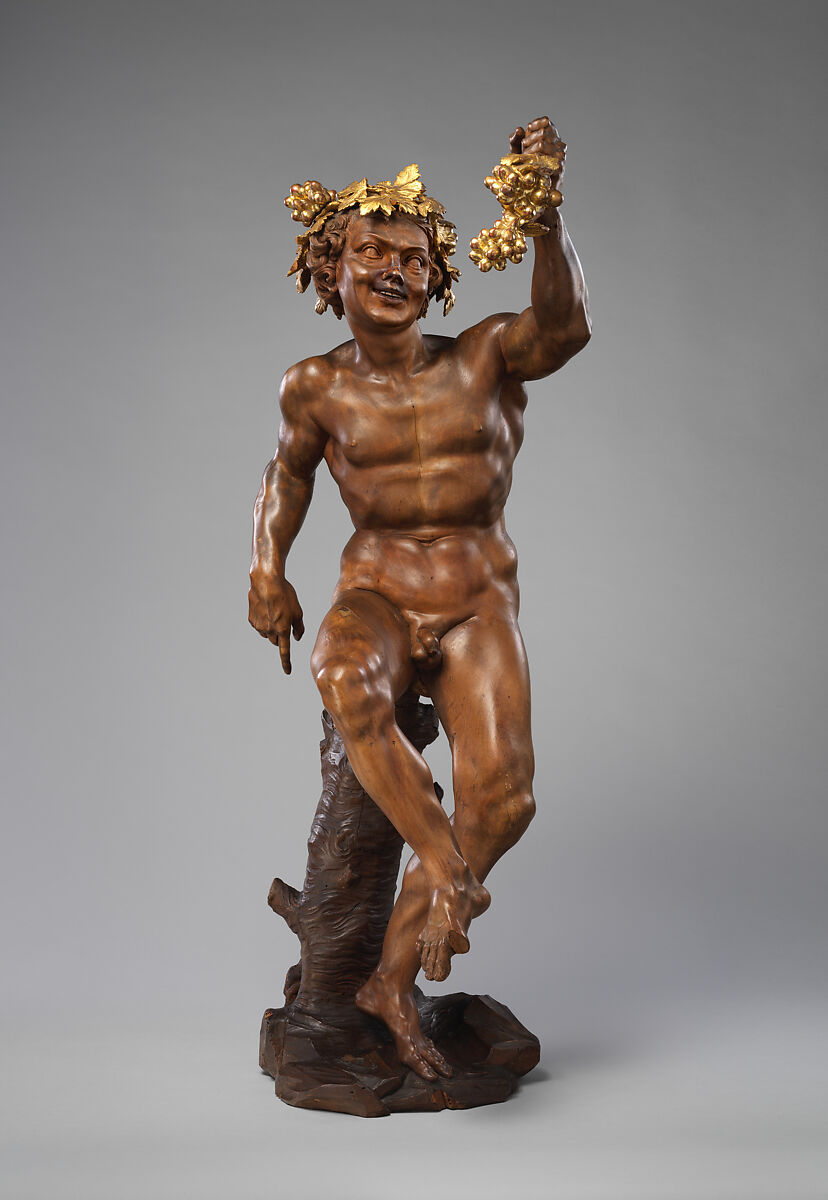 This artwork is meant to be viewed from right to left. Scroll left to view more.