Cardinal Scipione Borghese (1577–1633)
Giuliano Finelli Italian

Not on view
Nephew of pope paul v, cardinal scipione borghese (1576 – 1633) was one of the wealthiest and most powerful men in Rome during the first third of the seventeenth century. An astute art collector, he commissioned sculptures that would come to define the Baroque movement. His splendid gardens were entered through a gate flanked by term figures carved by Pietro and Gianlorenzo Bernini (nos. 35, 36), and his villa just north of the Pincian Gate displayed early masterpieces by Gianlorenzo, such as Apollo and Daphne (1622 – ​24, Galleria Borghese, Rome). Despite the cardinal's early patronage of Bernini, Pope Urban VIII's conditions of employment made it difficult for anyone else to procure the sculptor's services, and when Scipione sought to have a portrait made in the early 1630s he had to turn to another man, Giuliano Finelli. Scipione persevered and eventually obtained what he wanted from Bernini —  a work that became one of the most famous of all Baroque portrait busts (fig. 32). Meanwhile, the cardinal sat for Finelli, whose talents he had come to appreciate at first hand: as an assistant to Bernini, Finelli had carved with astonishing virtuosity the leaves, tendrils, and bark of Daphne's metamorphosis in the cardinal's own marble group Apollo and Daphne. Born in Carrara, where his father was a marble merchant, he had trained in Naples with his uncle Vitale Finelli and the better-known Michelangelo Naccherino, before moving to Rome in 1622.[1] There he joined the teams of sculptors working under Bernini, until he broke with the master in 1629, after being passed over for an important commission. For a brief period until 1634 – 35, when he returned to Naples, Finelli set up as an independent artist. During this time he carved some exceptional portrait busts, based on precedents in Bernini's work but with innovations all his own.

Although Cardinal Scipione Borghese is one of the most remarkable of his Roman-period portraits, Finelli's authorship of the bust has only recently been recognized. When it was sold by Prince Paolo Borghese in 1892, it was credited to Alessandro Algardi, an attribution that was accepted by the Museum at the time of its acquisition.[2] Certainly it shares the serious tone —  in both its deliberate carving and its psychological nuance —   of works by Algardi such as Monsignor Antonio Cerri (ca. 1640, City Art Gallery, Manchester).[ 3] However, in 1977 Jennifer Montagu published a document in the Borghese archives that mentions a payment to Finelli on June 7, 1632, for a bust of the cardinal.[4] Furthermore, a letter from Tommaso Salviati to Michelangelo Buonarroti the Younger (grandnephew of the Renaissance artist) of October 18, 1631, mentions that Finelli was then in the midst of carving the bust: "The sculptor Signor Giuliano . . . has made [his bust of] Signor Bracciolini very well, and is making . . . [one of] Signor Cardinal Borghese, which will be a very beautiful thing." [5] Francesco Bracciolini (Victoria and Albert Museum, London), which Salviati indicates had just been finished, shares with Cardinal Scipione Borghese Finelli's virtuosic drilling of the short beard and of the lace that appears beneath the collar, as well as the relaxed facial muscles and lightly ruffled hair.[6] Such naturalistic details are hallmarks of Finelli's style. Irregularly unbuttoned holes along the mozzetta, and the cord (partially damaged) dangling from the vestment under the cape add an informal note, undercutting the formality of the cardinal's costume. Philipp Zitzlsperger notes the authority that the biretta confers on the cardinal, in contrast to busts that show prelates bareheaded,[7] but Finelli's portrayal, down to the locks of hair poking out under the cap, emphasizes the character of the man rather than the prestige of the office.

The feature that most animates the bust is the slightly open mouth, lips pursed as if the cardinal were about to speak. While this innovation is usually credited to the more famous image of Scipione by Bernini, Andrea Bacchi notes that payment for Bernini's bust (two versions were carved) came early in 1633, seven months later, so Finelli's sculpture may have been finished before Bernini's was begun. Bacchi adds that this motif had already been introduced in Finelli's Bust of Michelangelo Buonarroti the Younger (Casa Buonarroti, Florence) of 1630.[8] By comparison with Bernini's bust, Finelli's portrayal emphasizes the cardinal's calm demeanor and introspective character. Finelli's less pronounced carving of the pupils makes the expression more inward, while the straightforward angle of the head makes the sitter appear restrained. The vivacious, robust cardinal Bernini portrays, with sparkling eyes and twisted head, is in marked contrast. Given a contemporary biographer's description of the cardinal — "though of amiable character and of pleasant appearance, he was timid by nature" [9] —  one wonders whether Finelli's interpretation of Scipione Borghese as quiet and brooding, only one year before his death, was closer to the mark.



Footnotes

1. Dombrowski 1997.
2. Raggio 1956.
3. Catherine Hess in Bernini 2008, pp. 218 – 21, no. 5.6.
4. Montagu 1977, p. 323, n. 71. See also Montagu 1985, vol. 2, p. 473, under no. r36, in which is quoted an additional request in the Registro dei Mandati in the Vatican (A.S.V., C.B. 6093, p. 213, no. 235), dated June 25, 1632, to pay 90 scudi in reimbursement to "Giuliano Finelli Scultore per intiero pagamento d'un ritratto fatto in marmo nella Villa fuori Porta Pinciana per servitio nostra." In the margin are the words "Ritratto di Sua Em.za" (Portrait of His Eminence).
5. Archivio Buonarroti, Florence, 53, XIII, 1697; quoted in Dombrowski 1997, p. 473, doc. no. f1. Written in Rome, the letter reads: "Il Signor Giuliano scultore . . . Ha fatto il Signor Bracciolini benissimo et fa . . . Signor Cardinale Borghese, che sera cosa bellissima."
6. Andrea Bacchi in Bernini 2008, pp. 202 – 5, no. 5.1.
7. Zitzlsperger 2001, p. 557.
8. Bacchi in Bernini 2008, p. 213.
9. "Fuit tamen natura pavidus, sed vultu hilarus, ac formosus, tantaeque affabilitatis, & comitatis." Ciaconius 1677, vol. 4, col. 399.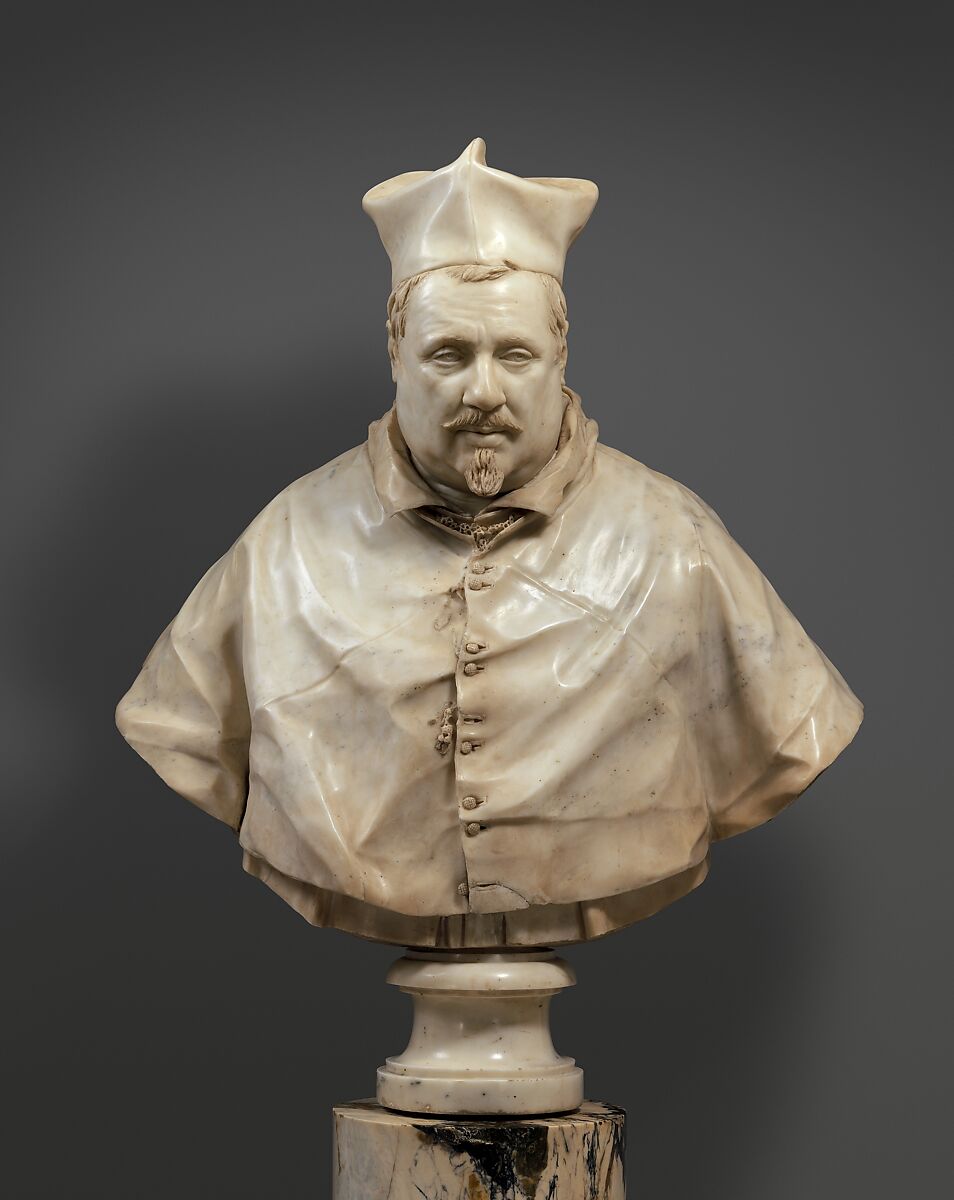 This artwork is meant to be viewed from right to left. Scroll left to view more.