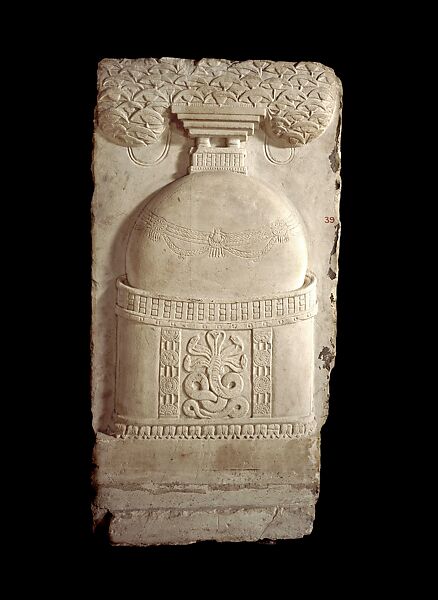 Tree & Serpent: Early Buddhist Art in India, 200 BCE–400 CE
Unpack the rich symbols and stories of early Buddhist art.
670. Introduction and Stupa Drum Panel with Naga
NARRATOR: Welcome to Tree & Serpent: Early Buddhist Art in India, 200 BCE to 400 CE. This exhibition showcases rarely seen objects from the Deccan in Southern India, representing the origins of Buddhist art.
JOHN GUY: When Buddhist art appears in India it's sophisticated, complex, iconographically elaborate, and embedded with great stories, great narratives. It doesn't come out of nowhere.
NARRATOR: These stories are told through imagery from an incredible sculptural tradition that existed long before the introduction of Buddhism in Southern India. In the grand piece before you, you'll find a multi-headed serpent under the cover of a tree. To help us understand the role of trees and serpents in this particular cultural and religious context is John Guy, Florence and Herbert Irving curator for South and Southeast Asian Art at the Met.
JOHN GUY: This is a large limestone panel which would have decorated the lower section of a Buddhist funerary mound, what's known as a stupa.
NARRATOR: These stupas contained the Buddha's relics and his teachings making them central to Buddhist worship. They provided essential space to deploy those teachings through imagery and narrative storytelling.
JOHN GUY: The decoration of the stupa is dominated by two motifs. One is the protective snake, the Naga, which you see coiled, poised, ready to strike in the foreground at the center of the drum.
NARRATOR: The naga was originally known in indigenous nature cults as a protective spirit. Here, the symbolic figure of protection has been captivated and persuaded by Buddhist teachings to become its shield of protection. Above it, we see a tree:
JOHN GUY: Here it appears almost as if it's a whole canopy of umbrellas. And the reference to the tree takes us straight back to the site of the Bodhi tree, where the Buddha experienced enlightenment. So, we have both elements drawn together in one spectacular piece
NARRATOR: In this audio tour, we'll unpack the rich symbols and stories that fill this sculptural landscape. You'll encounter works that reference and appropriate indigenous imagery to help spread the teachings and secure the place of Buddhism in India. Enjoy your tour.
Playlist

670. Introduction and Stupa Drum Panel with Naga

671. Yaksha with Lotus Vine Emerging from its Mouth

672. Sri Lakshmi

673. Relics from the Piprahwa Stupa

674. Buddha footprints (Buddhapada)

675. Elephants Venerating the Rāmagrāma Stupa

676. The Pompeii Ivory Yakshi and the Kolhapur Poseidon

677. Dome Panel Depicting a Royal Worshipper

678. Torana Architrave: The Buddha's Birth and First Sermon

679. Ayaka Cornice with Four Scenes from the Buddha's Life

680. Buddha