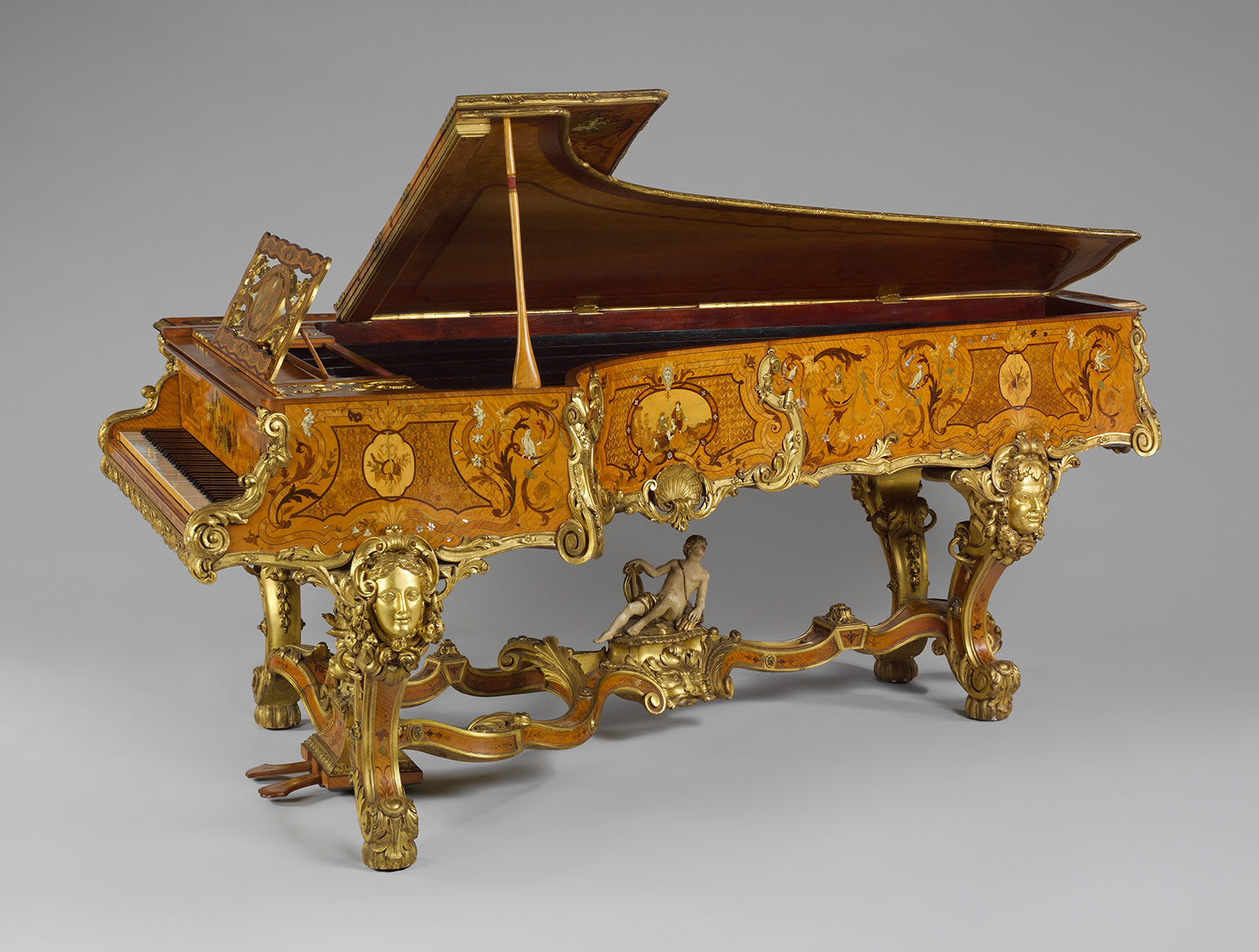 ---
Grand piano, ca. 1840
Érard & Co., London
Wood, various materials; L. of case (perpendicular to keyboard) 97 1/4 in. (247 cm); W. of case (parallel to keyboard) 58 7/8 in. (149.5 cm)
Gift of Mrs. Henry McSweeney, 1959 (59.76)

Sébastien Érard (1752–1831), who made his first piano in 1777, manufactured harps and pianos, and published music. Founding his firm in Paris in 1768, he served many French aristocrats: the duchesse de Villeroy provided him with a workshop, and he designed a special transposing piano for Marie Antoinette. The French Revolution seriously impaired sales (many of Érard's early instruments were confiscated from the aristocracy and burned), so he opened a second manufacturing and sales facility in London.
Érard's first pianos featured an English-style action (key mechanism), but by 1822 his brother and business partner Pierre had patented an improved mechanism featuring a double escapement, to permit players to repeat notes with greater speed and control. This action, with a few refinements, is used in today's grand pianos.
The cast iron frame had been patented in America in 1825, but European piano makers hesitated to adopt this feature (Conrad Graf continued to make wood cases until about 1840). In 1825, the Érard firm patented a frame constructed of iron bars and plates. While not as rigid and effective as the cast iron frame, the bolted-on iron bars, mounted both above and below the soundboard, greatly improved tuning stability. Many prominent musicians, including Haydn and Beethoven, used Érard pianos. Liszt made his sensational Paris and London debuts on Érard pianos fitted with the newly invented double-repetition action.
This piano, made in the London branch of the Érard firm, features the double repetition action, felt-covered hammers, and a constructed metal frame. The richly marquetried Louis XV–style case by George H. Blake was commissioned by the second Lord Foley, baron of Kidder, minister for Witley Court, his residence in Herefordshire/Worcestershire.
Related