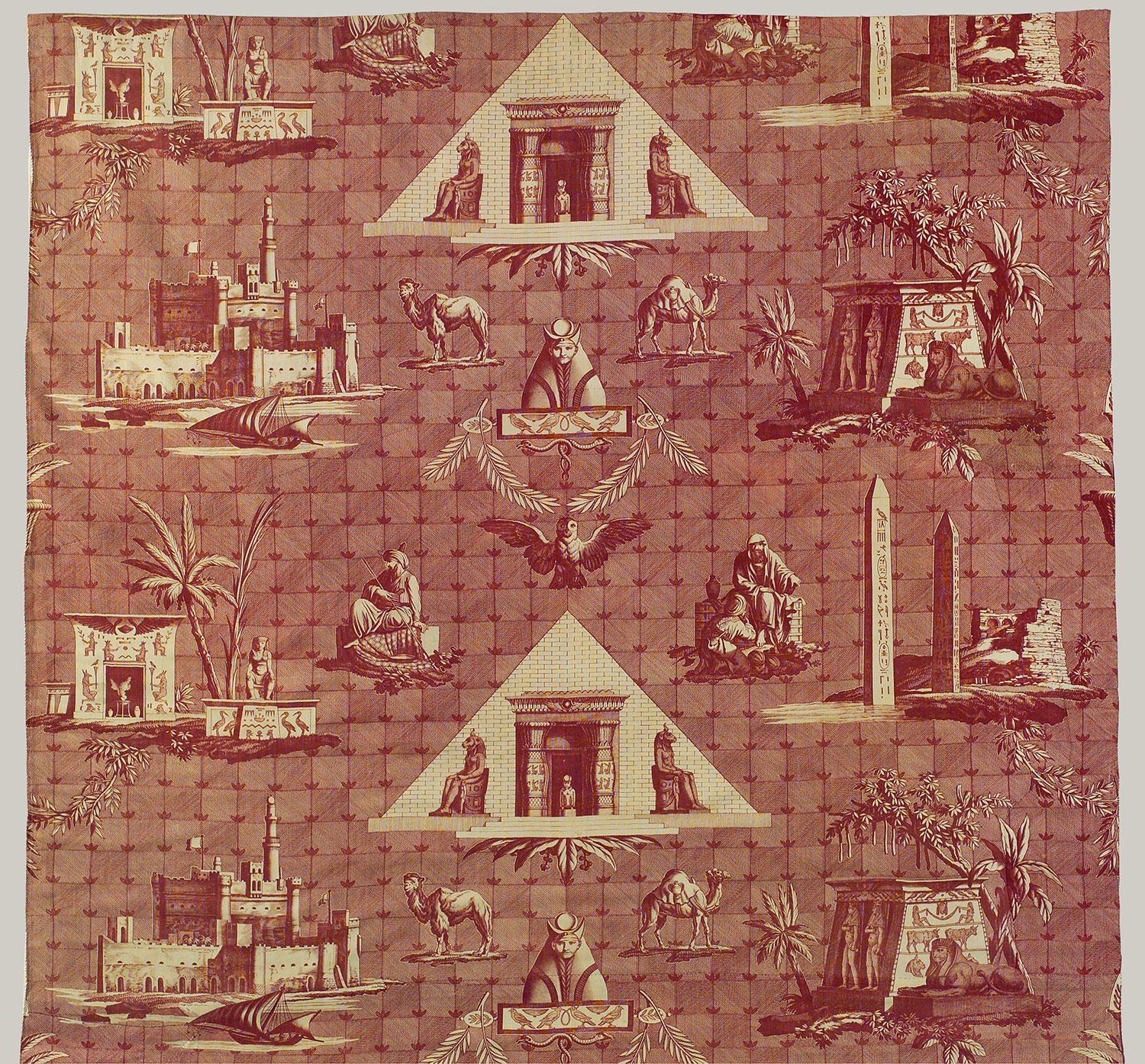 ---
Toile de Jouy: Les monuments d'Égypte, ca. 1808
Manufacture de Jouy (French, founded 1760); Designer: Jean-Baptiste Huet I (French, 1745–1811), after a drawing by Louis François Cassas (French, 1756–1827)
Roller-printed cotton

L. 98 1/2 in. (250.2 cm), W. 38 in. (96.5 cm)
Museum Accession (X.404)
This type of monochromatic pictorial cotton, toile de Jouy, takes its name from the village near Versailles where the first printed textile factory in France was founded. Started by Christophe-Philippe Oberkampf (1738–1815), who had been brought up in the textile industry, the factory began work in 1760. Located in Jouy-en-Josas near the court, it attracted an affluent clientele that appreciated the quality of Oberkampf's fabrics.
Printed multicolored patterns on cloth were achieved at first by use of carved wood blocks. By the 1770s, reproductions of finely drawn engravings of pictorial prints and floral and geometric patterns were made possible through copperplate and cylinder printing. Copperplate printing allowed for designs with a larger repeating pattern than that of block prints, although only in a single color; cylinder or roller printing soon provided the advantage of greatly increased production, although with a narrower repeat on the cloth. Oberkampf introduced these techniques into France and they were adopted by other manufacturing centers such as Mulhouse and Nantes.
Patterns for printing on cotton were created by draftsmen in the early days at the Jouy factory. But in 1783, the year in which Oberkampf acquired the royal license, he employed a Parisian painter, Jean-Baptiste Huet. Responding to general interest in Egyptian civilization stimulated by Bonaparte's expedition, Huet designed this pattern, Les monuments d'Égypte, in maroon on white cotton. Alternating scenes of Alexandria's harbor with the Maison Consulaire de France, the obelisk of Cleopatra with the ruins of the library, the obelisk de la Matharée with the waters of the Nile, and interpretations of other temples and sculpture are interspersed with figures and camels, all dispersed against a latticed ground punctuated by stylized lotus flowers. The motifs (printed in reverse) are derived from eight engravings after drawings by the painter and traveler Louis François Cassas. The engravings come from a series of 330 by Cassas and published in Gabriel de La Porte du Theil's Voyage pittoresque de la Syrie, de la Phoenicie, de la Palaestine et de la Basse Aegypte (1799).
Related