Courbet in Sight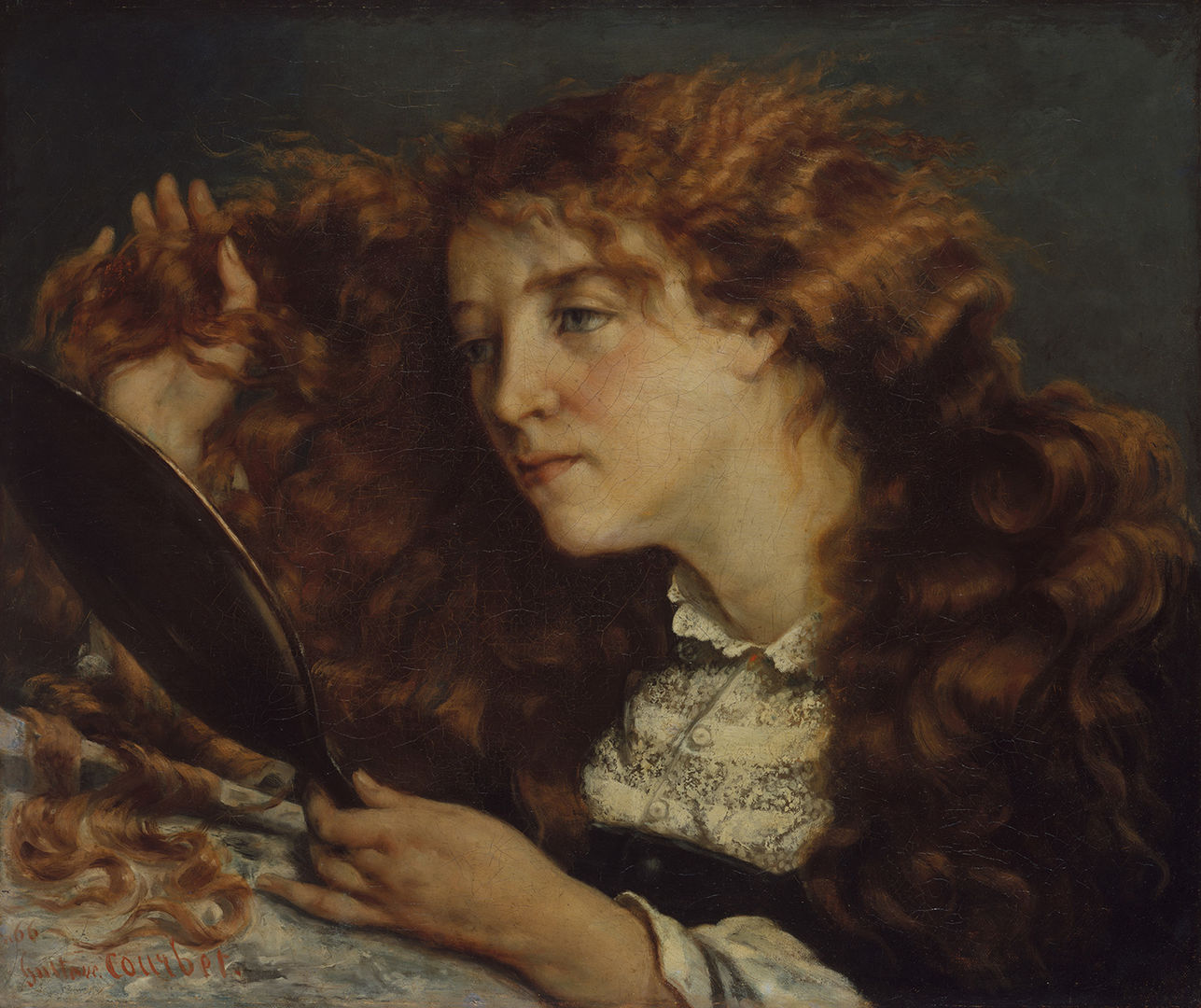 Gustave Courbet, French, Ornans 1819–1877 La Tour-de-Peilz, Jo, La Belle Irlandaise. Oil on canvas, 22 x 26 in. (55.9 x 66 cm). The Metropolitan Museum of Art, New York. H. O. Havemeyer Collection, Bequest of Mrs. H. O. Havemeyer, 1929 (29.100.63)
Nearly two years ago, I stood at the threshold of the Nineteenth-Century European Paintings Galleries, asking myself how on earth to reinstall these grand spaces in connection with the anticipated exodus of canvases for the exhibition Manet/Degas (Musée d'Orsay, Paris, March 28 to July 23, 2023, and The Met, September 24, 2023, to January 7, 2024.) The answer stood—rather, sprawled—right in front me. Gustave Courbet's exuberant Woman with a Parrot, which confronts visitors in the galleries much as it did when it debuted at the Paris Salon of 1866, would remain the core of the new installation. And so it is that today Courbet, the self-described "most arrogant man in France," takes a step forward into the limelight, his favorite place to be, with a focus on depictions of the human form in nineteenth-century Paris.
The new installation begins with an ensemble of paintings in Gallery 809 focusing on artists, their models, and the attainment of proficiency in rendering the human figure. These works constitute a nearly century-long survey of an exercise that was essential to just about every male artist's training—a practice based on perpetuating tradition but which proved just as crucial to individual expression and, for some, innovation. Studies of the nude model that focus on pose, contour, skin texture and color, as well as the fall of light and shadow, reveal how aspiring painters developed a skill that would enable them to take on ambitious subjects drawn from history, mythology, or allegory—as well as modern life.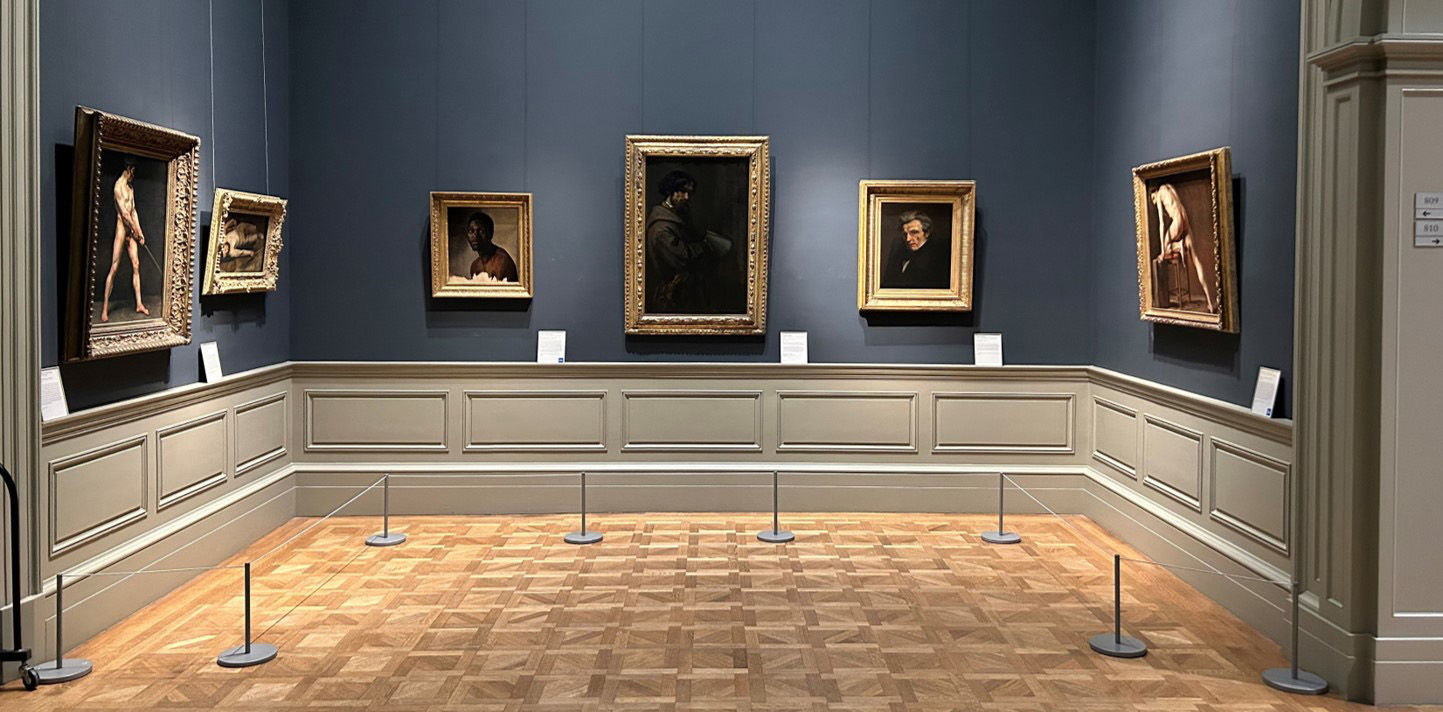 Many of the paintings on view are student works, which the artists made early in their careers. Most of the models' names and even some of the painters' names, were not recorded and are lost to us. Some of them went on to be famous in their lifetimes and even beyond, while others are known mainly by specialists today. Here's something that might be fun to try when you visit: restrain yourself from reading the gallery labels and ask yourself who among the artists would emerge as the next Delacroix, Courbet, Degas, or Sargent? (Hint: these names were not chosen at random.)
Among the works on view in Gallery 809, which have never been shown together, and which are all drawn from The Met's holdings, are notable recent acquisitions. One is François-Auguste Biard's Bust-Length Study of a Man and another is Study of a Nude Man, attributed to the young Gustave Courbet. Have you ever wondered what "attributed" means in this context? In this instance it signifies that, on the basis of available evidence, we believe the painting was produced by Courbet himself, but we cannot be certain. What we do know is presented on the object page devoted to the painting on the website, where you can see how scholars approach this sort of detective work.
Visitors will want to know why it is that all the painters represented here were men, and why most, but not all, the models were also men. Female models were not employed at the prestigious state-sponsored fine arts school, the Ecole des Beaux-Arts, until 1863. And women artists were not admitted to the Ecole until 1897, which makes the presence of Alfred Stevens's In the Studio a powerful counterpoint. Even private teaching studios were difficult for women to access, though that doesn't mean they weren't progressive for their time. The most famous of these, called the Académie Suisse after its owner, Charles Suisse, may have been where some of the nude studies on view—known as academies—were painted.
The next room, Gallery 810, is devoted largely to monumental figure paintings by Courbet and his younger contemporary Edouard Manet. Courbet was an outdoors-loving bon vivant from the rustic Franche-Comté region of eastern France, who cultivated a bohemian outsider status in the sophisticated Paris art world. By contrast, Manet was the quintessential urbane Parisian gentleman. What they shared was a commitment to painting modern subjects and to exhibiting their painterly innovations in the public realm of the Paris Salon, where they were subjected to ridicule but also gained the ardent admiration of young painters keen for something new. Canvases by Courbet and Manet are not separated into the monographic displays familiar to visitors to The Met. Rather, they are shown side by side, with the aim of giving visitors the opportunity to see what these two painters shared as well as their distinctive takes on color and brushwork, realism, and theatricality. See if you can spot features of these paintings—subjects, gesture, costume, props—that strike you as new in this installation.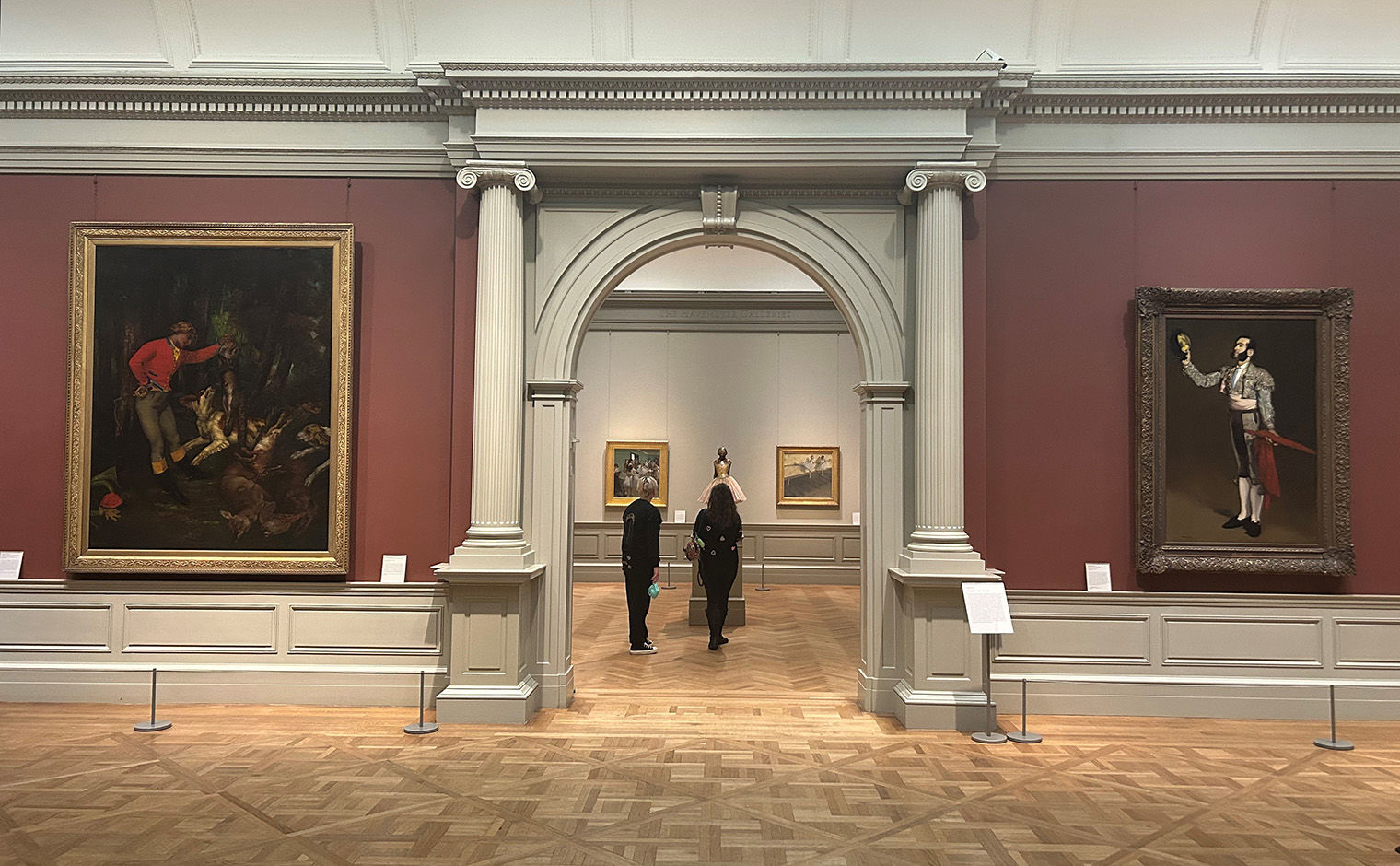 Finally, as you enter Gallery 811, with Courbet's Woman with a Parrot as its familiar centerpiece, check out what's new and different. In some instances, a familiar painting has simply been shifted. But context is everything. So take your time; scan the room clockwise and then counterclockwise. If Courbet's female nudes strike you as even more provocative than in the past, then it's most likely that the presence of Jean-Auguste-Dominique Ingres's Odalisque in Grisaille and Alexandre Cabanel's Birth of Venus have something to do with it. How does Courbet embrace a traditional genre—the female nude—and innovate from within that tradition? What is Courbet up to? Start by asking what the women he paints are actually doing in these ponds and forests and tents. Try describing to yourself everything you see. One pairing not to be missed is Jo, La Belle Irelandaise and the earlier Woman with a Mirror, the latter a loan from a private collection that has rarely been exhibited.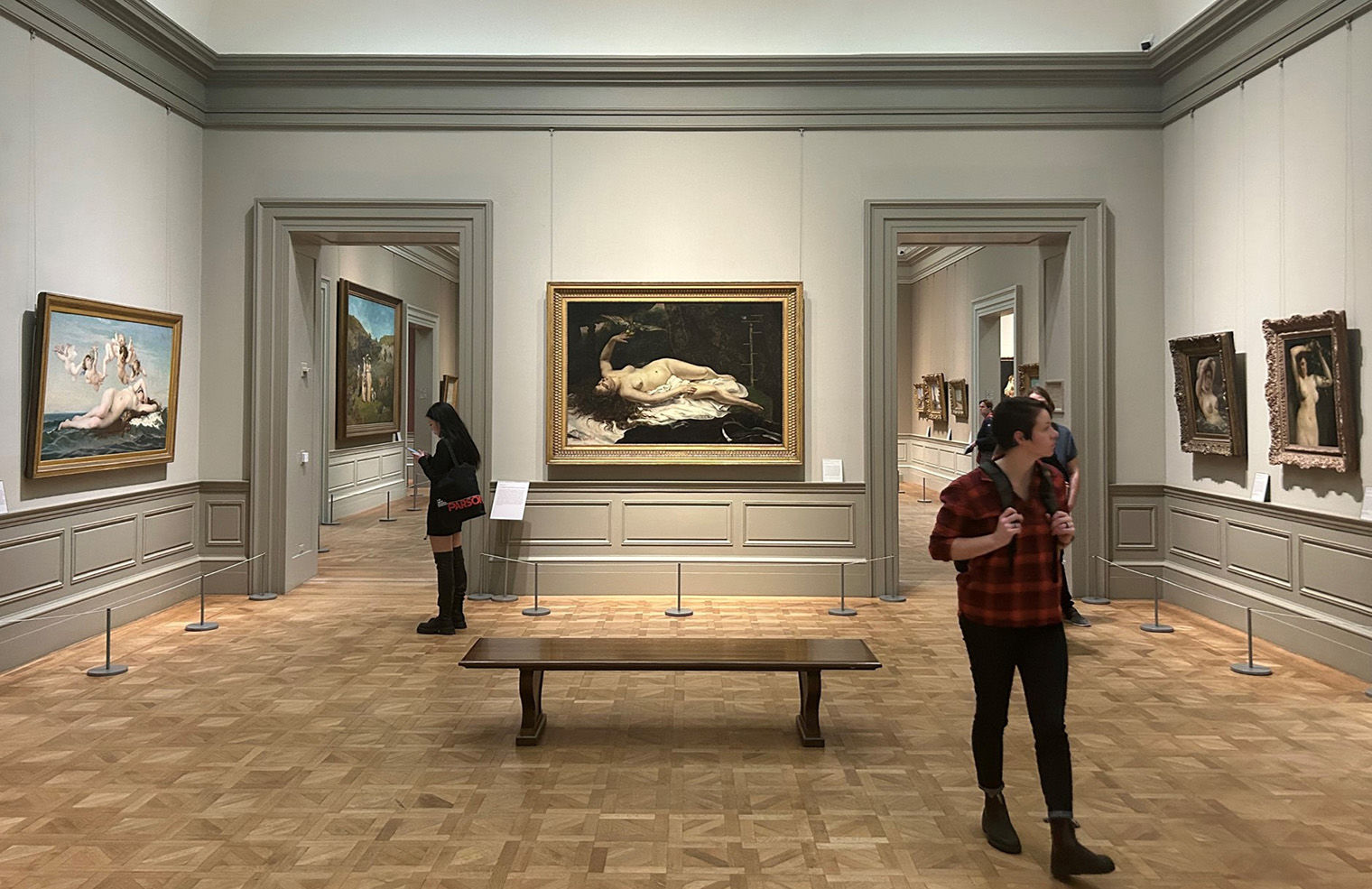 Myriad loans to the forthcoming Manet/Degas exhibition required the partial reinstallation of numerous galleries other than the ones mentioned here. Come see the nineteenth-century galleries in their first major reinstallation in fifteen years. And make sure to return for the special exhibition Manet/Degas, for which the permanent collection reinstallation will provide a complementary contextual display. Did I neglect to mention that in the midst of all this novelty there is a special exhibition this spring devoted to Vincent van Gogh's paintings and drawings of cypress trees? Whenever you come there will be much to see. If you are able, come back again and often. Many happy returns!