Fellows
Meet the 2021–2022 Fellows of the Department of Modern and Contemporary Art
To learn more about the Fellows and Distinguished Scholar in The Leonard A. Lauder Research Center for Modern Art, please click here.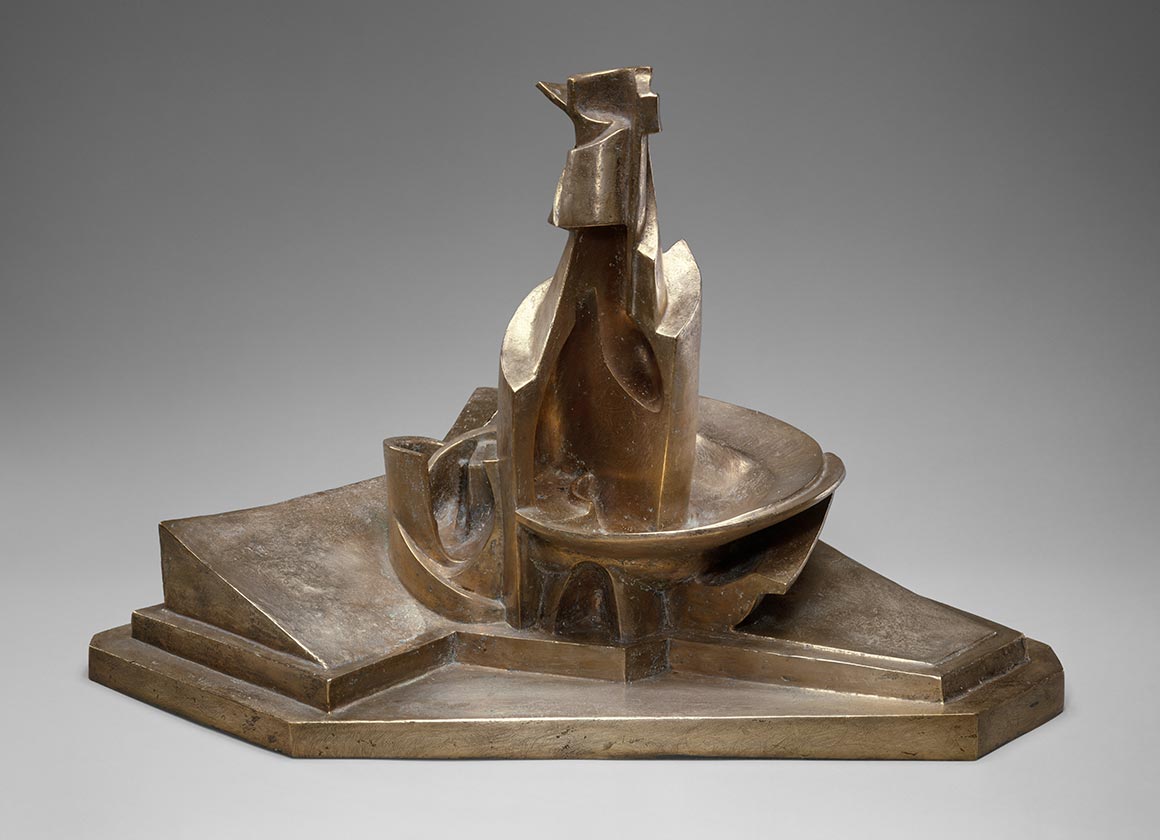 Umberto Boccioni (Italian, 1882–1916). Development of a Bottle in Space, 1913, cast 1950. Bronze, 15 1/2 x 23 3/4 x 15 1/2 in. (39.4 x 60.3 x 39.4 cm). The Metropolitan Museum of Art, New York, Bequest of Lydia Winston Malbin, 1989 (1990.38.2)
Lara Fresko Madra, Jane and Morgan Whitney Fellowship
Lara Fresko Madra is a PhD candidate in the Department of History of Art and Visual Studies at Cornell University. She holds an MA in comparative literature and a BA in cultural studies and has worked as a writer and curator since 2009. Her dissertation Historiography and Heterochronic Imagination in Contemporary Art from Turkey 1990-2020 explores contemporary art practices from Turkey, which challenge official history and offer critical and complex ways of relating to the past. At The Met, she will work on developing the conceptual framework of heterochronic imagination and explore its relevance beyond the immediate geographic specificity of Turkey by analyzing works by Rayyane Tabet, Michael Rakowitz, Walid Raad, Wael Shawky, and Zarina.
Desiree Nanuses, Chester Dale Fellowship
Desiree Nanuses is a PhD candidate in fine art curatorial practice at the University of Pretoria. Her curatorial practice is steeped in a sense of pride about history and centered on forging a collective identity for the future of all from the African continent and the diaspora. Desiree is the acting chief curator & collections curator for the National Art Gallery of Namibia. At The Met, her project will focus on a personal historiography of conversations with her father—about architecture (home/hut/dwelling), a telephonic hair appointment conversation, and various moments in her life that inform her understanding of self and personal, racial and nationalist politics.
Sara Garzón
Jane and Morgan Whitney Fellowship
Sara Garzón is a PhD Candidate in history of art at Cornell University. She specializes in contemporary Latin America art after the 1990s and focuses on issues relating to decolonization, indigenous eco-criticism, and temporality. At The Met Sara is analyzing the sculptural series by Colombian artist Carlos Motta titled Towards a Homoerotic Historiography (2013–14). Her research revolves around the 500-year commemoration of the Discovery of America, which was celebrated in 1992. In her future book project, Sara delineates how the quincentenary prompted many artists to engage with the styles and modes of representations established during the period of Spanish colonial rule in their efforts to subvert and rewrite their colonial (visual) histories.
Claire Ittner
Chester Dale Fellowship
Claire Ittner is a PhD candidate in the History of Art department at the University of California, Berkeley. She holds an MA from UC Berkeley and a BA from Davidson College. She studies 20th century modernisms in a global context, with an emphasis on the art of the African diaspora. Her fellowship at The Met will be spent conducting research for her dissertation project, titled "Fellow Travelers: The Artists of the Rosenwald Fellowship, 1940-1950," which examines the research travel conducted by Black artists under the auspices of a major fellowship program at midcentury. The resources at The Met will allow a critical engagement with the work of several of these artists––including Jacob Lawrence, Elizabeth Catlett, and Charles Alston––as well as with many of their "fellow travelers."
Cristóbal Jácome-Moreno, PhD
Chester Dale Fellowship
Cristóbal Jácome-Moreno was awarded a fellowship to investigate the presence of pre-Columbian figures and architecture in modern Mexican art, with a special focus on the work of painter Diego Rivera. Cristóbal's primary research areas of interest are modern Latin American art and architecture, and questions of nation-building, modernizing processes, and politics of patrimony.
Grant Klarich Johnson
Jane and Morgan Whitney Fellowship
As a Jane and Morgan Whitney Fellow, Grant Klarich Johnson completed his dissertation, Sheila Hicks: Weaving to the World, engaging experts and objects from across the Museum, particularly in the Arts of Africa, Oceania, and the Americas, the American Wing, and the Antonio Ratti Textile Center. He also contributed to a reinstallation of the department's mezzanine galleries, focusing in particular on works by Hicks, Etel Adnan, Shara Hughes, Al Loving, Ron Nagle, Robert Rauschenberg, Arlene Shechet, Alan Shields, K.G. Subramanyan, Christopher Wool in the museum's permanent collection.
Pierre-Jacques Pernuit
Jane and Morgan Whitney Fellowship
Pierre's dissertation, In Media Res: The Art of Mobile Color in America 1910–1960, examines what was termed in the nineteen-tens and nineteen-twenties "Mobile Color"; the art of projecting color light through "visual organs," or other light devices of varying sizes, onto screens in improvised, abstract compositions. The most emblematic example of Mobile Color was what the Danish-born artist Thomas Wilfred called "Lumia", an art that received significant institutional attention in post-war America. This project studies this early encounter between technology and avant-garde theories of abstract art, contextualizing Mobile Color within the art of its time by closely studying the discourses that accompanied these technological experiments at two different moments: their elaboration in the early decades of the 20th century, and their post-war exhibition in American museums.
Abbe Schriber
Sylvan C. Coleman and Pam Coleman Memorial Fund Fellowship
Marissa Vigneault, PhD
Andrew W. Mellon Senior Fellowship
Marissa Vigneault received her PhD in the history of art from Bryn Mawr College. Her research focuses on 1970s feminist performance art—with specific attention on the work of Hannah Wilke—and its critique of spectacle, commodification, and consumerism. While at The Met, Dr. Vigneault researched late-nineteenth- and early-twentieth-century tobacco/cigarette cards from the Jefferson R. Burdick Collection as part of the development of her book manuscript, Sugargiver: Hannah Wilke and New York City.