Curatorial Fellows
Meet the Fellows of The Costume Institute
Lilien Feledy, Gerald and Mary Ellen Ritter Memorial Fund Fellow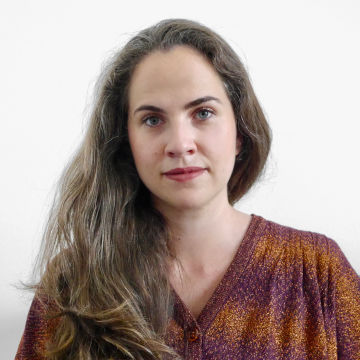 Lilien Lisbeth Feledy is a PhD-Candidate from the University of Applied Arts Vienna, Austria specializing in 20th-century art. She has a B.A. and M.A. in Art History from the University of Vienna and has worked as art educator and curatorial assistant at the Albertina in Vienna and The Fondation Beyeler in Switzerland among others. During her time at the Costume Institute she will be studying for her doctoral thesis textiles and dresses designed in the 1920's by Natalia Goncharova and Sarah Lipska for Marie Cuttoli's gallery Myrbor.
Sequoia Barnes
Gerald and Mary Ellen Ritter Memorial Fund Fellow
Sequoia Barnes is an artist and scholar, who received her PhD in Design from Edinburgh College of Art at University of Edinburgh. Her research examines the work of late fashion designer, Patrick Kelly, who is most known for being the first American to be accepted into the Chambre Syndicale du Prêt-à-Porter des Couturiers et des Créateurs de Mode in 1988 as well as his fashioning of black memorabilia – including figures and images associated with racist depictions of black people – which he attempted to reclaim and redefine through camp ready-to-wear fashion. During her time at the Costume Institute, she will be turning her research on Kelly's design aesthetic and techniques into a manuscript for a book as well as writing a journal article for publication.
Jonathan Square
Gerald and Mary Ellen Ritter Memorial Fund Fellow
Jonathan Michael Square is the Assistant Professor of Black Visual Culture at Parsons School of Design. He has taught at the University of Pennsylvania, Fashion Institute of Technology, and most recently Harvard University. He has a PhD from New York University, a M.A. from the University of Texas at Austin, and a B.A. from Cornell University. A proponent in the power of social media as a platform for radical pedagogy, he founded and runs the digital humanities project Fashioning the Self in Slavery and Freedom, which explores the intersection of fashion and slavery. While serving as a fellow in the Costume Institute, Square will work on a book manuscript on the same topic, tentatively titled Negro Cloth: How Slavery Birthed the Global Fashion Industry.
Alexis Romano
Gerald and Mary Ellen Ritter Memorial Fund Fellow
Alexis Romano (PhD, Courtauld Institute of Art) co-founded the Fashion Research Network and teaches at Parsons and NYCCT. Her interests within 20th-century dress include its everyday and subjective aspects, photography and ready-made design culture, illustrated in her book, Prêt-à-Porter, Paris and Women: A Cultural Study of Readymade Dress, 1945-1968 (Bloomsbury, 2022) and current project " Dialectics of Making and Wearing: Exploring Sportswear, Image and Women in the 1970s." Drawing on the Costume Institute's collection of sportswear by women designers such as Anne Klein, alongside imagery and oral history, it explores women's experience of making and wearing clothing: to reframe dress history, broaden fashion authorship, and deconstruct design hierarchies.