Louis XV (1710–1774), King of France
Jean-Baptiste Lemoyne the Younger French
Probably commissioned by Mme de Pompadour French

On view at The Met Fifth Avenue in Gallery 549
In 1730 in paris the young jean-baptiste lemoyne and his ailing father, Jean-Louis Lemoyne, signed the contract to execute a bronze equestrian statue of Louis XV for the Place Royale at Bordeaux.[1] Despite a notorious casting disaster, Jean-Baptiste brought the work to completion in 1743. He went on to execute a monument to the king in Rennes (unveiled in 1754) and the presentation model for another at Rouen (cast in 1772).[2] Louis was so well satisfied by these public celebrations of his reign that he ordered the sculptor to portray him in busts regularly, which Lemoyne did, until the king's death, in 1774. Art historian Antoine-Nicolas Dézallier d'Argenville's claim that these were made every three or four years reflects the widely held perception of many courtiers at the time that Lemoyne was the king's portrait sculptor of choice. [3] In 1768 the king's adviser on the arts, Charles-Nicolas Cochin, observed in a letter to the marquis de Marigny that Lemoyne was "the only artist who is now free to model after the King and who, consequently, is able to represent him as he actually is, with the greatest fidelity." [4] The sculptor had unusual freedom of access to the monarch for several decades. In all probability he sketched Louis —  ​although few drawings for finished busts survive —  and certainly he modeled him in clay. [5] The artist's familiarity with the royal features is reflected in this confident representation of the king.

Six busts of Louis by Lemoyne are listed in the records of the Administration of Royal Buildings (Direction des Bâtiments) but only two examples in marble are known today, one in a private collection in Paris, signed and dated 1749, and this one, also signed and dated, in the Museum.[6] They are similar in format —  the king wears a cuirass crossed by a sash and turns sharply to his left —  but the Metropolitan's bust is enlivened by a Rococo swirl of drapery. A comparison of the 1749 bust with this one, carved eight years later, reveals the qualities that led the king to favor Lemoyne. In both, Louis projects authority and wears the trappings of power —  armor, a cordon with the Order of the Golden Fleece, and the medal of the Order of the Holy Spirit (Saint-Esprit) pinned to his cloak —  and in both there is an ease to the way he carries himself. In the earlier characterization he is thinner and more alert. The later one shows that with the passage of time his body filled out and he became more relaxed. His hair is tied back simply with a bow, his shirt drapes casually around his neck, and he withholds his gaze from the viewer in a manner that might seem modest were he not so clearly a person of power. The flourish of his cloak, partially covering the socle, recalls that most commanding of French royal portraits, Gianlorenzo Bernini's flamboyant bust of Louis XIV (Versailles), but Lemoyne sought to characterize the monarch as approachable, as if seen by an intimate. One's eye is drawn to the sheen of the crinkled silk sash, the nubbly embroidery of the Order of Saint-Esprit, and the smoothly combed hair. Rather than dazzling us with the effects of a state portrait, Lemoyne has produced a bust that engages us with closely observed textures, including the fleshy cheeks, slightly sagging eyelids, and wrinkled neck of a man of forty-seven years.

The warmth of character conveyed must have appealed to the king's mistress, Madame de Pompadour, since she owned this bust as well as the one of 1749. It is likely that this bust, which was delivered on December 10, 1757, to Champs, a château Pompadour had rented, is the one exhibited at the Paris Salon earlier the same year. [7] Following her death, in 1764, the king bought it and presented it to Charles-François de Laverdy, his controller general of finances. There also exists a replica, lacking the inscription, in the collection of the duc de Luynes at the Château de Dampierre, which is thought to be of sufficiently high quality to have come from Lemoyne's atelier.[8]

Footnotes

1. Scherf 2009c, p. 432.
2. Scherf 2009c.
3. Dézallier d'Argenville 1787, vol. 2, p. 361.
4. Quoted in Raggio 1967b, p. 222.
5. Brière 1907.
6. Guilhem Scherf in Madame de Pompadour 2002, pp. 290 – 93, no. 128.
7. Duvaux 1748 – 58 / 1873, vol. 2, p. 340, no. 2946; Salon of 1757, no. 127 (?) .
8. Brière 1910, p. 75, under no. 7; Châteaux de l'Île de France 1963, ill. p. 82; Scherf in Madame de Pompadour 2002, p. 291.
#2290. Louis XV (1710–1774), King of France
Playlist

2290. Louis XV (1710–1774), King of France

2289. Louis XV (1710–1774), King of France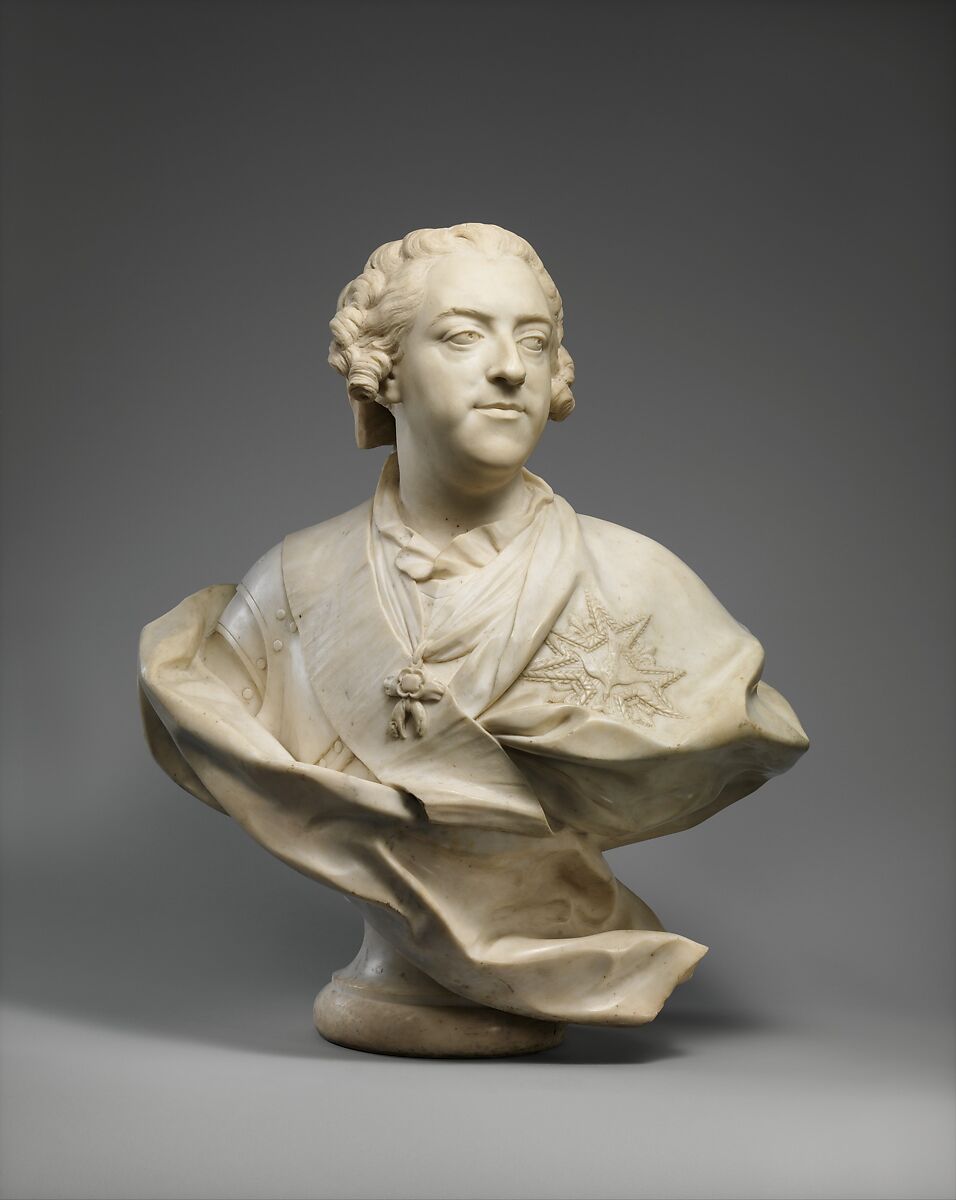 This artwork is meant to be viewed from right to left. Scroll left to view more.