Bedside table (table de nuit)
Attributed to Bernard II van Risenburgh

On view at The Met Fifth Avenue in Gallery 523
From hence we went forward to Belle Vue, the finest Situation I have hitherto seen in France—the House perfectly elegant;—it was inhabited by Madame de Pompadour it seems, when in the plenitude of her Power.
— Hester Thrale, journal entry for October 26, 1775

Situated between Meudon and Saint-Cloud, the Château de Bellevue, as its name suggests, offered beautiful prospects over the Seine River to the panorama of Paris in the distance. In 1750 Louis XV transferred the house, then just completed, to his official mistress, the marquise de Pompadour. Although modest in scale, the country residence was richly furnished by the king's favorite, who was born Jeanne-Antoinette Poisson (1721–1764), a commoner who became a great patron of the arts. The mark of the Château de Bellevue (BV under a crown) and the number 59 on the frame of this night table identify it as a piece listed in an inventory drawn up in 1763, six years after Louis XV had repurchased Bellevue and its furnishings from Madame de Pompadour. A number of such practical pieces of furniture intended to hold a chamber pot and other objects required during the night were acquired by Madame de Pompadour from the luxury dealer Lazare Duvaux between 1750 and 1756. An entry in Duvaux's account book for the years 1748–58 mentions that she purchased a pair of tables de nuit veneered with tulipwood and mounted with gilt bronze; they are described as being à contours, presumably referring to a serpentine outline, such as the sinuous line of the railing along the top of this table and the subtle undulation of its sides, legs, and apertures.

Attributed to Bernard II van Risenburgh, this table shows the stylized floral marquetry of dark, end-cut wood—here kingwood—against a lighter tulipwood ground for which this highly talented cabinetmaker was justly famous. The gilt-bronze handles on the sides facilitated placing the table next to a bed at night and removing it to an adjacent room, the garde-robe, during the day. The marble shelves would protect the wood from any spillage, and the opening at the back provided extra ventilation. The table remained at Bellevue after Louis XVI gave the country residence and its contents to his three unmarried aunts, the princesses Adélaïde (1732–1800), Victoire (1733–1799), and Sophie (1734–1782). It was sold with the rest of the furnishings from Bellevue during the Revolution, in 1794.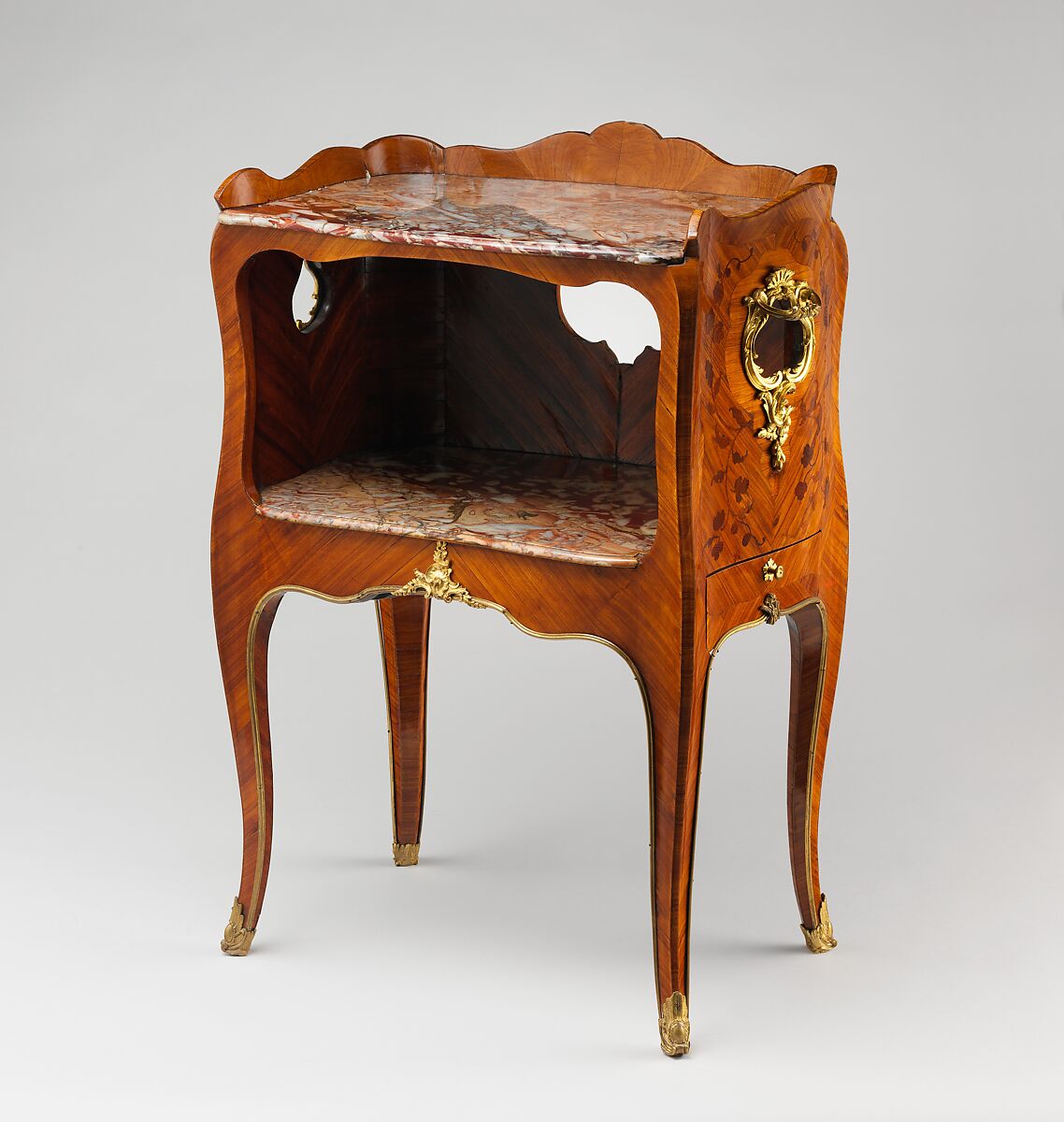 This artwork is meant to be viewed from right to left. Scroll left to view more.