"Le Bal"
Designer Paul Poiret French
Manufacturer André Perugia

Not on view
This magnificent pair of evening slippers is completely overembroidered in colored seed beads in a pattern that depicts Paul Poiret on one foot and Denise Poiret on the other. They are shown creating a sensation as they enter a crowded ball. Unlike these slippers, which can be best appreciated by close examination, many of Poiret's ensembles were conceived with the graphic boldness of stage costumes. His preference for high color and dramatic, if simple, shapes was appropriate for the world of the paparazzi and the red carpet. This performative role of his fashions is captured in the images of the social couple gliding through the glittering precincts of elite society.
The shoes, by the great cobbler Andre Perugia, are, except for one exaggerated detail, in the style of a simple pump. An attenuated tongue evokes historical prototypes from the court of Louis XIV. While Perugia appears to have collaborated with Poiret on occasion, the couturier's most famous innovation in footwear was his endorsement, and Denise Poiret's practice, of wearing boots. Constantly asked to make pronouncements on fashion, the designer, when he spoke of footwear, at one point famously advocated hose colored to match the skirt, with the shoe an accent to the ensemble. But while that was only a phase, his preference for pairing boots with tailored ensembles, particularly of shorter lengths, continued from the early teens until the close of his couture house in 1929. The bottier Favereau created a pair of white calf-height boots for Denise Poiret in 1913, which she continued to wear for decades, generally crushed down around her ankles.
Photographs of Poiret's house mannequins sporting his designs from 1919 to 1929 show them wearing shoes of generic simplicity. Even in footwear, it appears that Denise Poiret, once more, was the one who inspired some of Paul Poiret's greater flights of fancy.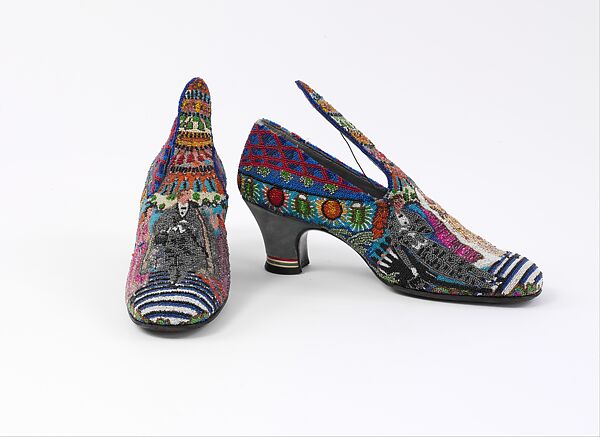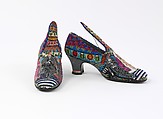 This artwork is meant to be viewed from right to left. Scroll left to view more.