Ensemble
Design House Comme des Garçons Japanese
(a, b, d) Rei Kawakubo Japanese
(c) Hat by Stephen Jones British

Not on view
Rei Kawakubo has on occasion displayed a surprising affinity for contemporary British street fashion. Some of her earliest Paris collections alluded to punk and neo-romantic styles through the filter of her own strong deconstructivist aesthetic. For example, her sweater with holes-the result, Kawakubo explained, of her deliberate disabling of a knitting machine-was a refined rendering of the loosely woven web sweaters on Kings Road.

In this ensemble, several tartans, with their rich familial and political narratives and associations with the history of the Scottish resistance, are combined in an untraditional jumble. Like Vivienne Westwood and Alexander McQueen, Kawakubo manipulates the symbolic textile for its radical, as well as its traditional, connotations. The original tartan ensemble was a long rectangle of cloth wrapped around the waist and fixed by a belt, with the excess fabric thrown over the shoulder. Kawakubo plays with the premise of the tartan as draped cloth. Her rebellious and anarchic conceit is expressed in the punk reference of the Union Jack headscarf and Mad Max, post-apocalyptic headpiece, designed with British milliner Stephen Jones.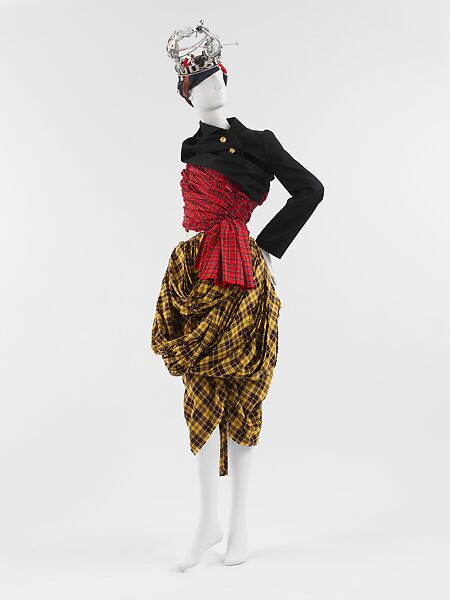 This artwork is meant to be viewed from right to left. Scroll left to view more.