On loan to The Met The Met accepts temporary loans of art both for short-term exhibitions and for long-term display in its galleries.
Ensemble
Designer Gilbert Adrian American

Not on view
The drama and glamour found throughout Adrian's designs are often attributed to his background in cinema, though another significant result of his theatrical training was his aptitude in utilizing clothing as a narrative device. His sense of humor and the confidence he sought to impart to the wearer come through in the nomenclature conceived to identify his creations, which included a range of witty titles such as "Head in the Clouds," "To Be Worn with Assurance," and "Don't Throw Bouquets at Me."

It is unsurprising that prints became an area of particular interest to the designer, who was an artist and skilled illustrator from an early age. Adrian often worked with manufacturers like Bianchini-Férier and Enka to produce his own textile patterns. Here, he exploits the genre of the conversational print, expanding it to overblown proportions with a pair of impish kittens that playfully entangle the wearer's feet and flop across one shoulder. In a finishing touch, the appliquéd gingham bows conjure the iconic blue-and-white pinafore that he designed for Judy Garland in The Wizard of Oz (1939).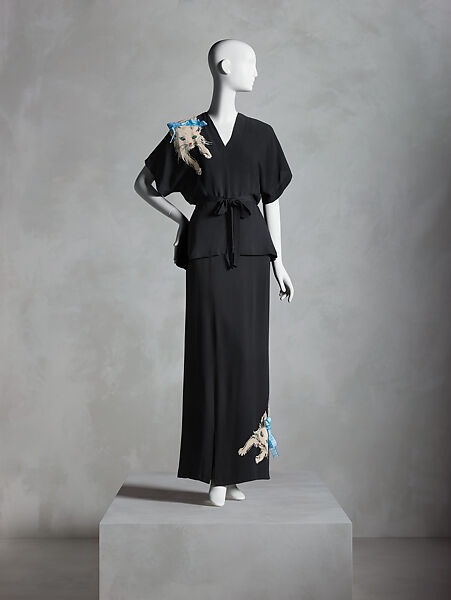 This artwork is meant to be viewed from right to left. Scroll left to view more.