On loan to The Met The Met accepts temporary loans of art both for short-term exhibitions and for long-term display in its galleries.
Coat
Design House Fortuny Italian
Designer Mariano Fortuny y Madrazo Spanish

Not on view
The straight-cut garments Fortuny favored were influenced by clothing he had observed firsthand during his travels, such as the Moroccan jellaba, and artistic representations of ancient Greek and medieval and Renaissance European dress. Minimal shaping seams free the body and offer an uninterrupted expanse to optimally display his magnificent prints. In this coat, Fortuny's rich gold pattern of stylized plant motifs set within lobed compartments recalls fifteenth-century Italian velvets. Contemporaries praised similar garments by Fortuny, as exemplified in Harper's Bazaar, which lauded a Fortuny gown as an item that would "last for a lifetime, undiminished in beauty, for its style never becomes antiquated and its gold never tarnishes." Although Fortuny's designs referenced specific historical periods, in the context of contemporaneous fashion they were viewed as timeless. They are in a sense outside of time, lacking the marks of year or season associated with prevailing modern fashions, and they were seen as possessing enduring beauty, imparted by their reference to art forms regarded as apexes of artistic achievement and by materials designed to remain unchanged in appearance.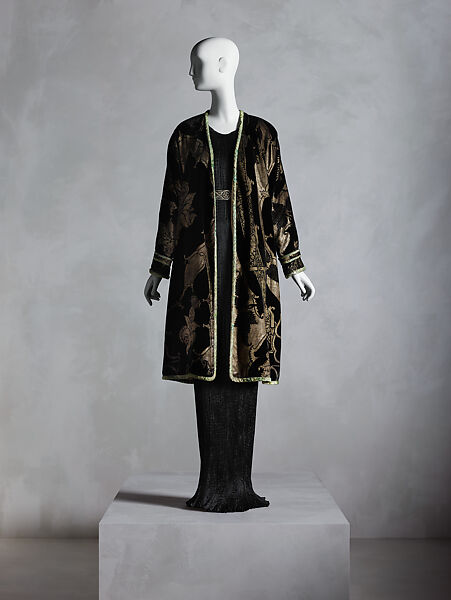 This artwork is meant to be viewed from right to left. Scroll left to view more.