Ensemble
Designer Marguery Bolhagen American

Not on view
Marguery Bolhagen was a fashion designer throughout the third quarter of the 20th century. Many of her garments create a fitted structural silhouette which is suggestive of Charles James, who she worked for prior to opening her own stores in Washington D. C. and New York.

The inspiration taken from her previous mentor, Charles James, is evident in these coordinates. The use of day to evening sets such as these was one which James had employed in the 1940s to assist busy women such as the donor, Mrs. William Randolph Hearst, Jr. as seen in 2009.300.1278a–c, a design of his from 1947. Another nod to James would be the puffed quality of the rolled bodice neck and jacket hem. Bolhagen has taken these concepts and altered them to the basic fitted silhouette which is common amongst her garments.

Austine Hearst was the third wife of William Randolph Hearst, Jr. (1908-1993), son of William Randolph Hearst (1863-1951), turn of the century newspaper mogul. She spent the war years hosting a radio show and writing a newspaper column about young society, which was picked up for national syndication after the war. She married Hearst in 1948, after a seven year marriage to Igor Cassini (1915-2002), brother of the fashion designer Oleg Cassini (1913-2006). She continued as a columnist until after her children were born in the early 1950s. The Hearsts were invited to parties at the White House, Truman Capote's infamous 1966 Black and White Ball and interviews with foreign dignitaries, to name a few. She was continuously on the International Best Dressed List throughout the 1950s and was inducted into the Best Dressed List International Hall of Fame in 1959. She first became a donor to the Brooklyn Museum in 1953 at the request of friend and designer, Charles James. Her first donation was comprised of James muslins and dresses. Thereafter, she regularly donated garments by famous designers such as Christian Dior, Madame Alix Grès and Arnold Scaasi, among others.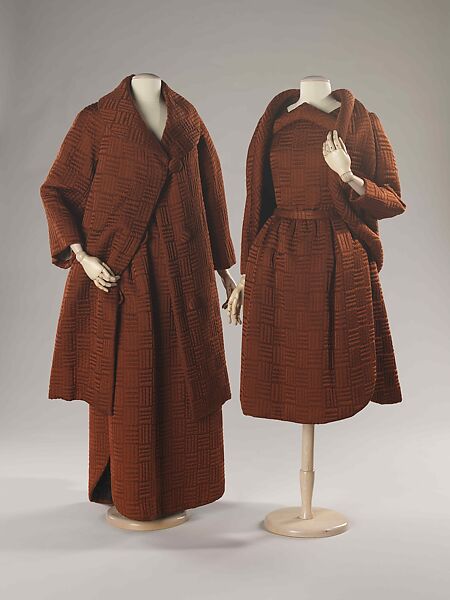 This artwork is meant to be viewed from right to left. Scroll left to view more.