Evening belt
Designer Elsa Schiaparelli Italian

Not on view
Schiaparelli often used her accessories, particularly belts, as avenues of expression for her Surrealist ideals. Buckles, clasps, decorations and belts themselves were made of unusual materials, such as plastic and plaster, and in quirky shapes that could elicit a viewer's double-take. To pair such an off-beat accessory with a couture garment was just the kind of humorous irony Schiaparelli enjoyed incorporating into her work.

An ultimate expression of Schiaparelli's interest in Surrealism, this belt was shown in the fall 1934 collection along with other pieces featuring the hand motif, such as a jacket, cape and handbag with hand-shaped fasteners. The hand was seen in many Surrealist artworks, such as those by Man Ray, and Schiaparelli used it in remarkable ways to accent her clothing designs. The wearer is literally embraced around the waist by the belt, an image echoed in the well-known jacket from the fall 1937 collection, featuring a woman with her golden sequined hair draped down one arm and her arm and hand wrapped across the body and waist, again embracing the wearer. The design was inspired by a drawing by Jean Cocteau for Schiaparelli. Millicent Rogers, the previous owner of this belt, was an avid supporter of Schiaparelli's work, especially her more unorthodox creations.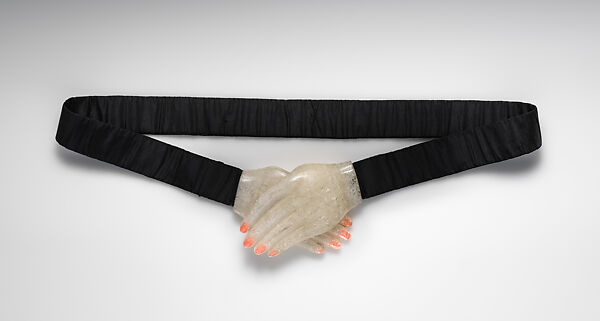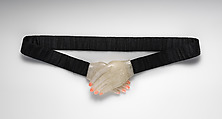 This artwork is meant to be viewed from right to left. Scroll left to view more.