Ensemble
Designer Edward Molyneux French, born England

Not on view
Often remembered as Captain Molyneux, Edward Molyneux began his career with the English couturiere Lucile, Lady Duff Gordon, as a fashion sketcher and later assistant, traveling with her from London to New York and Chicago. Returning after WWI with blindness in one eye, Molyneux opened his own couture house in 1919 in Paris at 14 rue Royale. He opened several other branches, in both Monte Carlo and Cannes, and finally London. Molyneux had an artistic flair and obsession with the bourgeois. His clientele included the social elite as well as stars of the stage. Working in luxurious fabrics, he created exquisite pieces for both day and night, his colors of choice being navy, black and beige. His simplistic masterpieces were perfect for the woman who desired to look "absolutely" right.

Using one of his colors of choice, this navy blue ensemble is a perfect example of Molyneux's unsurpassed workmanship. The crisp elegant lines of the suit are made slightly effeminate with the trompe l'oeil ruffles worked in an apron, and the small red bow at the neck. This would have been a proper English style coveted by the chic Parisian woman.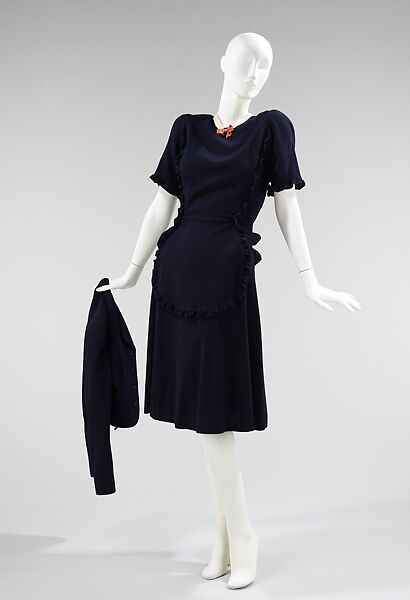 This artwork is meant to be viewed from right to left. Scroll left to view more.