Dress
Not on view
This historical dress served as an inspiration for a 1950's muslins designed for Mrs. William Randolph Hearst, Jr., by Charles James (2009.300.2777, 2009.300.2778). The donor, who was a life-long muse and friend of James, often brought him historical fashions to reinterpret. The results were imaginative and unique although it is unclear of the final results were ever worn.

The Empire silhouette is readily identified with its origins in the chiton of ancient Greco-Romans, which was a tubular garment draped from the shoulders and sometimes belted beneath the bust. Several re-interpretations have occurred throughout costume history but none have been as notable as the period bridging the rectangular panierred skirts of the 18th century and the conical hoop skirts of the 19th century. The neoclassic style was adopted in all forms of decoration after the French Revolution and was upheld during the Napoleonic Wars partly due to Napoleon Bonaparte's (1769-1821) alliance with Greco-Roman principles. In fashion, the style began as children's wear made from fine white cotton, but was adopted by women in the form of a tubular dress with skirts that were gathered under the bust with some fullness over a pad at the back. As the style progressed the skirts began to flatten at the front and solely gather from the bodice at the center back. The style persisted until the 1820s when the waist slowly lowered and the skirts became more bell shaped.

Austine Hearst was the third wife of William Randolph Hearst, Jr. (1908-1993), son of William Randolph Hearst (1863-1951), turn of the century newspaper mogul. She spent the war years hosting a radio show and writing a newspaper column about young society, which was picked up for national syndication after the war. She married Hearst in 1948, after a seven year marriage to Igor Cassini (1915-2002), brother of the fashion designer Oleg Cassini (1913-2006). She continued as a columnist until after her children were born in the early 1950s. The Hearsts were invited to parties at the White House, Truman Capote's infamous 1966 Black and White Ball and interviews with foreign dignitaries, to name a few. She was continuously on the International Best Dressed List throughout the 1950s and was inducted into the Best Dressed List International Hall of Fame in 1959. She first became a donor to the Brooklyn Museum in 1953 at the request of friend and designer, Charles James. Her first donation was comprised of James muslins and dresses. Thereafter, she regularly donated garments by famous designers such as Christian Dior, Madame Alix Grès and Arnold Scaasi, among others.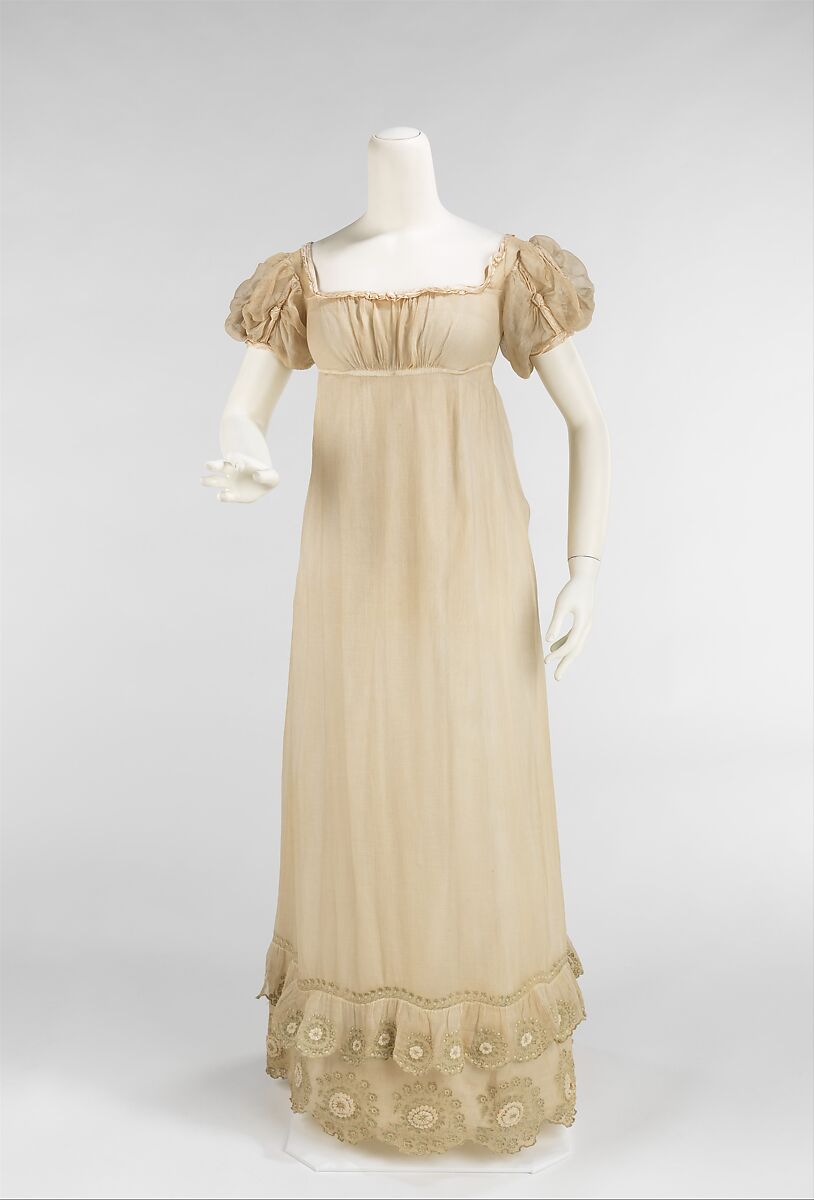 This artwork is meant to be viewed from right to left. Scroll left to view more.