"Petal"
Designer Charles James American

Not on view
For the Eisenhower Inaugural Ball of 1953, Austine Hearst, the wife of Mr. William Randolph Hearst, Jr., commissioned the Anglo-American fashion designer Charles James to create something for her to wear. Although the resulting garment was not, in typical Jamesian manner, completed in time for the function, it has since become one of the icons of mid-century couture and by James's own evaluation, his pinnacle in dressmaking.

Reworking a lobed hemline design in the 1930s and melding it with a quatrefoil millinery model of 1948, James fabricated a gown of four layers-and inner taffeta slip, a structured under petticoat, a matching petticoat flare, and an overdress. The garment expresses James's fascination with geometry and mathematics: while the four lobes are not of equal dimension, they readily fit within a circle. His eye for line and texture is demonstrated by the application the costliest silks: white duchess satin, black velours de Lyon, and ivory silk faille. Here James is a sculptor who happens to have selected fabric as his medium. The garment is constructed from thirty pattern pieces, twenty-eight of which are cut in duplicate, the remaining two singly. Once he had perfected the form he went on to create other similarly shaped garments, some of which were copies, others adaptations. The stole, with its petal outline, is of black silk velvet and white stain. It was adapted from the hipline yoke of a ball gown that James created in 1949.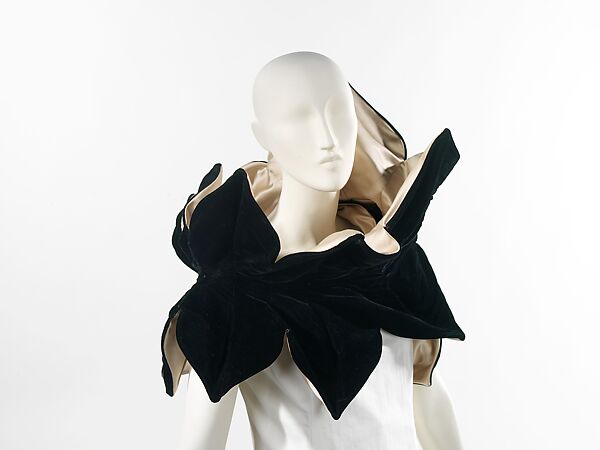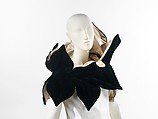 This artwork is meant to be viewed from right to left. Scroll left to view more.