Reclining putto
Style of Andrea del Verrocchio Italian

Not on view
In 1490, two years after the death of the sculptor Andrea del Verrocchio, his brother Tommaso listed various properties that he claimed were his by right. They included four clay infants, three called "abozati" (abbozzati, or "roughed out").[1] Although undescribed, they have been taken to include the original reclining baby from which the present one and several others derive.

A terracotta pair, once in the Kaiser-Friedrich Museum, Berlin, reprised this basic model and a mate in which the position is reversed. They were destroyed in World War II and hence cannot be judged except through photographs, but they were too sleek in quality to permit their identification as models by Verrocchio.[2] A marble of our type in the Fine Arts Museums of San Francisco is superior to the bronze but badly weathered and probably too tame in facture to merit consideration as by Verrocchio or his associate Francesco di Simone Ferrucci del Tadda.[3] The model was further disseminated in a well-known book of drawings from Ferrucci's workshop, now in the Musée Condé, Chantilly.[4] Two images of a reclining shield-supporting child feature the same proper left foot playing freely over the proper right knee as in the San Francisco marble. The posture was retained by Albrecht Dürer in a drawing dated 1506 (Bibliothèque Nationale, Paris) and a painted Madonna of 1512 (Kunsthistorisches Museum), prompting suppositions that Dürer owned a three-dimensional copy.[5] Our bronze departs from all these early citations of the model, which place the boy's proper left heel in front of his right knee, big toe directed upward in an involuntary reflex. The lack of this charming, childish movement; the inorganic, uncomprehending mass of curls; the conformal casting; and the lustrous, ruddy patina all suggest that the Verrocchiesque model survived only in a state of serious disrepair by the time it was reiterated in the bronze copy, datable no earlier than the late sixteenth century and very likely much later. Our model was also adapted for a Christ Child in a Madonna at Upton Hall, Nottinghamshire, once called "French School, c. 1500" but now deemed a forgery.[6]
-JDD

Footnotes
(For key to shortened references see bibliography in Allen, Italian Renaissance and Baroque Bronzes in The Metropolitan Museum of Art. NY: The Metropolitan Museum of Art, 2022.)


1. Covi 2005, p. 286.
2. Ibid., figs. 162, 163.
3. FAMSF, 1949-02-17; see Naldi 2002, pp. 86, 93 n. 79.
4. See Pisani 2007, p. 148, pl. 162.
5. Tietze and Tietze-Conrat 1928–38, vol. 2.1 (1937), no. 502.
6. Gore 1993, p. 213.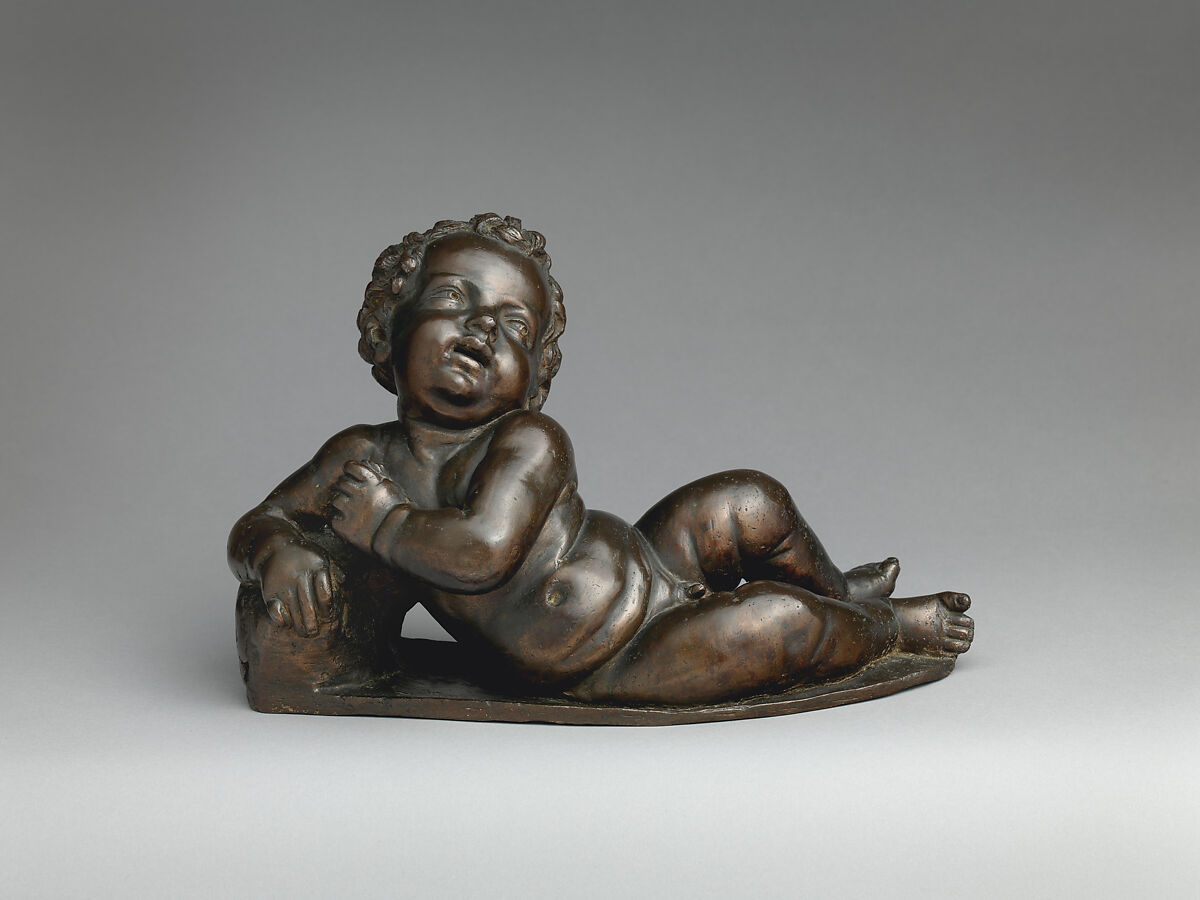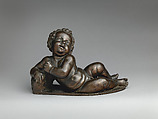 This artwork is meant to be viewed from right to left. Scroll left to view more.