The Rape of Europa and Mercury and the Three Graces
Watchmaker: Lambertus Vrythoff
Decoration on case after paintings by Simon Vouet French

On view at The Met Fifth Avenue in Gallery 532
The exterior of this watchcase depicts the Rape of Europa and Mercury and the Three Graces, both miniature versions of paintings by Simon Vouet (1590–1649). The former so closely resembles the painting both in color and detail that it likely derives from the painting itself rather than the engraving of it by Michael Dorigny (1617–1665), which is, in any case, a reverse image of both the painting and the watchcase. Enameled watchcases of this period are rarely signed, and as the best enamelers were so adept at reproducing the style of their models, an individual hand is difficult, if not impossible, to identify. Nevertheless, these exquisite miniatures have their closest parallels in the work of Henri Toutin (1614–ca. 1683) of Châteaudun and, after 1636, of Paris.

The dial of the watch is emblazoned with the arms of Louis Hesselin (1602–1662), King Louis XIV's organizer of entertainments (surintendant des plaisirs du roy), and the inside of the case contains Hesselin's portrait after an engraving by Robert Nanteuil (1623–1678), the favored portraitist of many of the most important members of the royal court. The watch is mentioned in the inventory of Hesselin's estate. It was "modernized" in the eighteenth century with an eight-day movement by a prominent Dutch watch- and clockmaker working in The Hague about 1750, who seems to have had patrons with a special liking for enameled gold cases.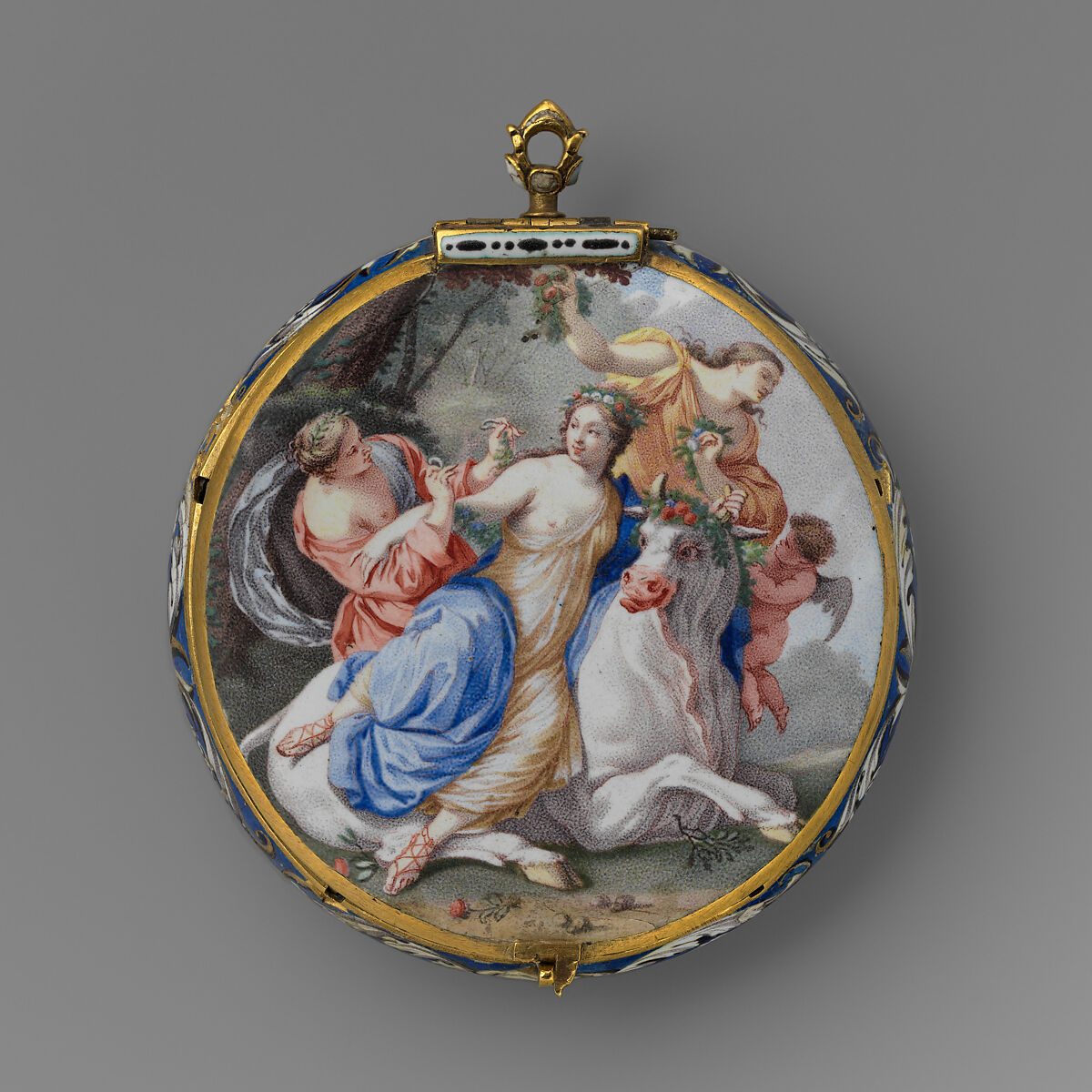 This artwork is meant to be viewed from right to left. Scroll left to view more.