Plate
Laurent Cars French
After a painting by Nicholas Lancret

Not on view
Faience, or tin-glazed and enameled earthenware, first emerged in France during the sixteenth century, reaching widespread usage among elite patrons during the seventeenth and early eighteenth centuries, prior to the establishment of soft-paste porcelain factories. Although characterized as more provincial in style than porcelain, French faience was used at the court of Louis XIV as part of elaborate meals and displays, with large-scale vessels incorporated into the Baroque garden designs of Versailles. Earlier examples of French faience attest to the strong influence of maiolica artists from Italy. Later works demonstrate the ways in which cities such as Nevers, Rouen, Lyon, Moustiers, and Marseille developed innovative vessel shapes and decorative motifs prized among collectors throughout Europe.

While faience can be created from a wide mixture of clays, it is foremost distinguished by the milky opaque white color achieved by the addition of tin oxide to the glaze. French faience is typically divided into two types. Grand feu (high fire) describes pieces that have been decorated with glaze and metallic oxides before being fired a single time at a high temperature of around 1650°F (900°C). Petit feu (low-fire) faience, developed in the second half of the eighteenth century, refers to a process whereby the clay body is fired before being glazed and decorated with metallic oxides and then fired again at a lower temperature; pieces can also go through a third firing. Grand feu pieces have a more limited color palette that consists of blue, yellow, brown-purple, and green. By contrast, the lower firing temperature of petit feu faience enabled both greater precision in painting techniques and variety in the range of colors.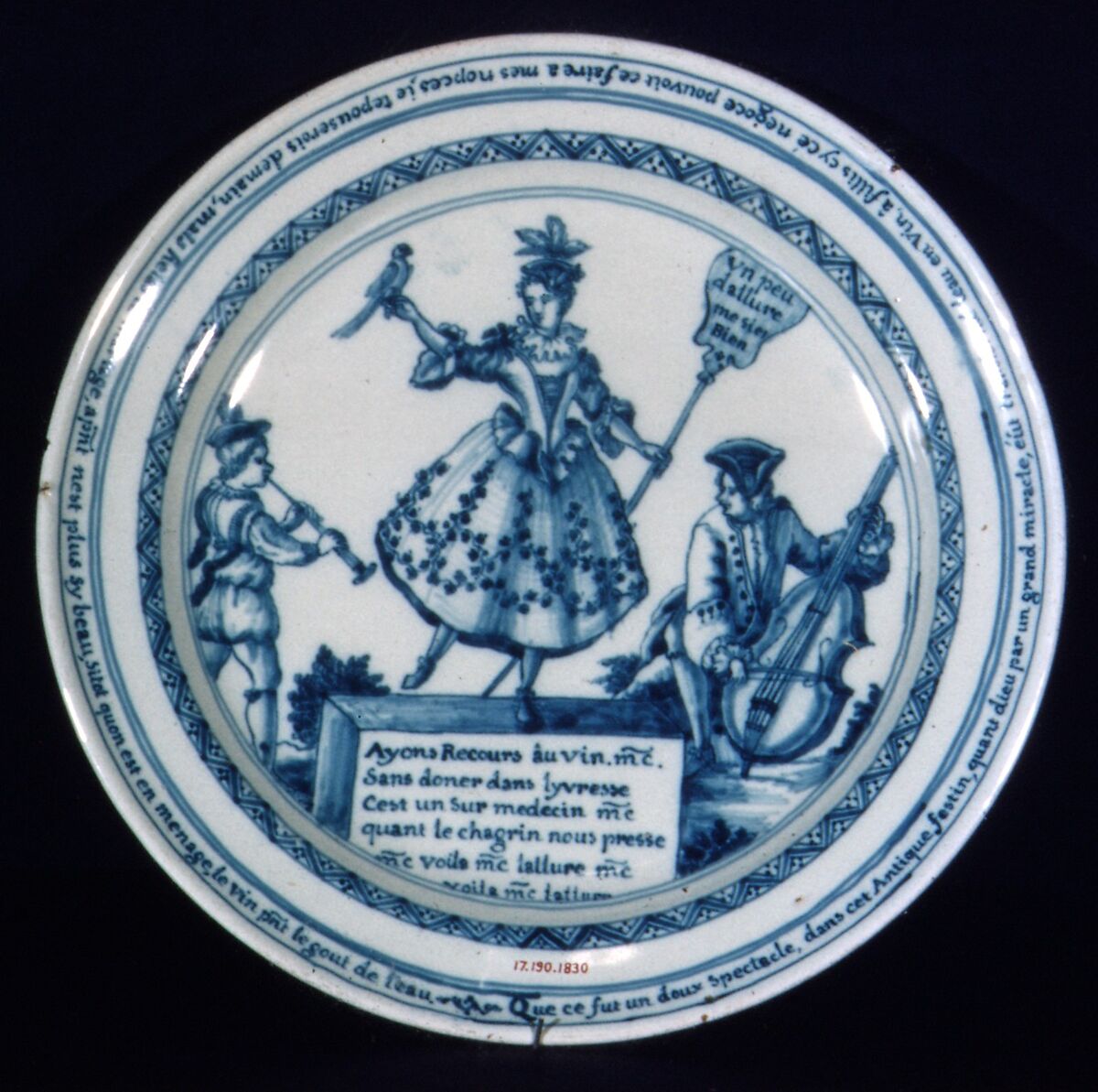 This artwork is meant to be viewed from right to left. Scroll left to view more.