Commode (Secrétaire à abattant)
Jean Henri Riesener French

On view at The Met Fifth Avenue in Gallery 524
Jean-Henri Riesener created this splendid secretary and commode for Marie-Antoinette in 1783. They were commissioned for the queen's Grand Cabinet Intérieur at Versailles, where she kept the collection of Japanese lacquer boxes she had inherited from her mother, Empress Maria Theresa (1717 – 1780) of Austria. So that their surface decoration would harmonize with that of the boxes, choice fragments of seventeenth-century Japanese lacquer were reused as veneer for these pieces of royal furniture. The shiny black and gold lacquer and lustrous ebony form a striking background for the exceptionally beautiful gilt-bronze mounts (see detail page 102). Consisting of swags and interlaced garlands of naturalistic flowers, these jewel-like mounts incorporate the queen's initials in the frieze as well as handles shaped like rippling ribbons. Enclosed behind the fall front of the secretary, several secret drawers are hidden beneath the hinged floor of the central compartment. These small drawers, as well as a strongbox that could be locked separately, offered places to store valuables and protect personal correspondence from prying eyes. The queen undoubtedly used them, for she never believed any papers were safe at the court, according to the Austrian diplomat Florimond-Claude, comte de Mercy-Argenteau (1727 – 1794). He had reported to her mother many years earlier that the dauphine was fearful of duplicate keys and apprehensive that things would be taken from her pockets at night.[1]

The history of these famous pieces of furniture is remarkably well documented. Marie-Antoinette frequently changed the decor of her private rooms, and in 1787 she had the commode and secretary sent from Versailles to her new summer palace at Saint-Cloud. Both pieces left the royal collections when they were given in lieu of payment for his services during the Revolution to Abraham Alcan, a contractor of supplies for the army of the Rhine and Moselle. During the nineteenth century, the queen's secretary and commode were part of several notable British collections. George Watson Taylor (1770 - 1841) kept them at his country house, Erlestoke Park, in Wiltshire, and later they belonged to the dukes of Hamilton. At the famous Hamilton Palace sale of 1882 the royal pieces were acquired for Mrs. William Kissam Vanderbilt (1853 - 1933 ), one of the reigning society hostesses of New York City, for her mansion on Fifth Avenue. Her daughter Consuelo Vanderbilt Balsan (1877 - 1964) remembered Marie-Antoinette's lacquer secretaire and commode standing in the white drawing room, which was hung with a set of Boucher tapestries. [2]

Footnotes

1. Mercy-Argenteau 1770 . 80 .1874, vol. 1, p. 75.
2. Balsan 1952, p. 11.
Playlist

2263. Commode, Part 1

2264. Commode, Part 2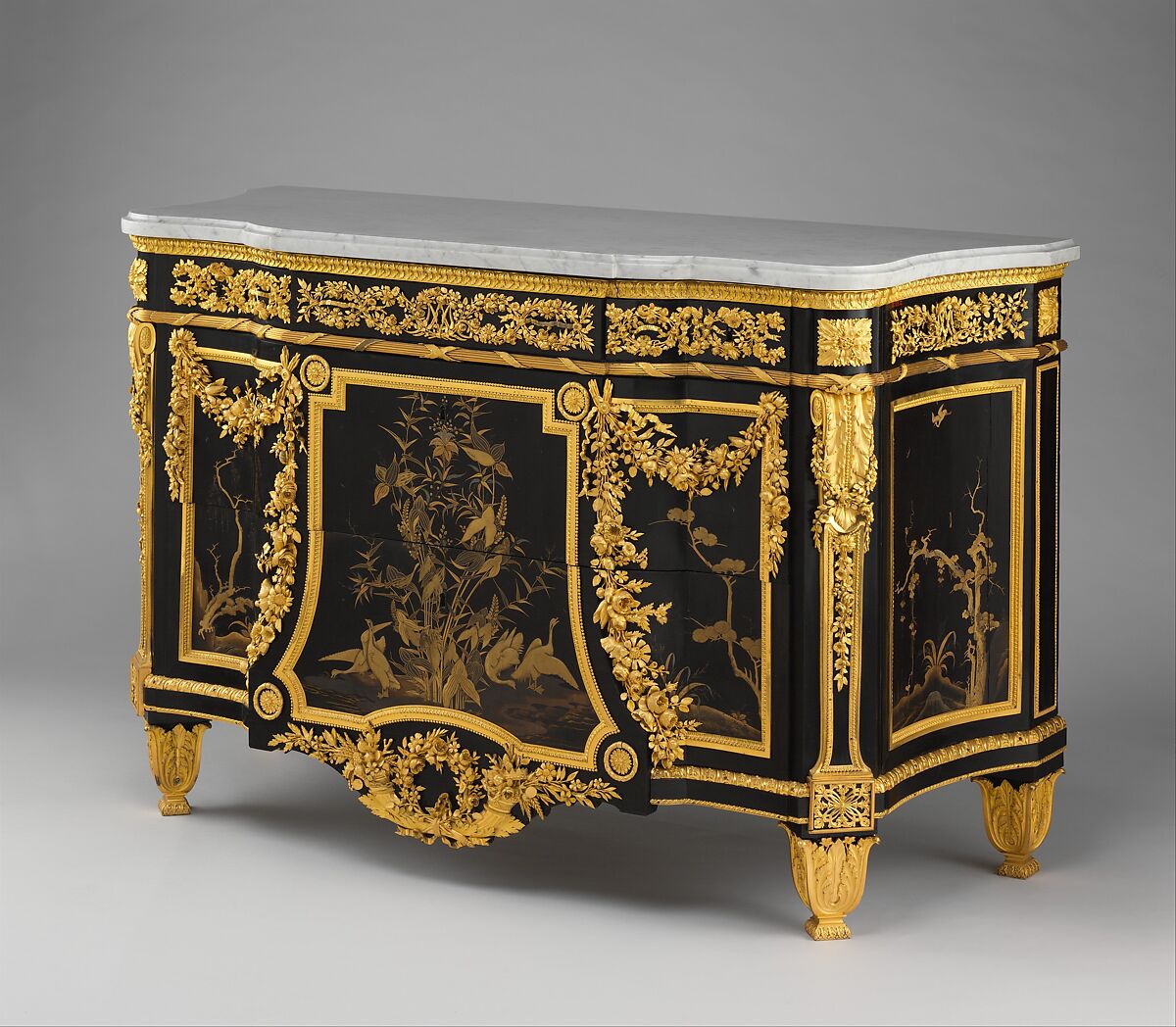 This artwork is meant to be viewed from right to left. Scroll left to view more.