Horse Trotting, the Feet Not Touching the Ground
Edgar Degas French
Cast by A.-A. Hébrard et Cie

On view at The Met Fifth Avenue in Gallery 814
Upon Degas's death in 1917, more than 150 figurative sculptures were found in his studio. Most were made of fragile wax, clay, and plastiline (a wax- and oil-based modeling material). Many had deteriorated. Only a few were preserved in copies that had been cast from them in plaster. Except for the wax Little Fourteen-Year-Old Dancer (Washington: NGA) none of these sculptures had been publicly exhibited during the artist's lifetime.

Although Degas had not favored reproducing his sculptures in more permanent materials, his heirs authorized that copies be cast in bronze in order to preserve the compositions and to sell them as finished works. Paul-Albert Bartholomé, a sculptor and Degas's longtime friend, prepared 72 of the figures for casting, a process executed by the distinguished Paris foundry A.-A. Hébrard et Cie. The quality of the Degas bronzes was tightly controlled and their edition was limited. Only twenty-two editions of the series of 72 figures were cast. Each bronze within the series was assigned a number from one to seventy-two. The first twenty editions were assigned a letter from A-T. In most cases these numbers and letters were incised on the individual bronzes. The series of 72 bronzes was completed before May 1921 when it was exhibited in Paris. Edition A, comprising the first and best casts of the series, was reserved for the important Impressionist collector Mrs. H. O. Havemeyer. She later acquired the first bronze cast of the Little Fourteen-Year-Old Dancer (lettered A, but not numbered), which had been omitted from the initial series. In 1929 Mrs. Havemeyer bequeathed Little Fourteen-Year-Old Dancer and 70 of the 72 Edition A Degas bronzes to the Metropolitan Museum of Art.

Eadweard Muybridge's photograph, part of a sequence titled "Abe Edgington" ... Trotting at a 2:24 Gain over the Palo Alto Track, 15th June, 1878, revealed for the first time that there is a moment when all four hooves of a trotting horse leave the ground at once. Although the sequential photograph was not widely published until much later, the discovery of this previously unobserved phenomenon caused an immediate sensation. During the 1880s, Muybridge toured Europe with a projecting device and lantern slides of his sequential photographs demonstrating that artists had throughout the ages misrepresented the true movement of a trotting horse. Degas' bronze horse is supported by a post; all four hooves are in the air, and the position of each leg faithfully reproduces the attitude of the horses in the top right photograph of Muybridge's 1878 sequence.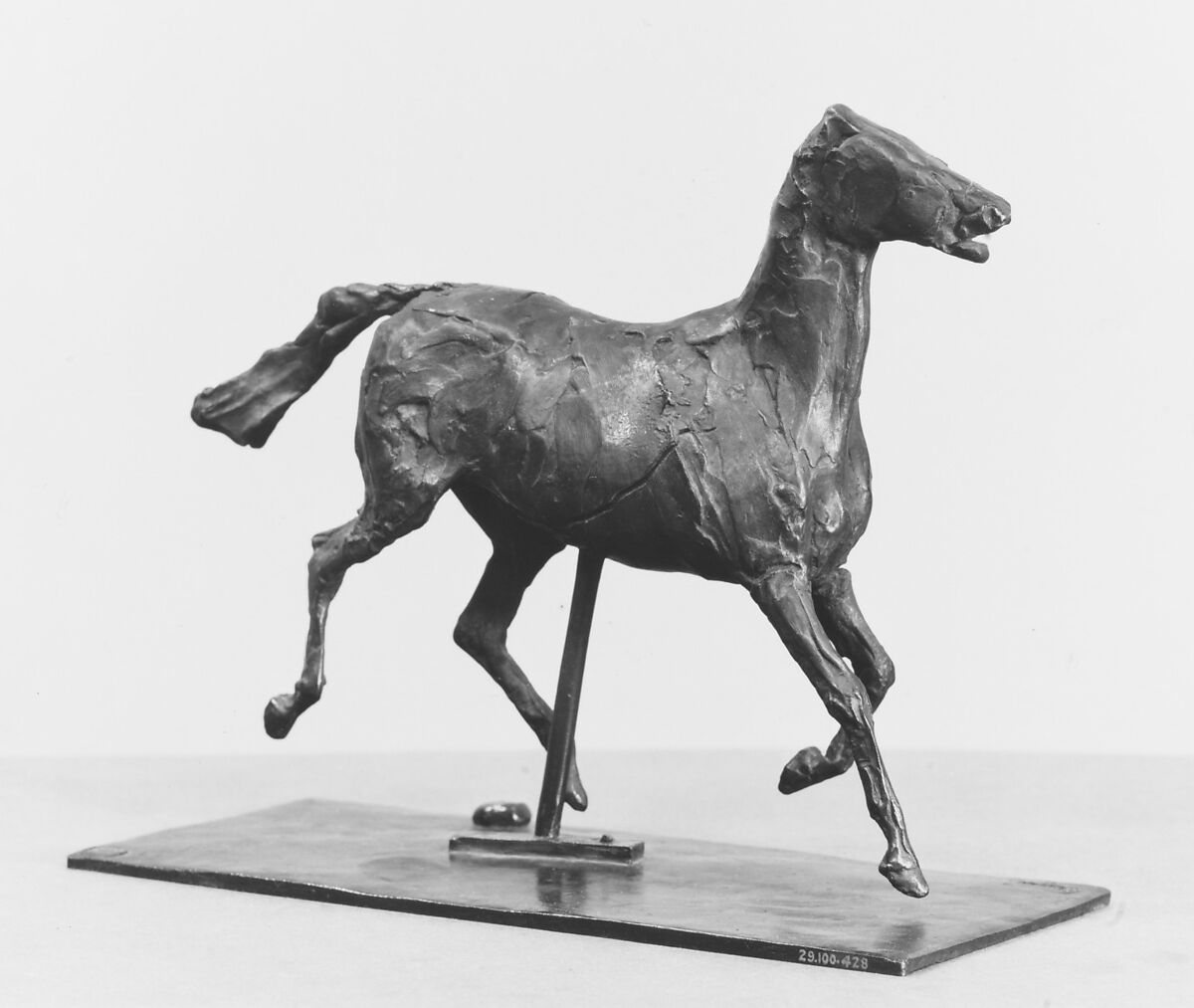 This artwork is meant to be viewed from right to left. Scroll left to view more.