Dining room from Lansdowne House
On view at The Met Fifth Avenue in Gallery 515
Lansdowne House, designed by Robert Adam and situated at the southwest corner of Berkeley Square, London, was begun for Prime Minister John Stuart, third earl of Bute, who sold it, unfinished, about 1765 to William Petty-Fitzmaurice (1737–1805), earl of Shelburne, later first marquess of Lansdowne and a leading Whig statesman of the period. The house was completed from Adam's designs for Lord Shelburne in 1768 and was a meeting place for Whig social and political circles in the eighteenth and nineteenth centuries.

The central block of the house still stands at the corner of Fitzmaurice Place and Lansdowne Row, and was converted into a club in 1930, when the two wings were demolished. The dining room, or "Eating-room," as Adam labeled it in the engraving for his Works (1773), was in the south wing (to the left of the photograph) and was bought by the Museum in 1931. Owing to exigencies of space, the long walls of the room had to be reversed when it was installed at the Museum.

In August 1766, Adam submitted his bill for the design of the ceiling, which was carried out in plaster by Joseph Rose. The carving for the wooden doors and door frames, shutters and window frames, columns, baseboard, and chair rail, executed by John Gilbert, was finished in December 1768. The marble chimneypiece was probably carved by Thomas Carter. The oak floor of the room is original. The niches originally held nine ancient marble statues acquired by Lord Shelburne in Italy from the artist Gavin Hamilton, which were dispersed at the Lansdowne sale of 1930. The statue of Tyche, in the niche nearest the windows on the chimneypiece wall, the only sculpture original to the room, dates from the second century A.D. The other niches have been filled with plaster casts. The original furniture, designed by Robert Adam and executed by John Linnell, no longer survives.
#414. Dining Room from Lansdowne House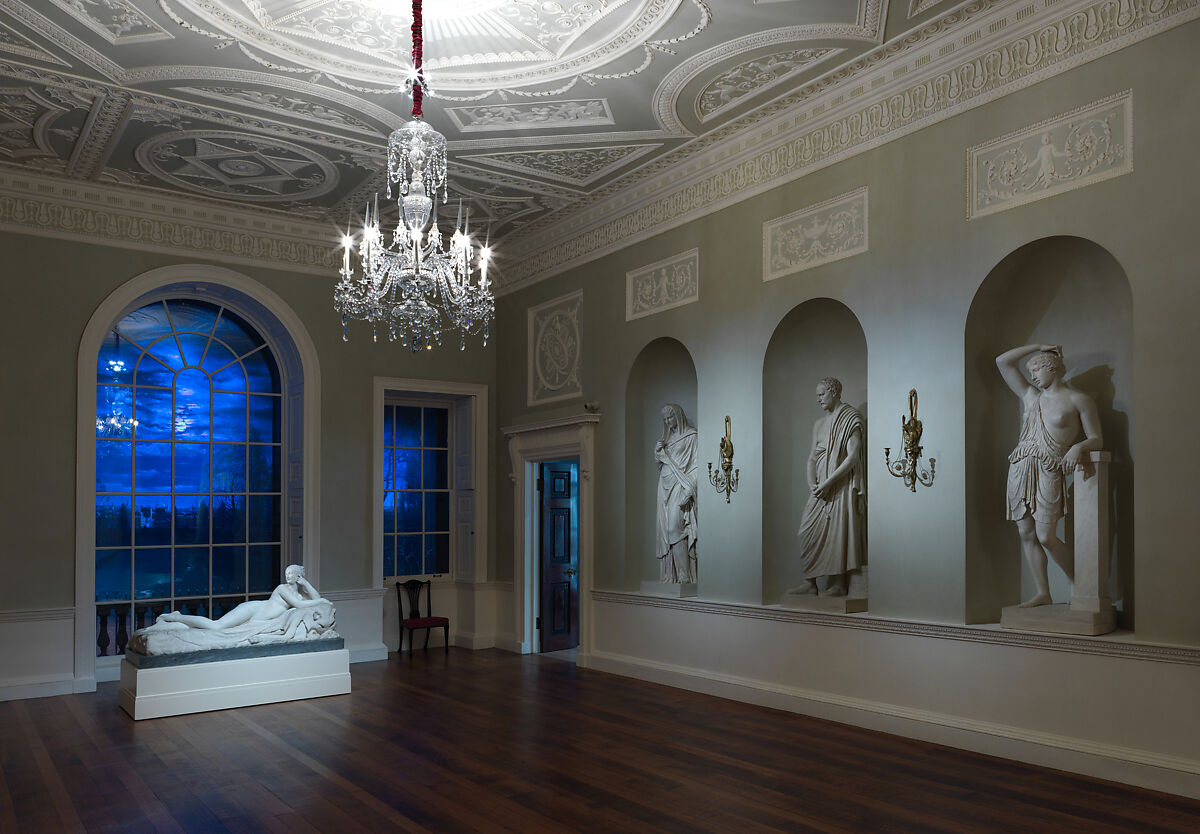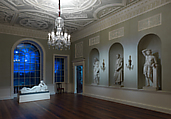 This artwork is meant to be viewed from right to left. Scroll left to view more.