Room from a hotel in the Cours d'Albret, Bordeaux
Carving attributed to Barthélemy Cabirol

On view at The Met Fifth Avenue in Gallery 547
The Museum's delightful small and intimate room is believed to have come from the Hôtel de Saint-Marc on the cours d'Albret, one of the recently laid out avenues. This residence was built between 1782 and 1784 by an unknown architect for the king's minister Joseph Dufour. It was named, however, after Jean-Paul-André des Rasins (also Razins), the marquis de Saint-Marc (1728–1818 ), who became its second owner in 1787, having purchased not only the building but also the mirrors, tapestries, and other interior decoration. Formerly an officer in the Régiment des Gardes Françaises, the marquis de Saint-Marc retired in 1762 and then devoted himself to writing scripts for opera and ballet, poetry, and educational pieces for children. The presence of a circular room to the left of the entrance facing the courtyard of his mansion makes it plausible that the Museum's paneling was originally installed there. A dumbwaiter in the kitchen directly below suggests that the room may have been the setting for private dinner or supper parties. The walls are rhythmically divided by eight long and narrow panels flanking the double doors, wall niches, windows, and mirrors. Displaying arabesques consisting of trophies symbolic of various arts and farming and hunting, the carving on these panels—mostly in low relief—has been attributed to the local sculptor Barthélemy Cabirol and his workshop. Additional trophies are found above the lintel of the two sets of doors—one, with a compass, T-square, and basket overgrown with acanthus leaves alluding to the origin of the Corinthian capital, is emblematic of architecture. Cabirol is known to have been responsible for high-quality boiseries in a number of private residences in Bordeaux. An engraving in César Daly's Décorations intérieures empruntées à des édifices français of 1880 depicts this room with its original mantel and parquet floor. The latter was laid out in a radiating pattern that emphasized the shape of the room. Both the mantelpiece and the floor have since been replaced by other eighteenth-century examples.
#2608. Room from a hotel in the Cours d'Albret, Bordeaux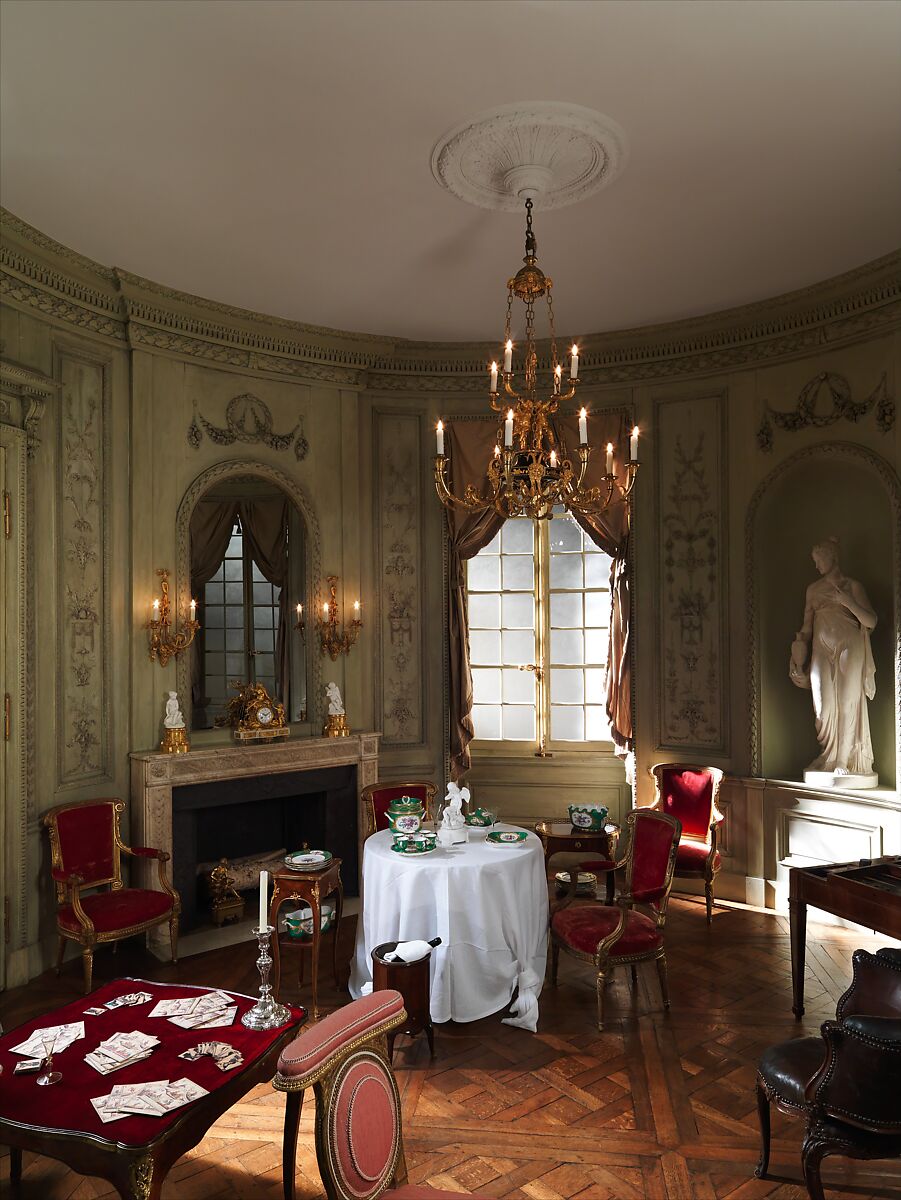 This artwork is meant to be viewed from right to left. Scroll left to view more.