Tester bed (lit à la duchesse en impériale)
Georges Jacob French
Tapestry made at Beauvais
After a design by Jean-Baptiste Huet I French

On view at The Met Fifth Avenue in Gallery 523
As its full-size domed canopy is suspended from the ceiling rather than supported on posts, this tester bed, which bears the stamp of the menuisier Georges Jacob, is a type called lit à la duchesse en impériale. Its original but now fragile hangings, woven in 1782–83 at the Beauvais tapestry manufactory after designs by Jean-Baptiste Huet (1745–1811), have been replaced by modern silk damask, except for the lining of the interior dome. French eighteenth-century beds tended to be lofty, as it was customary to pile them with three or more mattresses filled with straw, wool, horsehair, or feathers. Tobias Smollett (1721–1771) noted in 1766, "French beds are so high, that sometimes one is obliged to mount them by the help of steps."[1]

The custom of receiving visitors while reposing in a large and elegantly fitted out bed was practiced in France during the eighteenth century mostly by aristocratic women. The Museum's imposing piece of furniture with its exquisitely carved floral decoration, the work of an unknown carver, must have formed a splendid backdrop for such official calls or congratulatory visits. In 1791 the bed is documented as standing in the large bedchamber of Guyonne-Marguerite de Durfort de Lorge, duchesse de Choiseul-Praslin (1737–1806), at her Parisian home, the Hôtel de Belle Isle. Following the turmoil of the Revolution and the political changes of the early nineteenth century, the bed was sold in Paris in 1830. It became part of the famous collections at Hamilton Palace, South Lanarkshire, Scotland, the residence of Alexander Hamilton Douglas, tenth Duke of Hamilton (1767–1852), where it was placed in one of the state rooms. The duke's grandson sold the contents of the palace, including the bed, at a highly anticipated auction that took place in 1882. Through the intermediation of several dealers, the bed was acquired in 1897 by the financier and railroad executive George J. Gould (1864–1923). His wife, the former actress Edith M. Kingdon (1864–1921), used it in her bedroom of their New York town house.

[Daniëlle Kisluk-Grosheide, 2010]

Footnotes:
[1] Tobias George Smollett. Travels through France and Italy. London, 1766. New ed.: Introduction by James Morris. Travellers' Classics 11. Fontwell, Sussex, 1969, p. 43.
#2282. Bed (Lit En Dáme à La Duchesse), Part 1
Playlist

2282. Bed (Lit En Dáme à La Duchesse), Part 1

2283. Bed (Lit En Dáme à La Duchesse), Part 2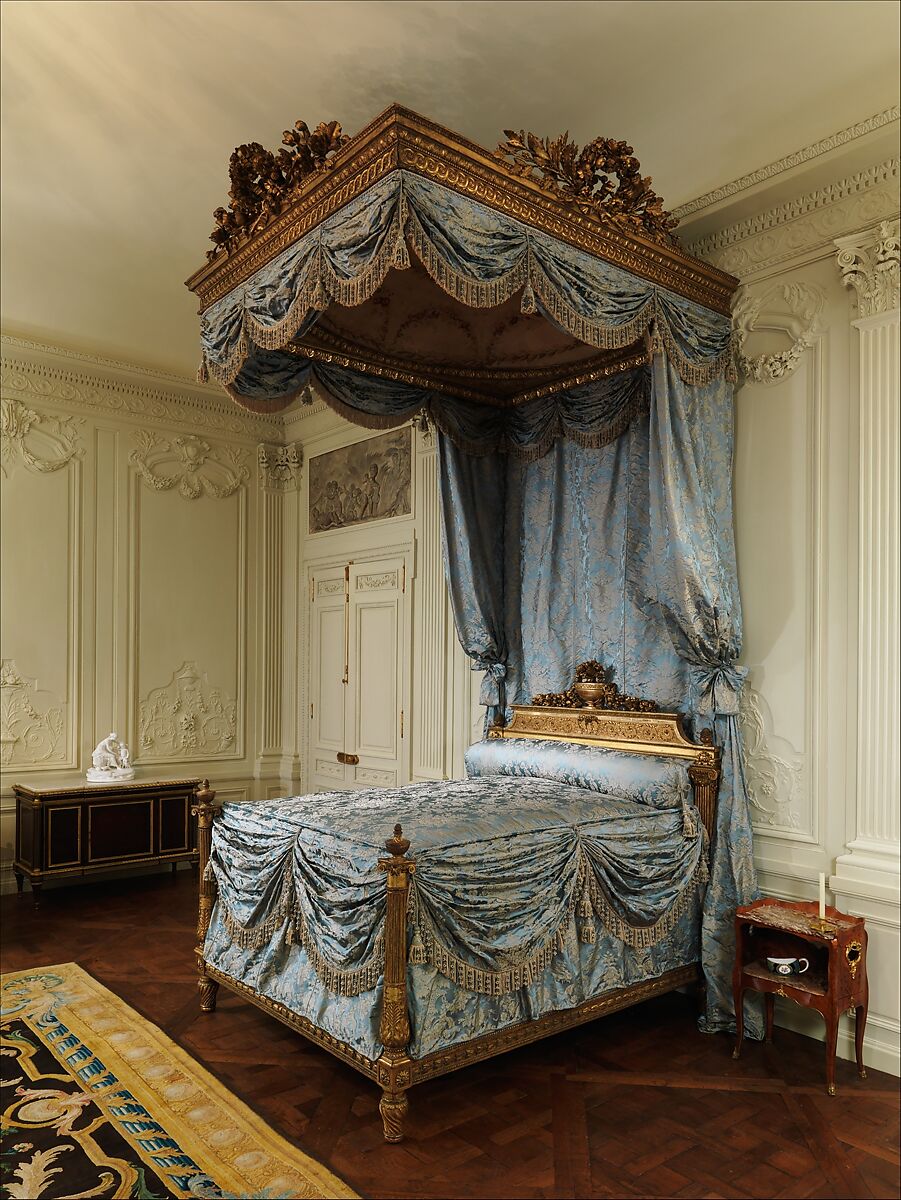 This artwork is meant to be viewed from right to left. Scroll left to view more.