Boudoir from the Hôtel de Crillon
Designer Pierre-Adrien Paris French

On view at The Met Fifth Avenue in Gallery 546
Delightful arabesques painted in pastel colors on a soft blue ground form the chief decoration of this paneling, which once lined the walls of a boudoir located next to the bedroom of Louis-Marie-Augustin, fifth duc d'Aumont (1709–1782), one of the four First Gentlemen of the King's Bedchamber. In 1776 he rented an unfinished town house that had been constructed for the builder and entrepreneur Louis-François Trouard (1729–1794). It was one of several private mansions erected behind a facade built in a grand Neoclassical style by Jacques-Ange Gabriel (1698–1782) on the place Louis XV, now the place de la Concorde.

A man of taste as well as a significant art collector, the duc d'Aumont engaged the architect Pierre-Adrien Pâris to design the interior decoration for his new abode. Having studied in Rome, partly at the duke's expense, Pâris would have been familiar with the early sixteenth-century decorative wall paintings executed by Raphael and his assistants in the Vatican loggias. Raphael's work clearly served as inspiration for the embellishment of the Museum's paneling, as it shows similar charming and lighthearted motifs, such as small animals balancing on garlands and rolling acanthus scrolls. The exterior windows of this intimate polyhedral boudoir, which was painted by an unknown artist, gave access to a balcony with views toward the rue des Champs-Élysées (now the rue Boissy d'Anglas). Set into the wall paneling are four mirrors angled to reflect the arabesque decoration. (The mirror inside the niche is a replacement for the original pane of clear glass that allowed light to shine into the stairwell behind the room.) According to the 1782 inventory drawn up after the duke's death, the boudoir was furnished with four stools, two armchairs, and an ottomane, or comfortable sofa, described as having three backs. Each stool was most likely placed under one of the mirrors, and the ottomane, complete with cushions, pillows, and bolsters, must have stood inside the niche. All the seat furniture was upholstered in blue moiré silk, the same color as that of the gros de Tours (ribbed silk) curtains. Although most of the furnishings and collections of the duc d'Aumont were sold at a celebrated auction that took place in the house in 1782, the woodwork of this room stayed in the building. The hôtel was acquired six years later by François-Félix-Dorothée des Balbes de Berton, comte de Crillon (1748–1820), and it remained the property of his descendants until the early twentieth century.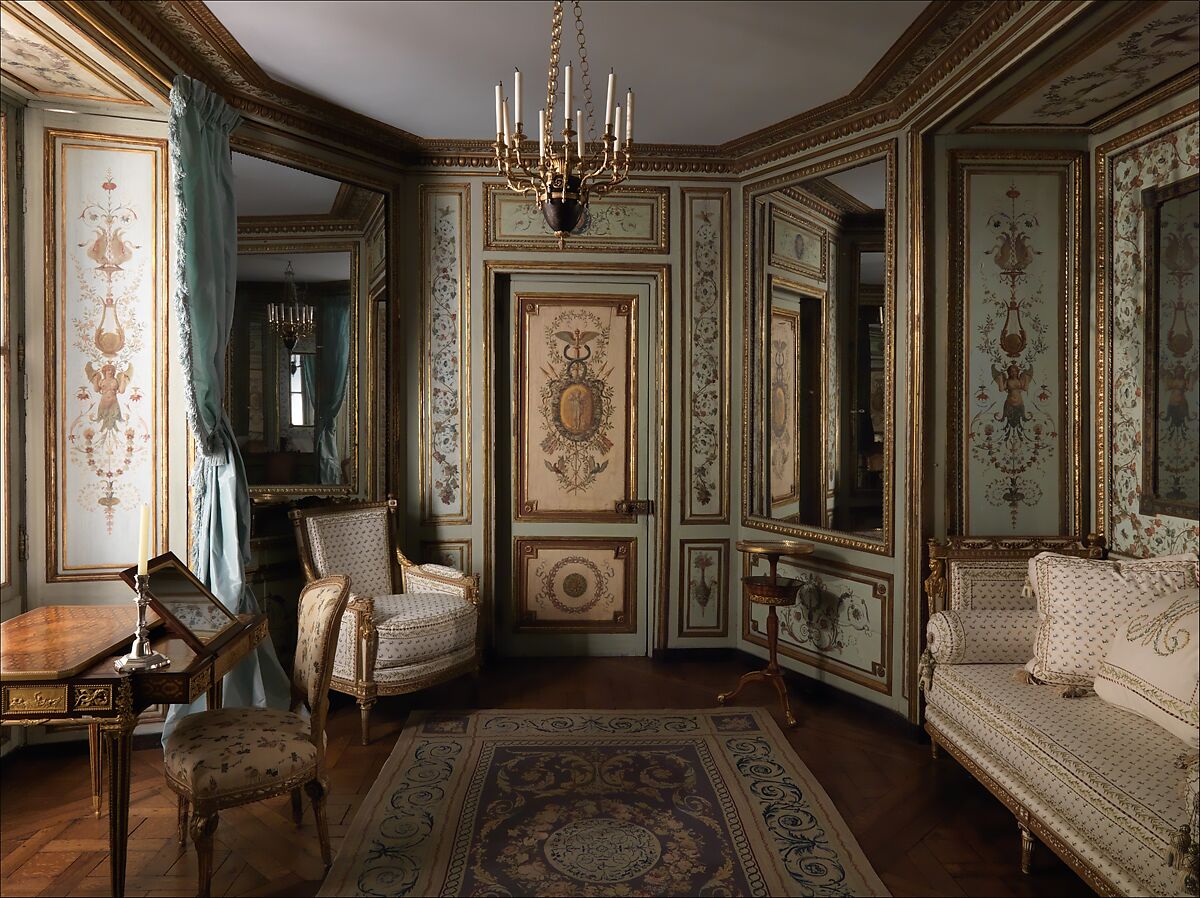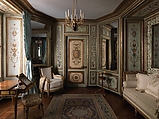 This artwork is meant to be viewed from right to left. Scroll left to view more.