Tobacco box
Not on view
An oval box. The scene on the lid shows the history of Balaam, who rides on his ass and is confronted by the angel with drawn sword. Two of Balaam's servants follow behind the ass. The angel's appearance to Balaam's ass is described in Numbers 22:22-24. The scene is framed at the sides by leaf scrolls and by two roundels which are inscribed: Wie staat niet voorbaas voorwondert in den geest/ als hij van beliam en van sijn esel leest (Who is not surprised and astonished in his mind / when he reads of Balaam and his ass).

The underside shows a pastoral scene with a couple outside a farmhouse, a reclining woman in the foreground, an ox, and a lion. Inscribed in the two roundels flanking this scene is: Hij die een aarts bevel sorgvuldig hat geert / en god sijn heer den nek hartnekkig toegekeert (He who had carefully honored an earthly order/ and who had persistently turned his back on God his Lord). The significance of the scene is unclear; perhaps it reflects the story of Balaam. Numbers 23: 1-5 describes Balaam's offering of bullocks, rams, and oxen.

Rims are lined and edges molded. The rounded ends of the box show decoration consisting of squares and crosses. The front and back sides carry the images of apostles and evangelists, each one flanked by his name. From left to right on the front side: Petrus (Peter), Zacatius (Zacharias), Joannes (John), Markis (Mark), Philipus (Philip), and Tomas (Thomas). The names on the back side include Lucas (Luke) and Matteo (Matthew); the other four are too badly worn to be deciphered.

Attached to the inside of the cover is a small clasp through which a pipe cleaner could be slid.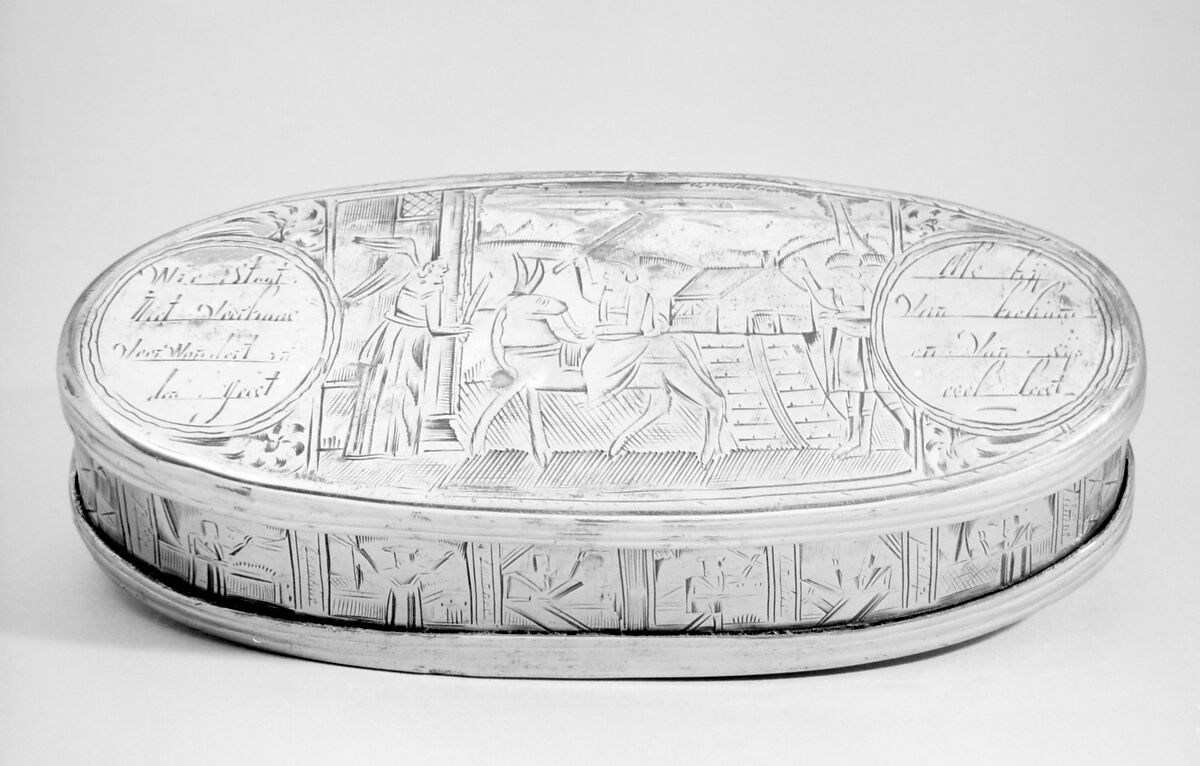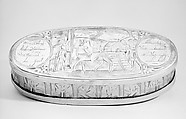 This artwork is meant to be viewed from right to left. Scroll left to view more.