Combination table
Martin Carlin French

On view at The Met Fifth Avenue in Gallery 523
The principal occupation indeed of a French Lady is her Toilet.
— Elizabeth Seymour Percy, Duchess of Northumberland, diary entry for June 9, 1770

The daily ritual of dressing and grooming was taken very seriously in France, and it was not unusual for an aristocratic lady to receive visitors, who could even be called upon to assist her. Special pieces of furniture were designed for the toilette, such as this elegant marquetry table signed by Martin Carlin, which is more versatile than most dressing tables. The upper section can be removed to serve as a bed table, as it has its own short legs. It is fitted with an adjustable mirror that can be reversed to form a book rest. A shallow drawer is provided in front, and the lidded compartments on either side are used for the storage of toilet articles. The lower section is a fullsize table with a marble top, pull-out shelves in front and back, and drawers on both ends holding equipment for dressing, breakfasting, and writing. A trelliswork pattern enclosing rosettes, which may have been based on designs seen in Japanese lacquerwork, embellishes the exterior of this multipurpose piece, which is further enriched with gilt-bronze mounts.

Most dressing tables do not have as many fittings as the Museum's piece (not all of which are original), and for that reason it has been suggested that it was intended for use while traveling. However, the spindly legs are not provided with a threaded rod for detachment, meaning that the dressing table would have had to be transported intact. This makes it highly unlikely that the piece was meant to be taken on journeys, as it would not only prove cumbersome in the extreme but liable to damage en route.

The table is a typical product of a marchand-mercier, who would have bought or ordered the various rockcrystal, Sevres porcelain, and silver accoutrements and engaged a cabinetmaker to create the wooden frame. Martin Carlin, a German-born cabinetmaker who had settled in Paris by 1759, specialized in making expensive and fashionable furniture and often collaborated with the dealers Simon-Philippe Poirier and Dominique Daguerre. A closely related combination table is in The Frick Collection, New York.
#2284. Combination table, Part 1
Playlist

2284. Combination table, Part 1

2285. Combination table, Part 2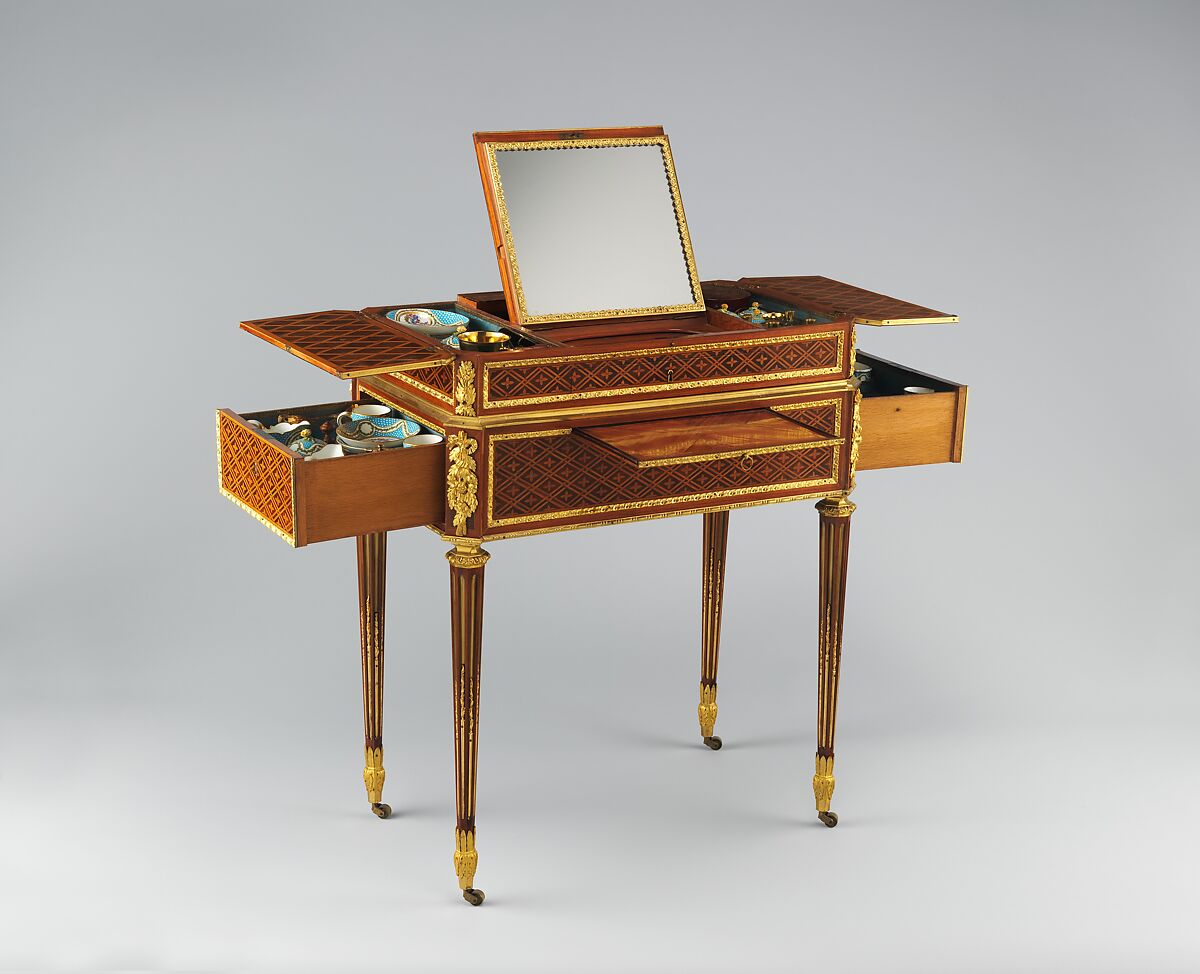 This artwork is meant to be viewed from right to left. Scroll left to view more.