Drop-front desk (secrétaire à abattant or secrétaire en cabinet)
Attributed to Martin Carlin French
Manufactory Sèvres Manufactory French
Central plaque decorated by Edme François Bouillat père French

On view at The Met Fifth Avenue in Gallery 529
Attributed to the cabinetmaker Martin Carlin, who was known for his graceful furniture mounted with Sevres porcelain, this exquisite two-piece desk was made about 1776. A date letter for that year is painted on the back of the central porcelain plaque, together with the mark of Edme-Francois Bouillat (1739/40–1810), a painter at the Sevres manufactory. A specialist in different kinds of floral ornament, Bouillat decorated the main plaque with a flower basket suspended from a large bowknot. The history of this secretary is well documented. During the eighteenth century it graced the collections of two remarkably different women. Its first owner was the popular soprano Marie-Josephine Laguerre (1755–1783), who as a fille d'Opera enjoyed a luxurious and dissolute existence made possible by her wealthy lovers. Her personal property was publicly sold in April 1782, less than a year before her untimely death. The catalogue indicates that she owned this secretary as well as two other pieces of furniture embellished with porcelain plaques. Some of the Sevres decorative wares in her collection may have been displayed on the marble shelves of the secretary. It is likely that Dominique Daguerre, who with his partner, Simon-Philippe Poirier, had a virtual monopoly on the purchase of Sèvres plaques, supplied the piece of furniture to Laguerre and bought it back at the 1782 sale, but this is not documented. In May of that same year, Maria Feodorovna, grand duchess of Russia, and her husband, Paul (1754–1801), visited Paris incognito as the comte and comtesse du Nord. The future empress was described by Jeanne-Louise-Henriette Campan (1752–1822), first lady-in-waiting to Marie-Antoinette, as being "of a fine height, very fat for her age, with all the stiffness of the German demeanour." In Paris, Maria Feodorovna frequented the shops of the fashionable dealers, where she is likely to have acquired the porcelain-mounted secretary and other furnishings for her country residence at Pavlovsk.

According to a detailed description of her private rooms written in 1795 by Maria Feodorovna herself, the secretary was placed in her boudoir. It remained at the imperial palace until the Soviet government, which had taken possession of Pavlovsk after the Revolution of 1917, offered works of art for sale to the dealer Joseph Duveen (1869–1939), who had traveled to the Soviet Union in 1931.
#2258. Drop-Front Secretary on Stand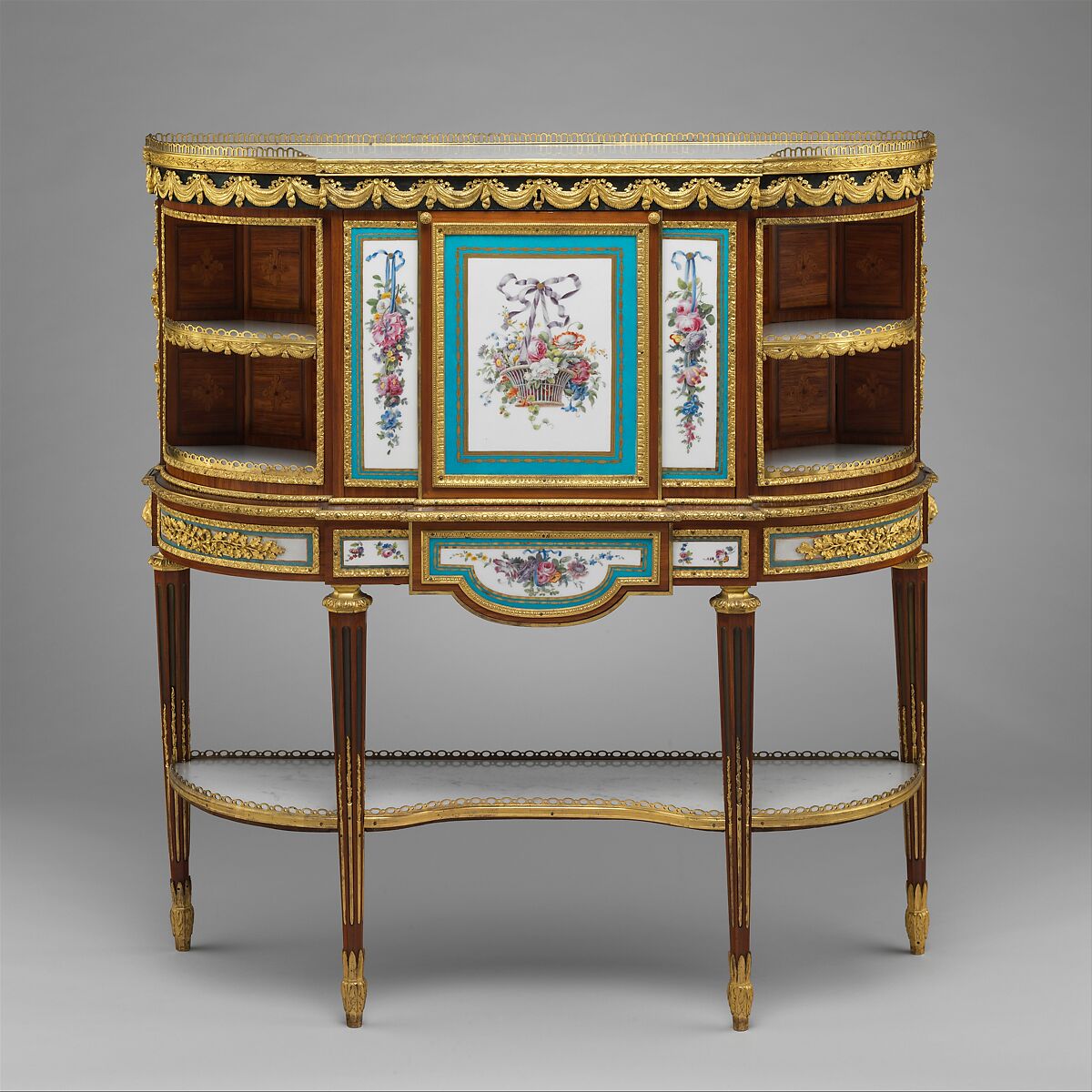 This artwork is meant to be viewed from right to left. Scroll left to view more.