Harlequin with jug
Manufactory Meissen Manufactory German
Modeler Johann Joachim Kändler German

On view at The Met Fifth Avenue in Gallery 538
Of all the characters represented in the commedia dell'arte, Harlequin is the best known and the most immediately identifiable. Actors portraying Harlequin in the eighteenth century, as well as the porcelain figures depicting him, are invariably dressed in a jacket and trousers composed of large, brightly colored lozenges. The early, painted representations of theatrical Harlequins depict him in a costume made with irregular, variously colored patches to indicate his poverty,[1] and this manner of dress would evolve into the distinctive, multicolored lozenge outfit with which Harlequin continues to be associated. The specific coloring employed by Meissen for Harlequin figures varied enormously; often the palette used for the jacket was different from that used for the trousers (see 1974.356.355 and 64.101.77), and his costume was frequently divided in two with different colors or patterns applied for the left and right sides of the jacket or the trousers, or both.[2]

On stage, Harlequin traditionally wore a half mask that was considered an integral part of his costume, but Meissen treated the figures of Harlequin in a variety of ways in regard to the use of a mask. Some figures were provided with a full mask, as in this example, while others were given a half mask, or only highly theatrical makeup in the form of exaggerated mustaches, eyebrows, or beauty spots.[3] In addition, Harlequin customarily wore a hat and carried a slapstick as his primary accessory. In this depiction of Harlequin, the slapstick is absent, but the figure clutches his hat while holding a lidded wine or beer jug in his other hand.

Harlequin was one of the zanni, the term used to describe the servant characters in the commedia dell'arte. His character was notably complex; he was simpleminded, yet often clever, clownish, and sometimes menacing. With the Museum's figure, Harlequin's relaxed posture, sweeping gesture, and the prominent jug reveal aspects of his personality that could also be playful, mischievous, and sometimes lecherous. He was depicted in a wide variety of models at Meissen, both individually and as part of a figure group, many of which were created by Johann Joachim Kändler (German, 1706–1775). Kändler, the author of this model, must have been drawn to the sculptural potential of this highly theatrical character, as evidenced by the large number of different Harlequin figures he modeled during the late 1730s and early 1740s.[4] As Meredith Chilton has noted, the use of masks by many of the commedia dell'arte characters, such as Harlequin, necessitated oversize physical gestures on the stage to convey emotions.[5] In addition, Harlequin's expansive personality was conducive to bold and demonstrative poses, and thus, his character was well suited to furnish Kändler with an extensive range of possibilities for sculptural expression.

For this model Kändler has created one of his most successful compositions in the round; the twisting torso, outstretched arm, turned head, and raised leg contribute to a sense of great dynamism and movement, creating visual interest from every angle. From the expressive pose to the disturbing quality of his gaze transmitted through the mask, this Harlequin has a sculptural presence that belies its small size. While the precise date of this model is not known, it had been created by 1738, as a dated example in the Porzellansammlung, Staatliche Kunstsammlungen Dresden attests.[6] Even though it is difficult to date Meissen figures based solely on their painted decoration, the Museum's Harlequin with jug—and most of the other known examples of this model—are dated to around 1740.[7]

By this date porcelain figures, such as this one, were used increasingly to decorate the dining table in aristocratic and court circles. Small-scale sculptures made of sugar had been employed for this purpose in Europe since the sixteenth century, but the growing production of porcelain figures at Meissen during the second half of the 1730s provided an alternative that was more durable and colorful. Two of the most important dinner services produced at the factory from 1735 to 1742 included porcelain figures,[8] initiating a custom of using figures as table decoration that flourished for the next several decades. Porcelain figures were also produced as independent pieces of sculpture to be appreciated outside the context of dining. The term Kabinettstück (which can be loosely translated as "display piece for a cabinet") was applied to certain models in the factory records, but it was the dining table where porcelain figures achieved their greatest popularity. When August III (1696–1763), elector of Saxony, king of Poland, wanted to reward Charles Louis Auguste Fouquet (1684–1761), duc de Belle- Isle, Maréchal de France, in 1741 for his diplomatic services, he presented the Maréchal with a substantial quantity of Meissen porcelain.[9] This gift included an extensive dinner service that the Maréchal eventually divided between his residences in Paris and Versailles. An inventory of the portion of the service that he used at Versailles included 104 figures or groups,[10] an indication of the prominence accorded to porcelain sculpture in the context of dining in the mid-eighteenth century.


Footnotes
(For key to shortened references see bibliography in Munger, European Porcelain in the Metropolitan Museum of Art. NY: The Metropolitan Museum of Art, 2018)

1 Chilton 2001, p. 37.
2 For example, see Jansen 2001, vol. 1, p. 47, no. 22. 3 Chilton 2001, p. 43.
4 See Frühes Meissener Porzellan 1997, pp. 72–75, nos. 42, 43, 46, 47, ill. p. 71, pp. 77–78, no. 49; Chilton 2001, pp. 296–99, nos. 77–79, 81, p. 302, no. 86.
5 Chilton 2001, p. 42.
6 I. Menzhausen 1990, p. 209, no. 146.
7 An example dated 1740 is in the Birmingham Museum of Art, Ala. (Wallwitz 2006, pp. 201, 202, fig. 8); for additional examples, see Abraham 2010, pp. 26–27; Bonhams, London, sale cat., December 8, 2010, no. 41.
8 Chilton 2001, pp. 179–89.
9 For a fuller discussion of this gift, see Selma Schwartz in S. Schwartz and Munger 2007, pp. 144–47.
10 Ibid., p. 146.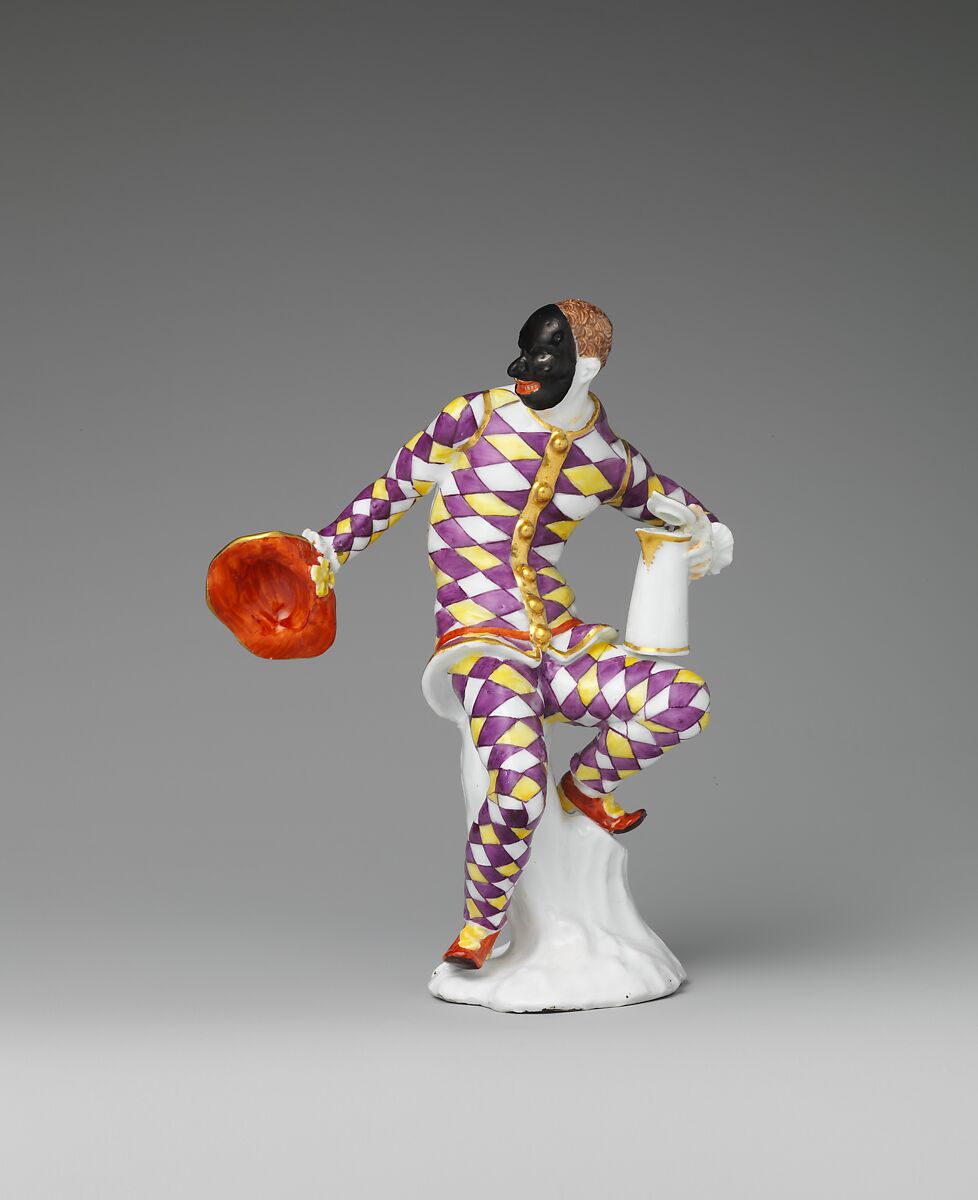 This artwork is meant to be viewed from right to left. Scroll left to view more.