"History of Navigation" Mural
Designer Jean Dupas French
Manufacturer Jacques-Charles Champigneulle French

Not on view
The ocean liner Normandie was the last great expression of French Art Deco taste. Government subsidies made it possible in 1932 for the Compagnie Générale Transatlantique to begin building a ship that was to be the largest, fastest, and most beautiful afloat. The unprecedented cost of the construction and lavish decoration were justified in the midst of a worldwide financial crisis because the ship's mission was to serve as an ambassador, carrying the art and glory of France to foreign lands. Just as the 1925 Paris Exposition des Arts Décoratifs et Industriels Modernes had impressed the world with its unabashedly patriotic display of French luxury products, so too the Normandie was to seduce its passengers with its sumptuous décor, food, wine, and other on-board extravagances.

Designed by Jean Dupas, a fashionable French illustrator and painter, this extraordinary mural was one of four executed by Charles Champigneulle in 1934 for the corners of the Normandie's first-class Grand Salon. The history of navigation is its nominal subject, but the profusion of quasi-historical vessels and miscellaneous mythical creatures clearly was not meant to tell a story but rather to create an overwhelming decorative effect. Passengers on the Normandie paid not so much for transportation as for atmosphere, and the first-class lounge was a temple of glamour.

The mural's mirror-like brilliance was achieved through a technique known as verre églomisé in which portions of the pictorial scene were painted in black and various pastel colors on the reverse of plate-glass panels. Shimmering gold, silver, and palladium leaf were then laid on top of the paint, and a canvas backing was affixed. The panels are mounted with fronts facing the room. The mural is just over twenty feet in height, appropriate to a room that had nearly thirty-foot-high ceilings.

Launched from France in 1935, the Normandie arrived for the last time in New York in August 1939, when the fall of France to the Nazis prevented her from returning to Le Havre. After the Japanese bombed Pearl Harbor, the United States commandeered the ship for use as a troop carrier and conversion began on Christmas Eve, 1941. The decorations were being stripped away when sparks from an acetylene torch ignited life preservers piled high in the Grand Salon. The ship burned through the afternoon and the night of February 9, 1942. The tons of water that had been pumped in to fight the fire were trapped below deck and froze overnight causing the ship to capsize. The Normandie lay at Pier 88 for eighteen months until finally it was raised, towed away, and sold for scrap.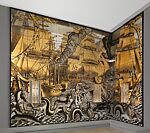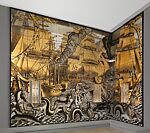 This artwork is meant to be viewed from right to left. Scroll left to view more.