The Actor
Pablo Picasso Spanish

On view at The Met Fifth Avenue in Gallery 828
Simple yet haunting, The Actor is the work with which Picasso ended his obsession with the wretched in favor of the theatrical world of acrobats and saltimbanques. Although the attenuated figure and extraordinary play of hands recall the El Greco-inspired mannerism of the Blue Period, The Actor can be seen as the prologue to the series of works that culminates in the enormous canvas Family of Saltimbanques (1905, National Gallery of Art, Washington, D.C.).

The new subject matter, palette, and sensibility of this picture coincide with the arrival of Picasso's new lover, the model and sometime artist Fernande Olivier (1881–1966). A sheet of studies for The Actor, made around New Year's Eve 1904, includes two profiles of Fernande and shows the same correction to the placement of the actor's left leg and foot that is visible in the painting. Picasso painted The Actor on the back of a previously used canvas, on which another, unidentified artist had painted a landscape with swirling water.

Picasso's friend Frank Burty Haviland, the wealthy Franco-American painter whose brother, the photographer Paul Haviland, backed Alfred Stieglitz's New York gallery, 291, was the first owner of this work. It was first exhibited in the Sonderbund show in Cologne in May 1912, to which it was lent by Paul Leffmann, a German industrialist. In 1938, Leffmann sold it to Picasso's dealer Paul Rosenberg and long-time Picasso collector Hugo Perls. The automobile heiress Thelma Chrysler Foy gifted it to the Museum in 1952.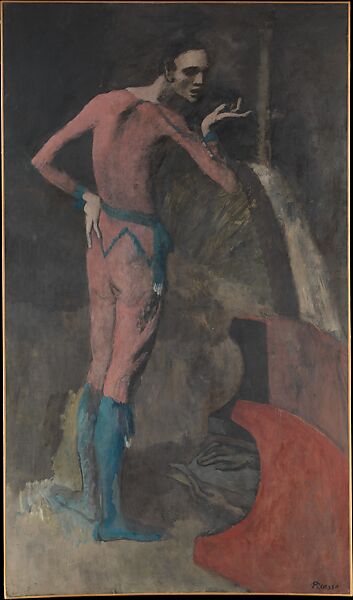 This artwork is meant to be viewed from right to left. Scroll left to view more.