The Garden of False Learning from The Table of Cebes
Based on a woodcut by David Kandel German

On view at The Met Fifth Avenue in Gallery 544
This needlepoint hanging depicts a scene from the Tabula Cebetis (The Table of Cebes), a treatise long wrongly believed to have been written by Socrates' disciple Cebes that enjoyed great popularity as a Latin reader in Europe in the sixteenth and seventeenth centuries. The text describes a painting displayed in the Temple of Saturn in Thebes that showed the journey through life and the pathway to true happiness. This hanging depicts the penultimate episode in the journey: the protagonist is beckoned from his path by a woman representing False Learning. Elegant figures in courtly dress are distracted from true wisdom and happiness by dedicating too much energy to the pursuit of knowledge through debate, philosophy, geometry, astrology and alchemy, geography, astronomy, arithmetic, and music.

This hanging is one of a set of three (the others are in the Musée Jacquemart-André, Paris and the Metropolitan Museum). Their design was adapted from a woodcut illustrating The Table of Cebes made by David Kandel of Strasbourg in 1547. Notwithstanding the difference in scale (the woodcut is just over 12 by 15 inches), the designer of the embroidery borrowed the principal figures from the woodcut's central scene, inventively adding a warm palette of greens, reds, and yellows. The whole is enclosed by an imaginative border of cavorting grotesques and includes the coat of arms of the De Fenis de Prade family surrounded by the collar of the Order of Saint Michael (upper left) and a second unidentified armorial enclosed by a widow's cordeliere (upper right). With its monumental scale, this needlework is a rare surviving example of a fashion for embroideries that emulated the scale and appearance of tapestries, their more expensive woven counterparts.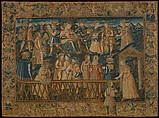 This artwork is meant to be viewed from right to left. Scroll left to view more.