"Les Perdrix" (The Partridges)
Designer Philippe de Lasalle French

Not on view
This design was commissioned in the early 1770s as part of the decoration for a salon in the Palais Bourbon in Paris. Ten years later, in the early 1780s, it was used again in the Grand Palace in Peterhof, the country residence of the Russian empress Catherine the Great. In the Peterhof Palace, the textile was used in a boudoir that was decorated en suite, meaning that the same textile was used for the walls, furniture covers, and curtains. It was a popular pattern, and in addition to the Museum's piece with a pale blue background, examples with different background colors such as red, green, and yellow exist in other museum collections in the United States and Europe.

The work of designer and entrepreneur Philippe de Lasalle came to the attention of Catherine the Great through their mutual acquaintance, the philosopher Voltaire. In 1771, Lasalle produced several woven portraits of reigning monarchs, including Louis XV of France and Catherine the Great. Voltaire owned one of the portraits of Catherine and praised its likeness in a letter to her. Examples of Lasalle's designs were sent to the empress and she became a patron. The partridge silk was one of several Lasalle fabrics subsequently imported for the Russian palaces. Lasalle was also commissioned to design wall hangings to commemorate an important military victory which were hung in the Chesma Palace, and another silk showing peacocks and pheasants was used in what became known as the Lyon Drawing Room in the Czarsko Selo Palace.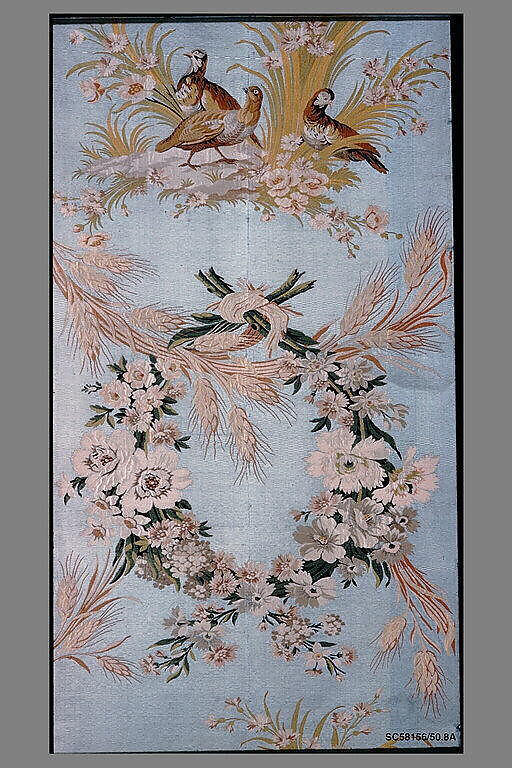 This artwork is meant to be viewed from right to left. Scroll left to view more.