Set of Saddle Steels
On view at The Met Fifth Avenue in Gallery 371
This complete set of saddle steels is part of an unusually large armor garniture (acc. no. 27.159.1) from the armory of the Dos Aguas family in Valencia, Spain. The saddle tree and its embroidered velvet cover were made in the early 20th century, based on 16th century examples. The garniture contains pieces for use in battle and for the tilt in both the Italian and German fashions. The tilt was a tournament fought on horseback between two opponents armed with lances and separated by a lengthwise barrier.

The armor as mounted is equipped with a helmet and vambraces (arm defenses) for the tournament. The buffe (chin defense), second breastplate (27.159.2), and manifer (reinforced left gauntlet) (27.159.6) would have been added to make the armor ready for exchange pieces for different forms of the tournament. For the German tilt, the trellised targe (shield) (27.159.7), small elbow defense (27.159.5), and small stomach defense (27.159.3) were added. For the Italian tilt, these elements were replaced by the form-fitting reinforce covering the left half of the torso and left shoulder (mezzo sovrapetto) (27.159.2) and the larger elbow defense (soprabracciale) (27.159.4).

The garniture also includes two complete sets of saddle steels (27.159.13, .14) (only one is exhibited) and two vamplates (conical hand defenses affixed to the lance) (27.159.8, .9). The decoration consisting of etched bands containing trophies of arms and musical instruments was a popular design found in many variations in Italy throughout the second half of the sixteenth century.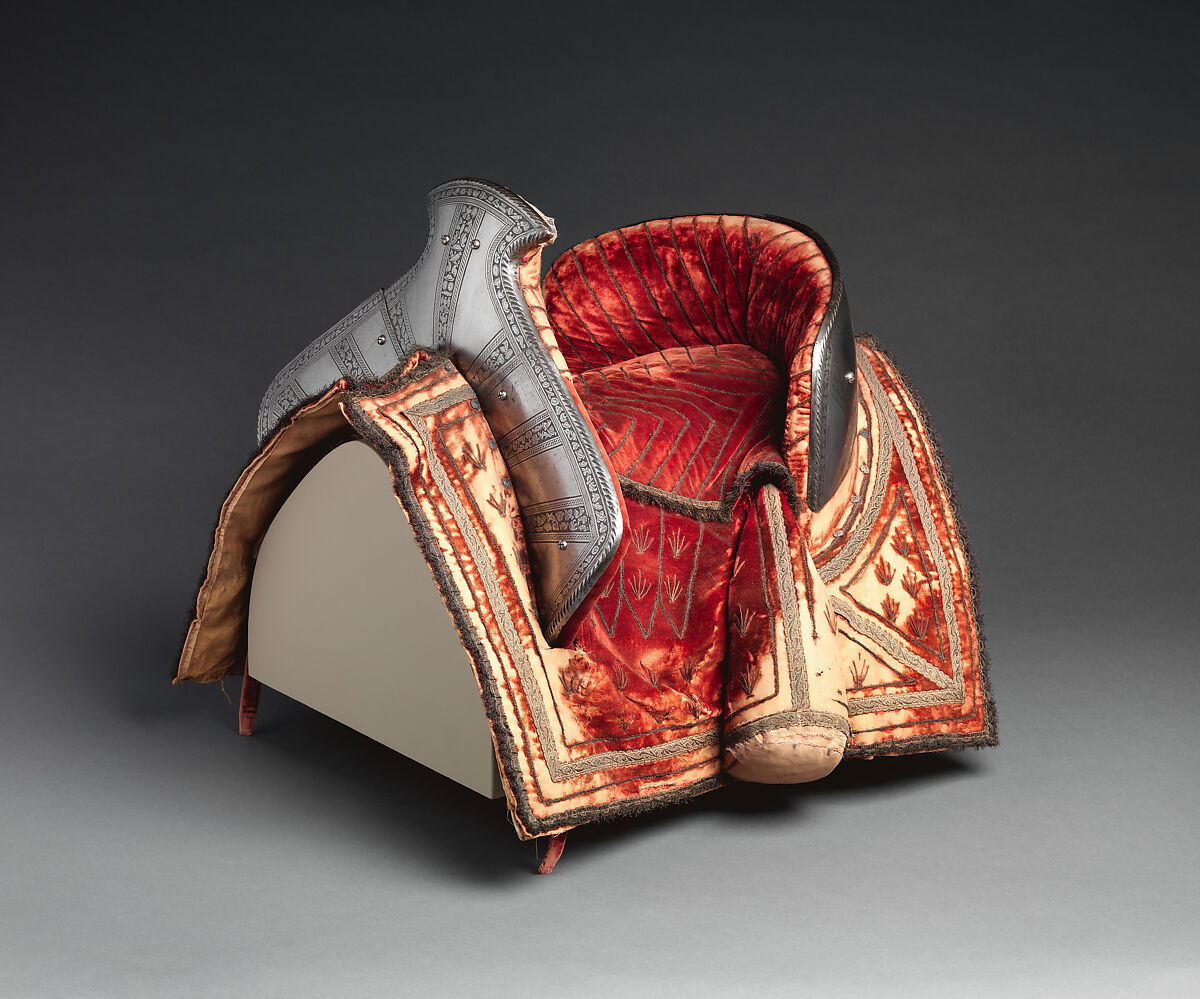 This artwork is meant to be viewed from right to left. Scroll left to view more.