Three-light candelabra (candélabra or girandole) (one of a pair)
Model for bittern attributed to Johann Joachim Kändler German
Manufactory Meissen Manufactory German

On view at The Met Fifth Avenue in Gallery 526
Trained as a sculptor, Johann Joachim Kändler joined the porcelain manufactory in Meissen, near Dresden, as a modeler in 1731. A prolific and talented artist, Kändler supplied the workshops there with numerous models, ranging from small figural groups to table services and decorative wares. Among his most celebrated achievements were the animal figures he created for the Japanese Palace in Dresden at the behest of Augustus the Strong, elector of Saxony (1670–1733), which included many native European and exotic birds. These figures were based either on live specimens observed at the royal menagerie at Moritzburg or on stuffed ones preserved in the local natural-history collection, and they illustrate the contemporary fascination with the natural world. In March 1735, for the Japanese Palace, Kändler modeled his first bittern, an elusive long-necked bird that moves through the reeds along the shore stalking fish. Different, smaller models of bittern by the artist seem to have been popular during the mid-eighteenth century, and multiple pairs are known today. With their attractive gray and brown plumage and dark streaks, the graceful heronlike birds strut on mounds embellished with a thicket of water plants and rushes.

In Paris various Meissen porcelain birds were combined with fanciful gilt-bronze mounts to make exquisite candelabra such as these, for which the marchands-merciers asked steep prices. Lazare Duvaux's account book lists several pairs of three-light girandoles that were sold between 1748 and 1751. Two of them incorporated Meissen swans, and the third, unidentified Meissen porcelain birds.[1] A pair of bittern with identical scrolling mounts are in the Huntington Library, Art Collections, and Botanical Gardens in San Marino. They may originally have formed a set of four candelabra with the Museum's pair.

[Daniëlle Kisluk-Grosheide, 2010]

Footnotes:
[1] Duvaux 1748–58/1965, vol. 2, pp. 7, 71, 77.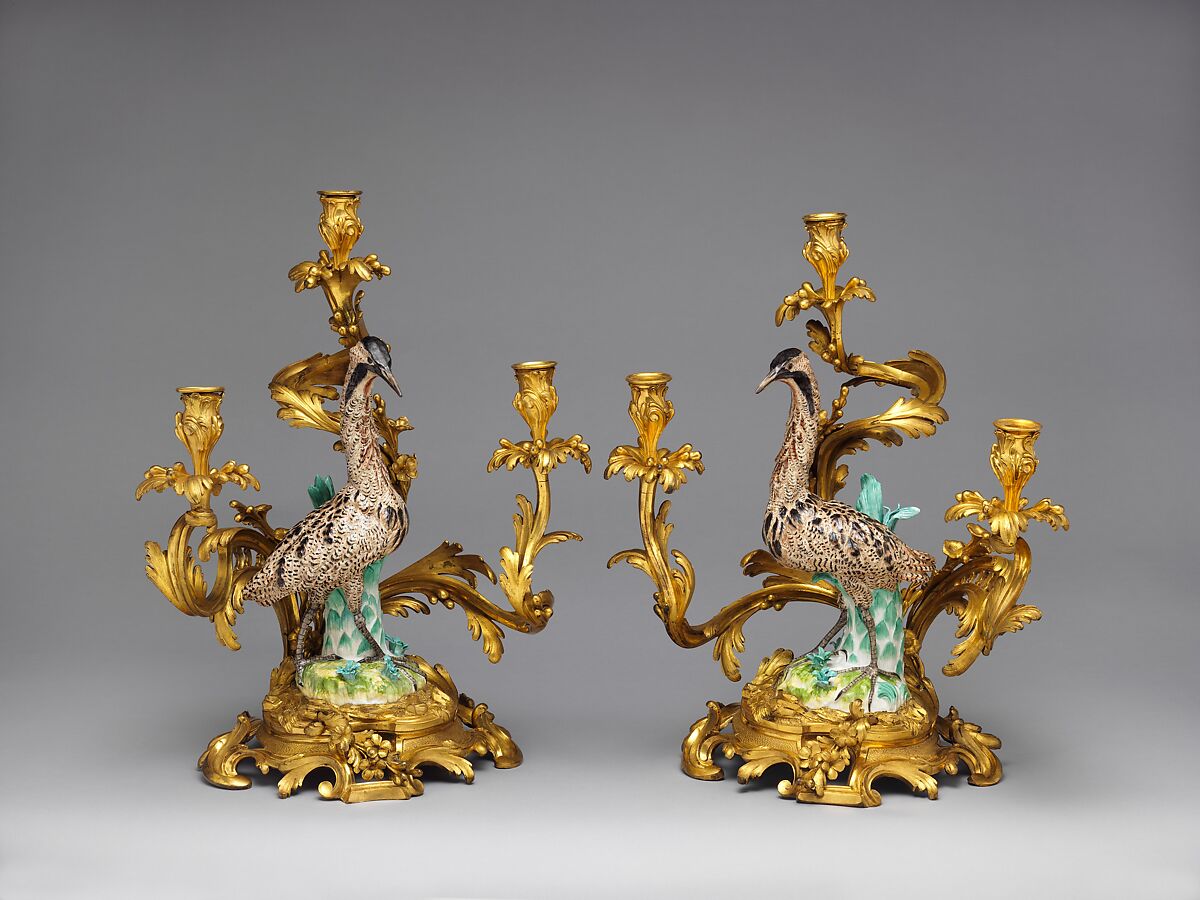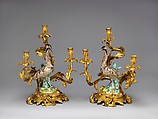 This artwork is meant to be viewed from right to left. Scroll left to view more.