Vase
Auguste Delaherche French

Not on view
Determined that pottery vessels should be regarded as true works of art, avant-garde ceramicists in France in the last decades of the nineteenth century transformed their craft into an intellectual and emotional endeavor. The pioneers of this revival were Jean Carriès, Ernest Chaplet, Théodore Deck, and Auguste Delaherche. These revolutionary artist-potters embraced artisanal traditions while pursuing lost techniques through exhaustive experimentation. Reacting to what they viewed as an excessive and improper use of ornament, they celebrated the simplicity and sincerity of their medium, following the tenets of the Art Nouveau style taking place in Europe. Based on the principles of the British Arts and Crafts movement, Art Nouveau artists sought to reform the decorative arts by emphasizing uniqueness and a return to craftsmanship. Artist-potters found inspiration in Asian ceramics, particularly Japanese stoneware (a hard, dense type of pottery), which was shown in 1878 at the Exposition Universelle in Paris, as well as in the forms, glazes, and techniques of Chinese porcelain and pottery. They also looked to European traditions such as the rustic salt-glazed stoneware of the sixteenth and seventeenth centuries and Gothic sculpture and architecture. In the process they created works of ceramic art that were entirely modern and new.

This piece was acquired from the Robert A. Ellison Collection, renowned collector of European art pottery of the highest quality by the greatest artist-potters of the late nineteenth and early twentieth centuries, whose generous gift allows the Museum to tell the narrative of the art pottery movement in Europe.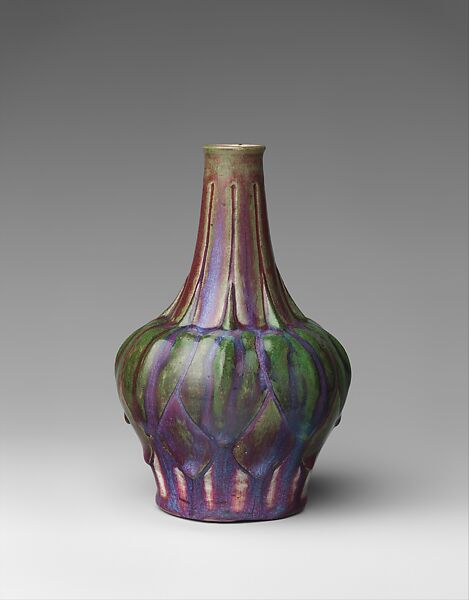 This artwork is meant to be viewed from right to left. Scroll left to view more.