Bronze statue of the emperor Trebonianus Gallus
On view at The Met Fifth Avenue in Gallery 169
This bronze monumental statue is one of the very few nearly complete Roman bronze statues of the third century preserved today. It is a reminder that many of the disembodied portrait heads displayed in these galleries were once attached to freestanding sculptures, whose original appearances were undoubtedly quite different. Portraits of the emperor served the highly important function in imperial propaganda of presenting the ruler to the public and of projecting the personality with which he wished to be perceived. Leadership and military strength are evoked in the heroic nudity of the figure and in the pose, which recalls the famous statue of Alexander the Great with the Lance by Lysippos. In contrast to the idealized body, the portrait head represents the emperor with brutish realism. Trebonianus likely would have cradled a parazonium, or short sword, in his left arm, and held a spear in his upraised right hand.
The statue has undergone several campaigns of restoration since its discovery in the early nineteenth century and was examined in great detail as part of the conservation treatment in preparation for its display here. Visual examination inside and out, combined with x-radiography, made possible the clear identification of ancient and restored areas, which are indicated in the accompanying illustration. At least three-quarters of the statue is ancient. Despite the discrepancy in scale, the head belongs to the body. Although the mantle draped over his left shoulder is a modern restoration, cast edges beneath it confirm that the statue had a similar embellishment in antiquity. The left foot with its elaborately decorated open-fronted boot appears to be ancient but may not belong.
#1213. Bronze statue of the emperor Trebonianus Gallus
Playlist

1213. Bronze statue of the emperor Trebonianus Gallus

2635. Bronze statue of the emperor Trebonianus Gallus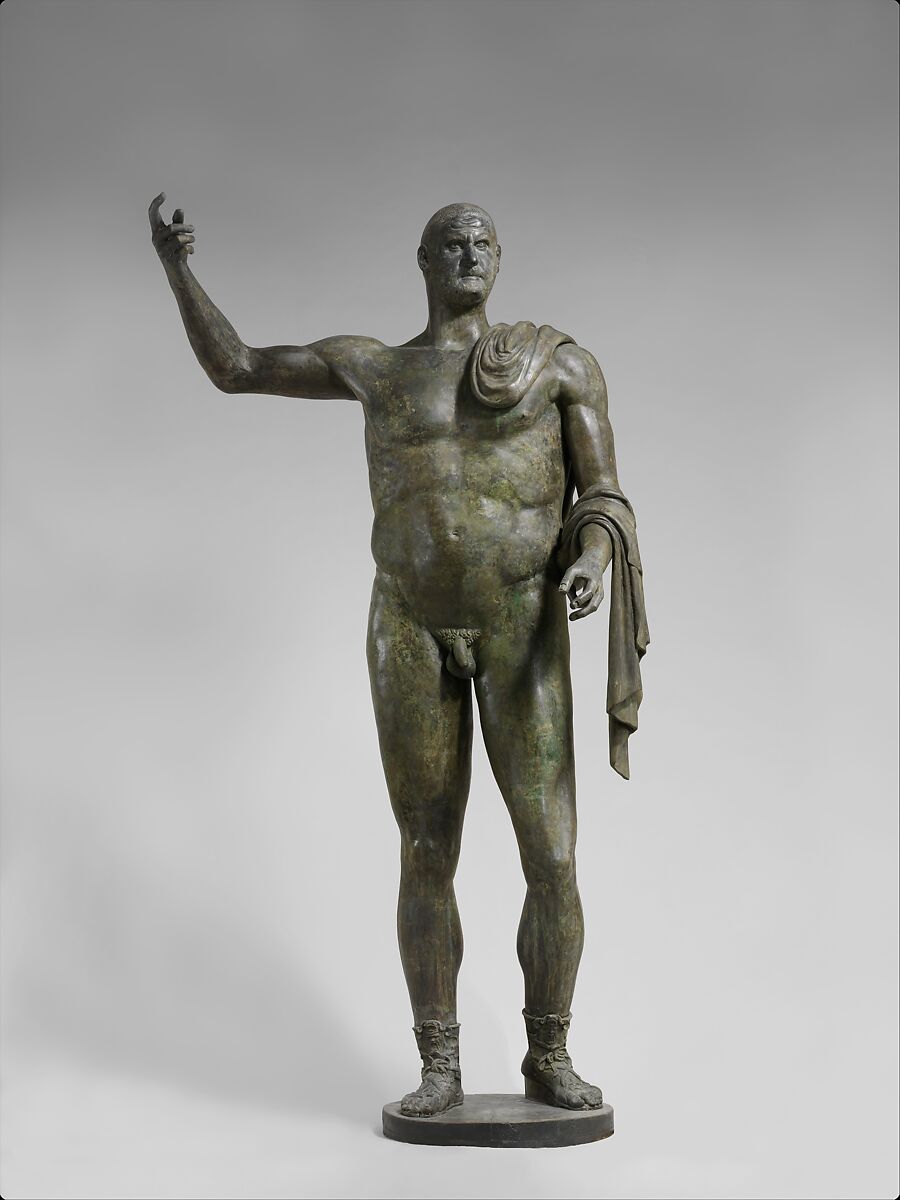 This artwork is meant to be viewed from right to left. Scroll left to view more.